Thierry Mugler | Iconic Catsuits Throughout the Years
This year we said our sweet goodbyes to Manfred Thierry Mugler, a pioneer of fashion and an OG catsuit creator. Creating both a name and empire he was known for his powerful-shouldered cinched waist silhouettes and not one to shy away from a catsuit.
To celebrate his legacy, we've gone into the fashion archives to find our most iconic catsuit looks created by Mugler over the years including the icons wearing them.
From Diana Ross in '91 to Miley Cyrus in 2020, we've rounded up some serious looks for your viewing pleasure...
"I made clothes because I was looking for something that didn't exist. I had to try to create my own world" - Thierry Mugler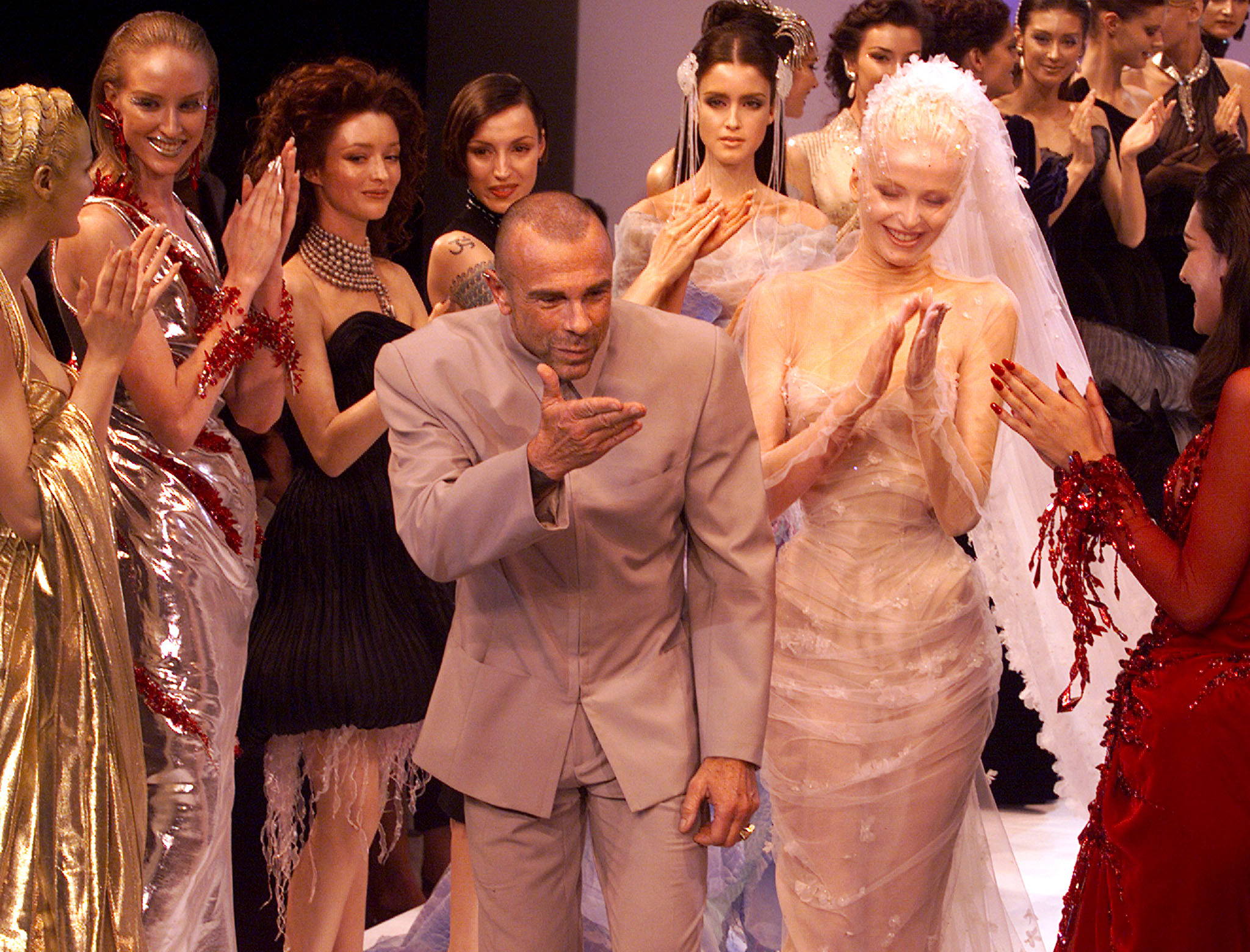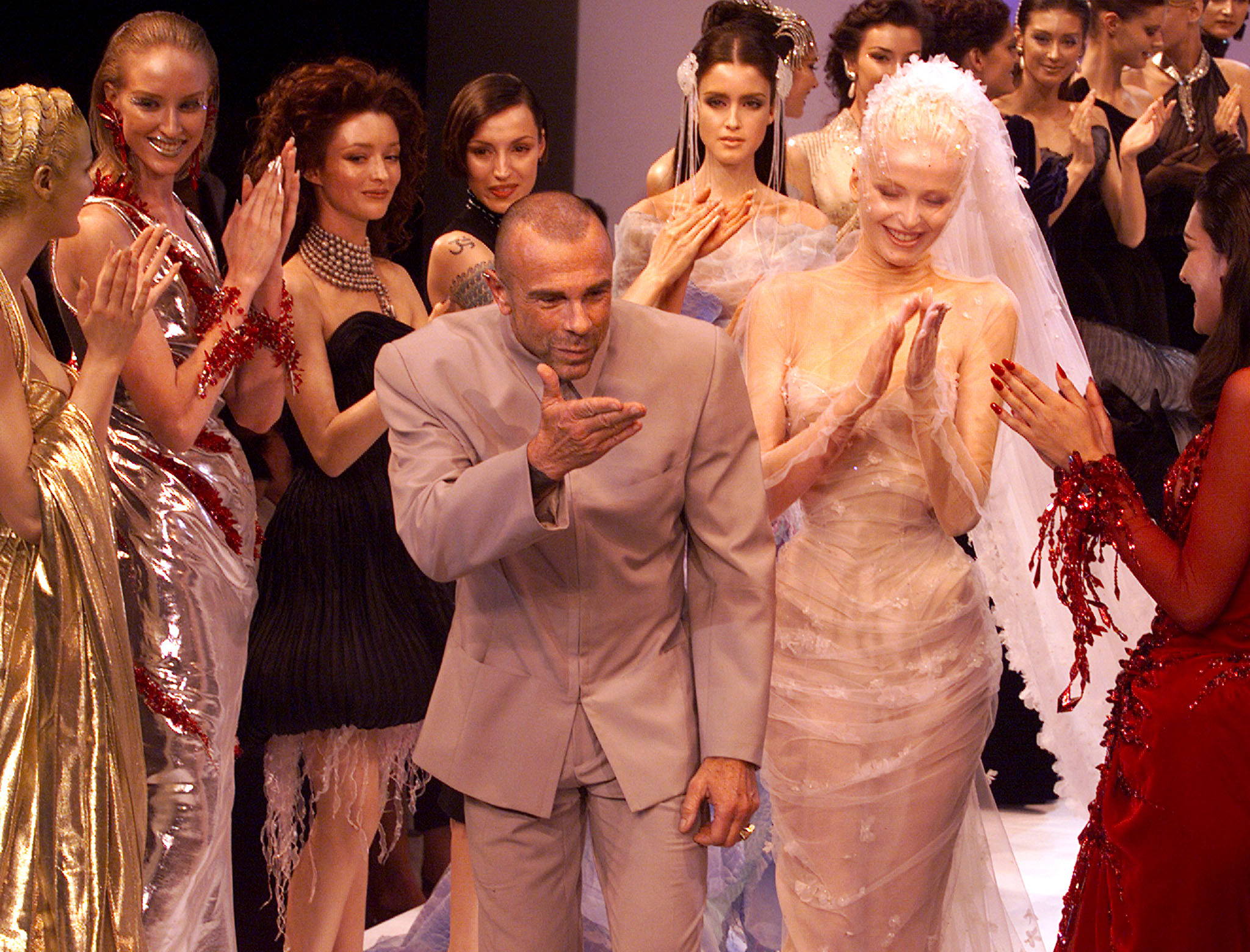 @Mugler applauded by his models following his fall/winter collection 1999/2000
The first glimpse of Mugler's catsuits featured in his Galatic Sirens Spring Summer 1979 collection.
This winged fin catsuit created with sparkly nude sequinned jersey with fin scale accents. Mother-of-pearl hand made plastic sea shell shape pasties. A real nod to the powerful shoulders of that era and in keeping with his space-vixen vibes.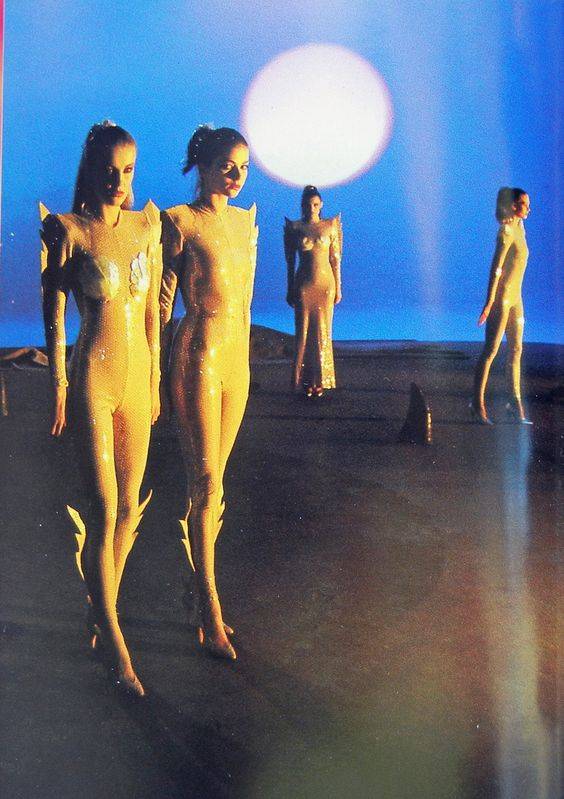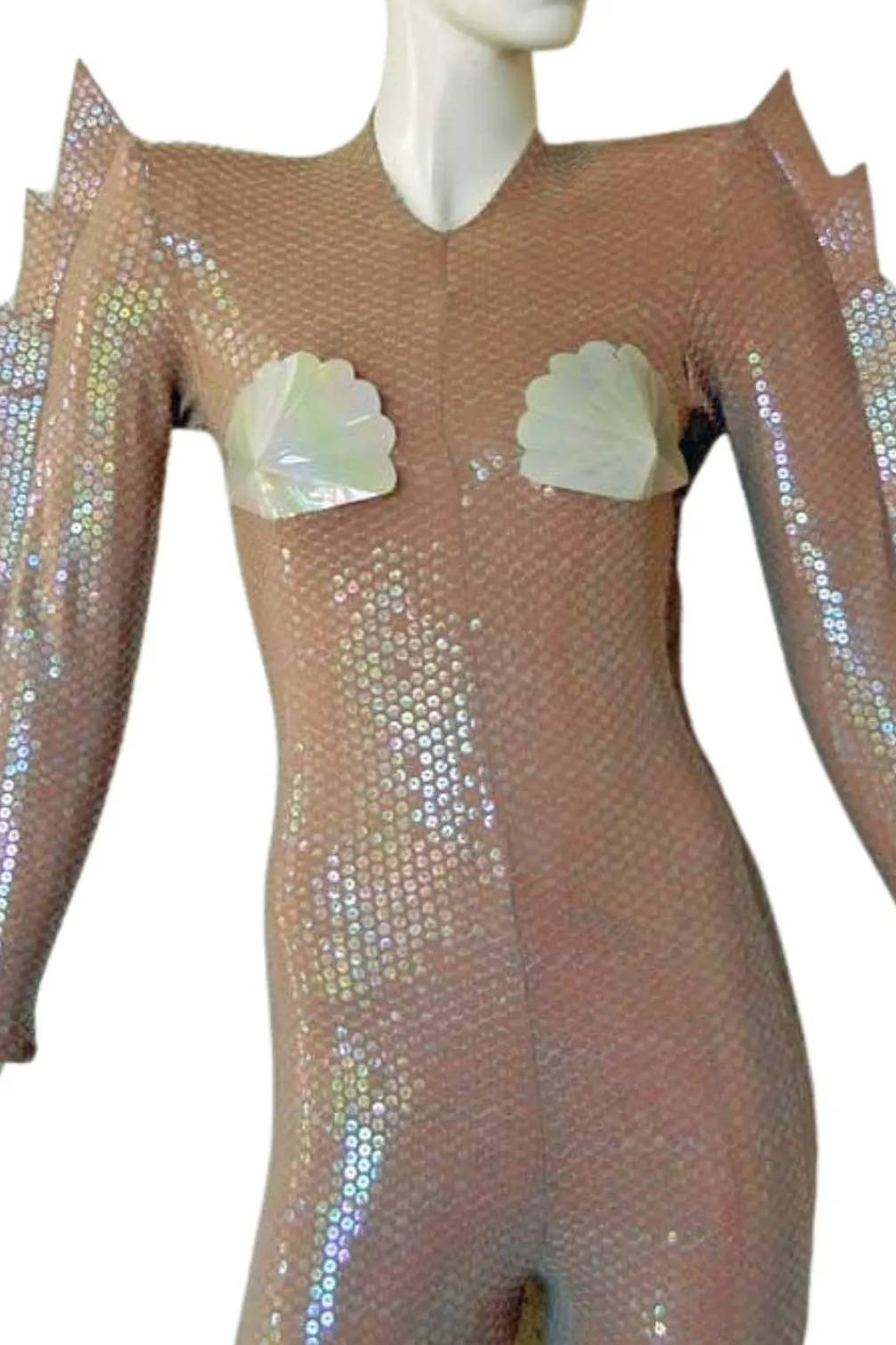 A closer look at the OG sequin catsuit with dream mermaid space vibes
During the Mugler's spring 1991 collection, Diana Ross gave us her best catwalk in a sheer catsuit embellished with strategically placed sequins, complete with a sheer red train to accentuate her waist.
Ross continued to wear plenty of Mugler's creations in the 80's & 90's and to be honest you would if you looked this good! Bravo Diana!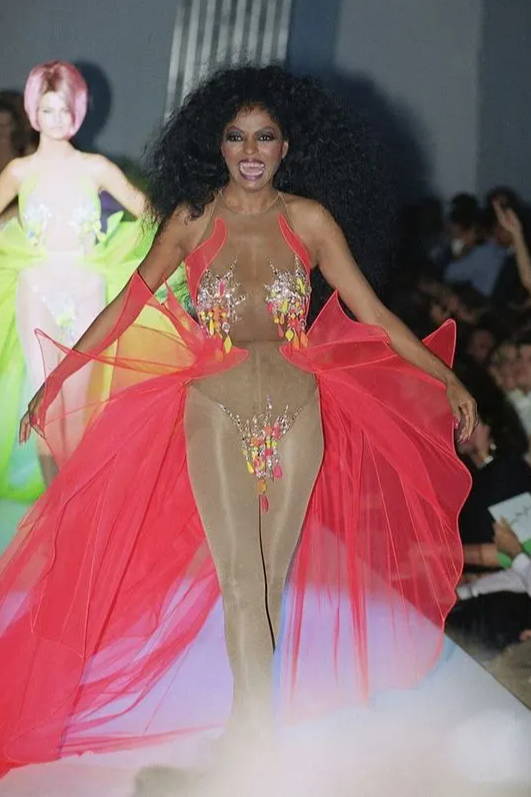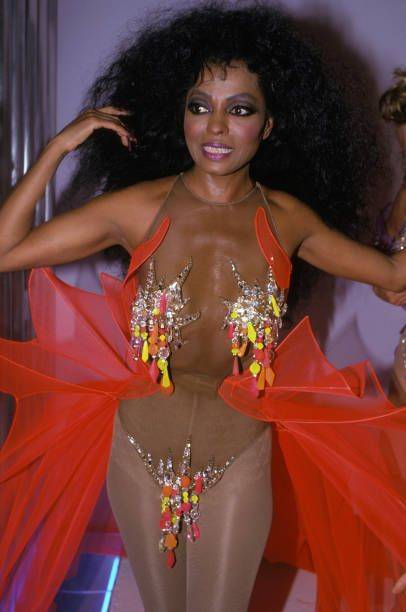 Giving us full diva goddess vibes in this mesh catsuit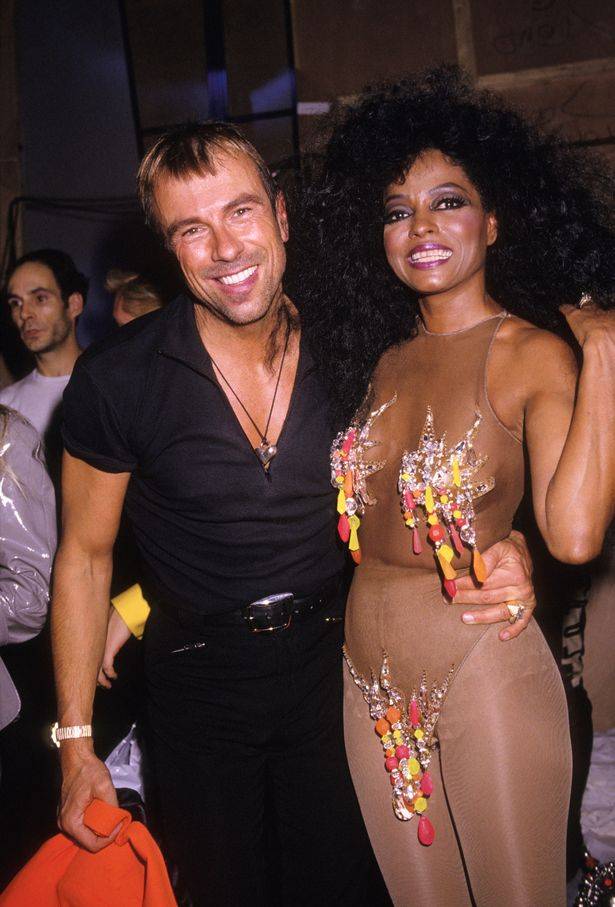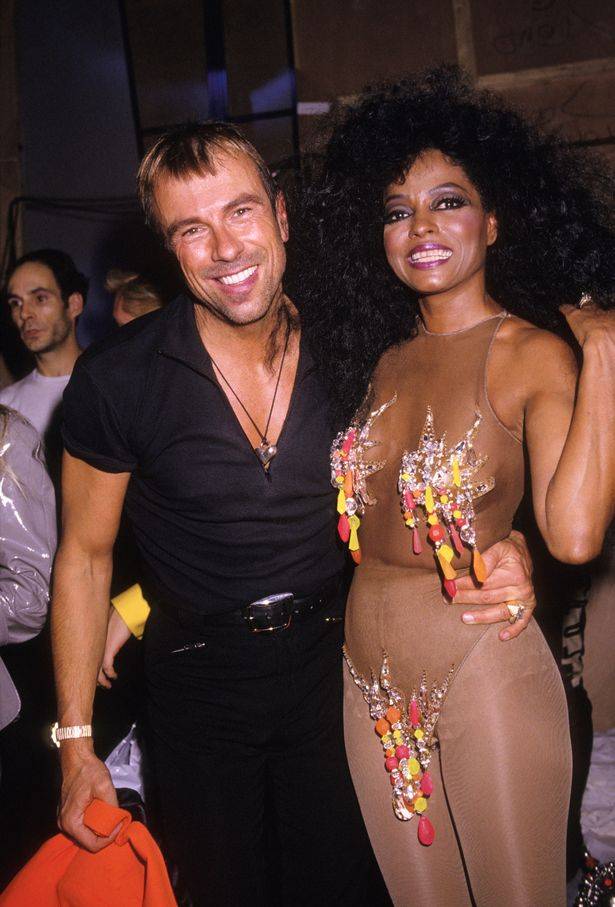 Dripping in all the crystals
This couture colleciton featured plenty of Mugler's dominatrix-meets-space-vixen looks but this mesh catsuit really took the cake for the entire catwalk.
The finale look, worn by the statuesque Nadja Auermann, was covered entirely in crystals, in reference to Mugler's best-selling fragrance, Angel.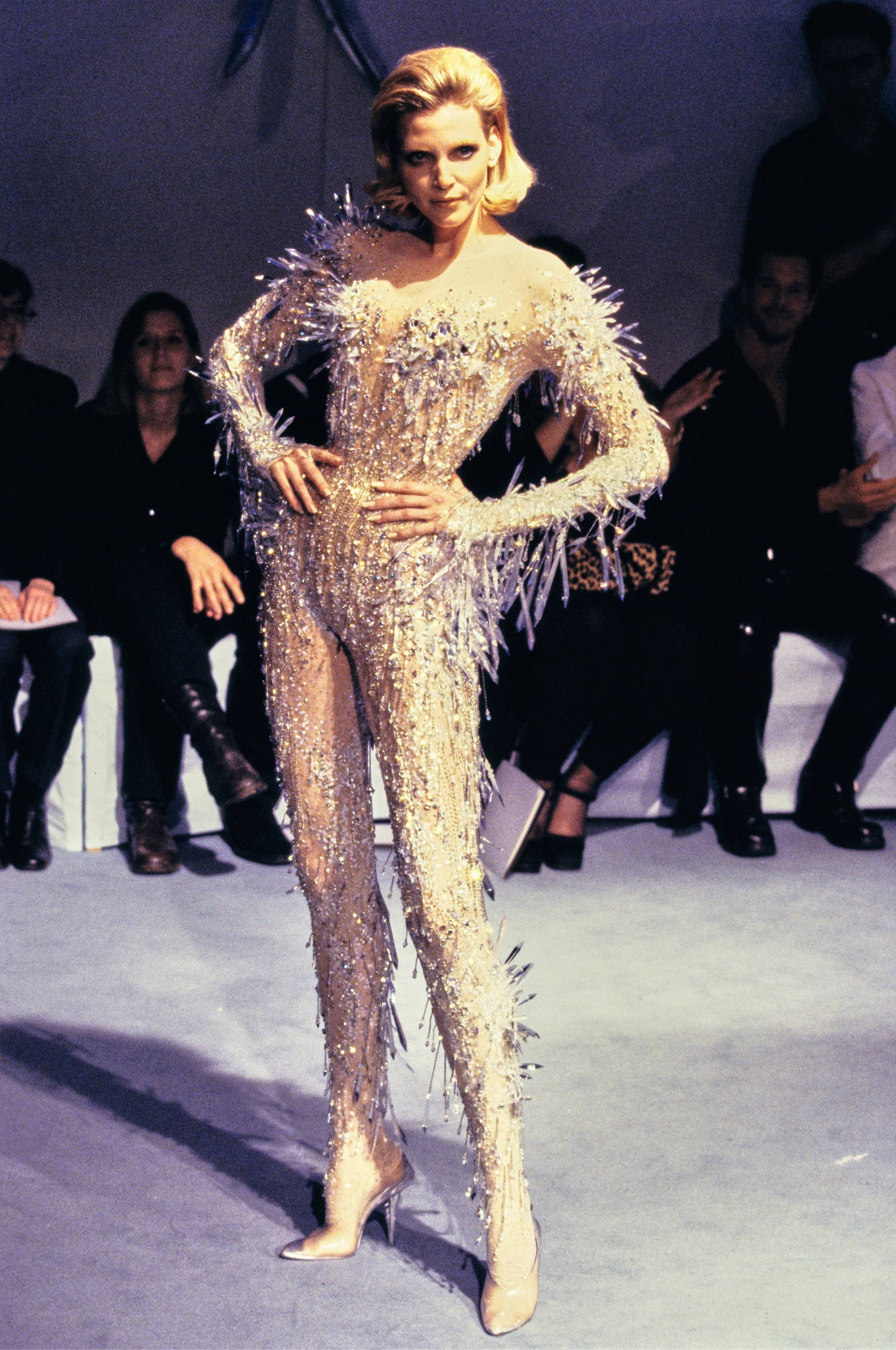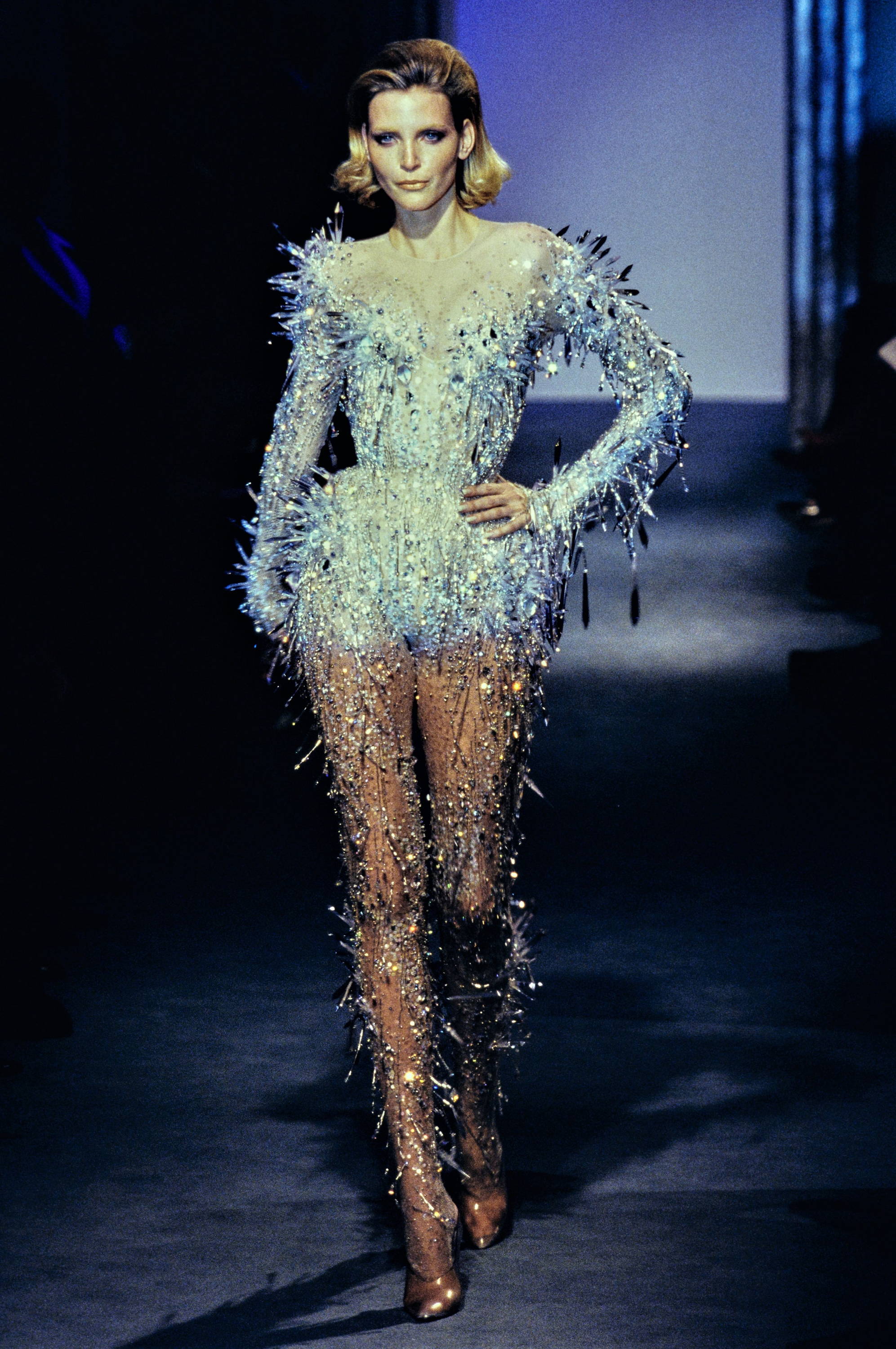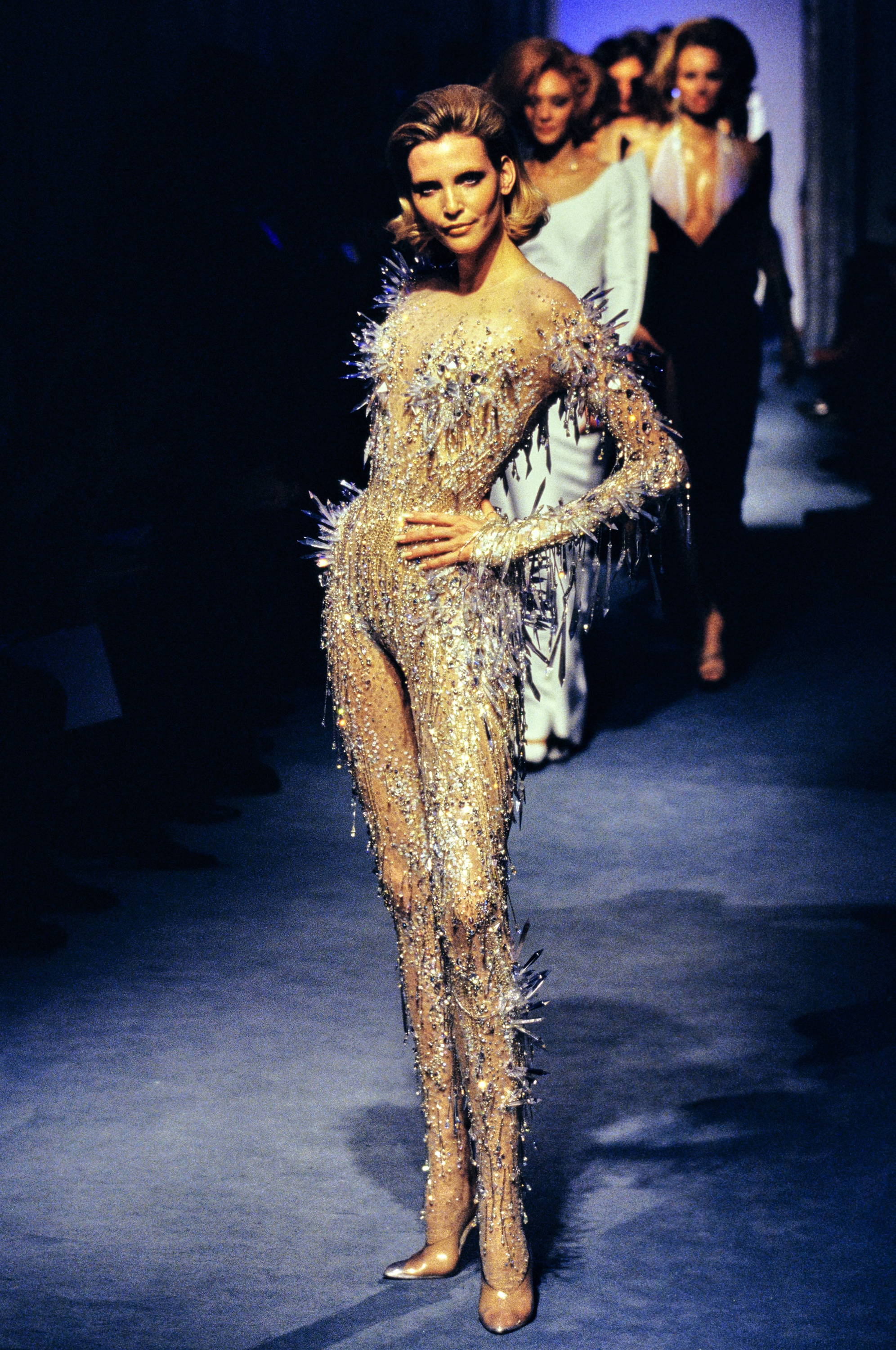 The crystal mesh catsuit captured in all it's glory by inconic photographer David LaChapelle in 1998
Not one to shy away from a mesh catsuit... Lady Gaga gave us full animal vibes in Mugler's Fall 2011 collection. Not only did she wear the mesh catsuit but, she also walked the catwalk in full Gaga monster chíc fashion.
Did you know this collection was Nicola Formichetti first womenswear collection for Mugler... he's also is a prominent member of Lady Gaga's creative team, the Haus of Gaga. A man of all the talents.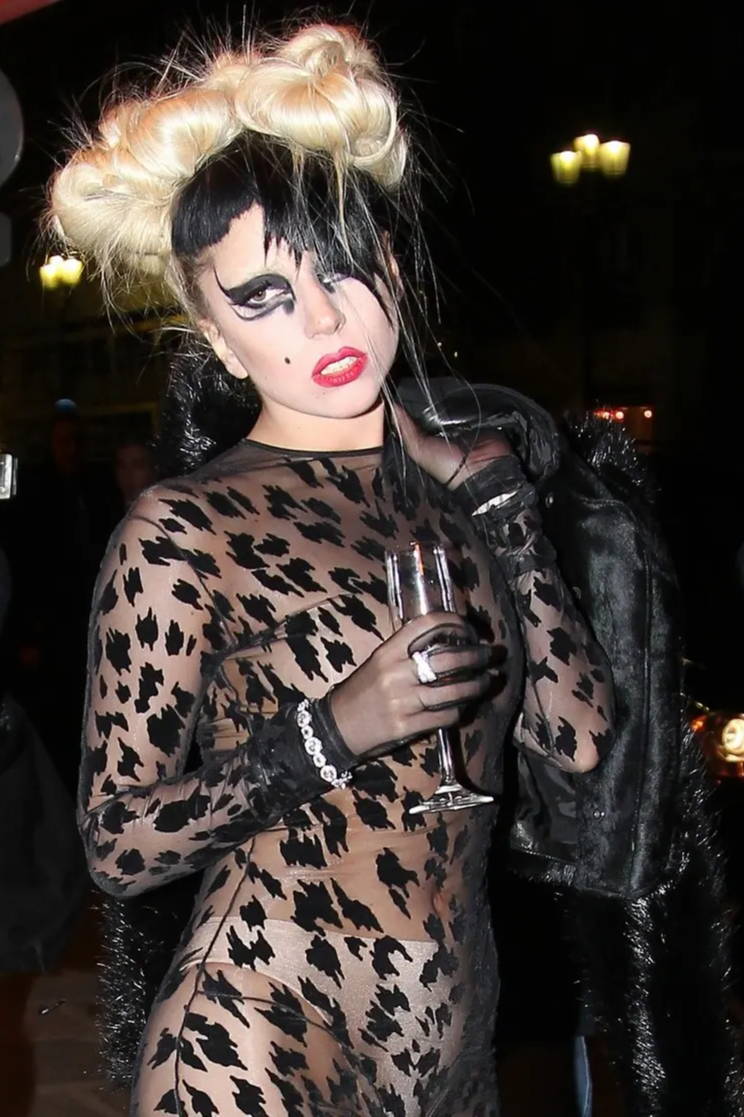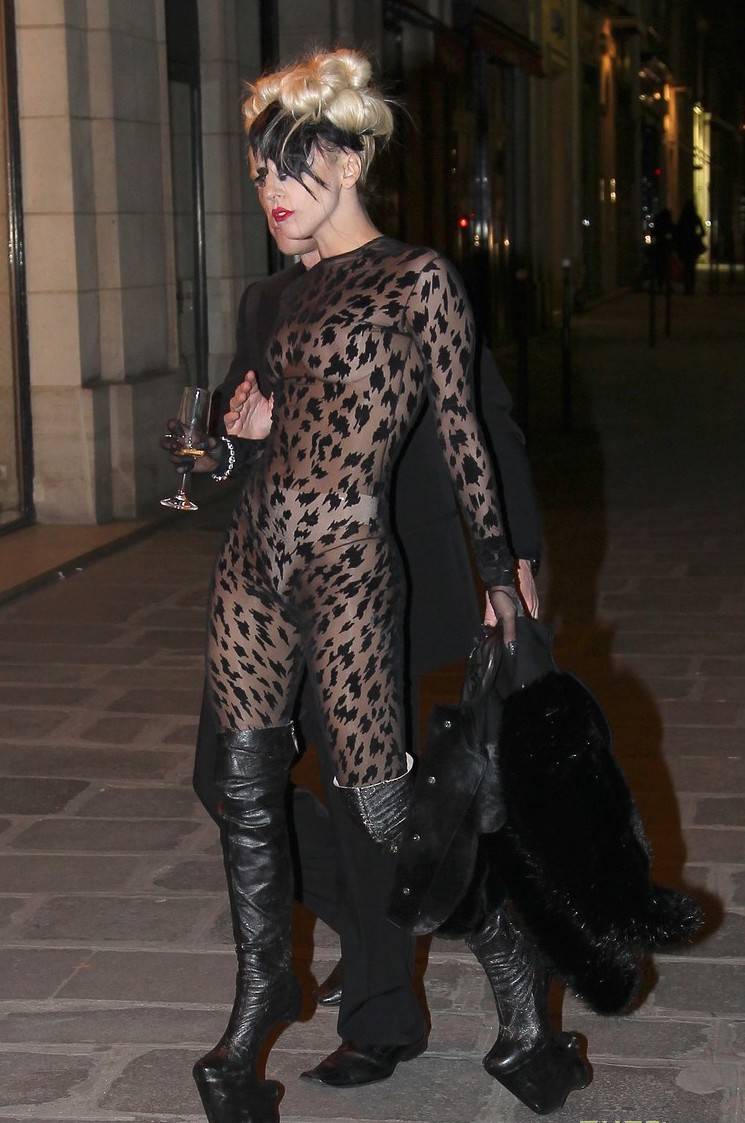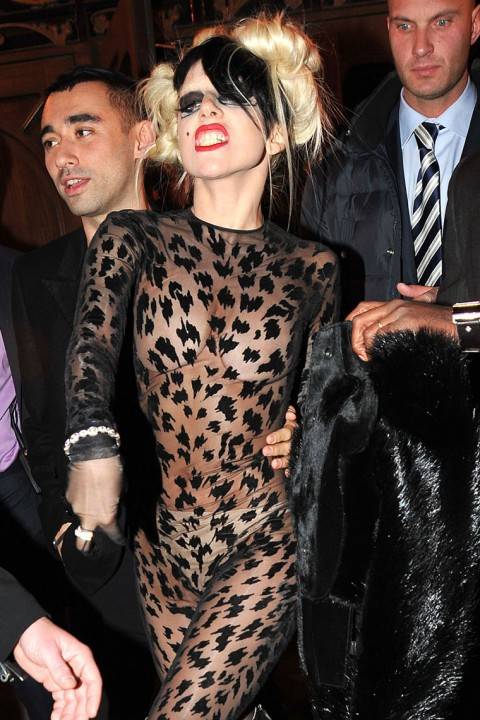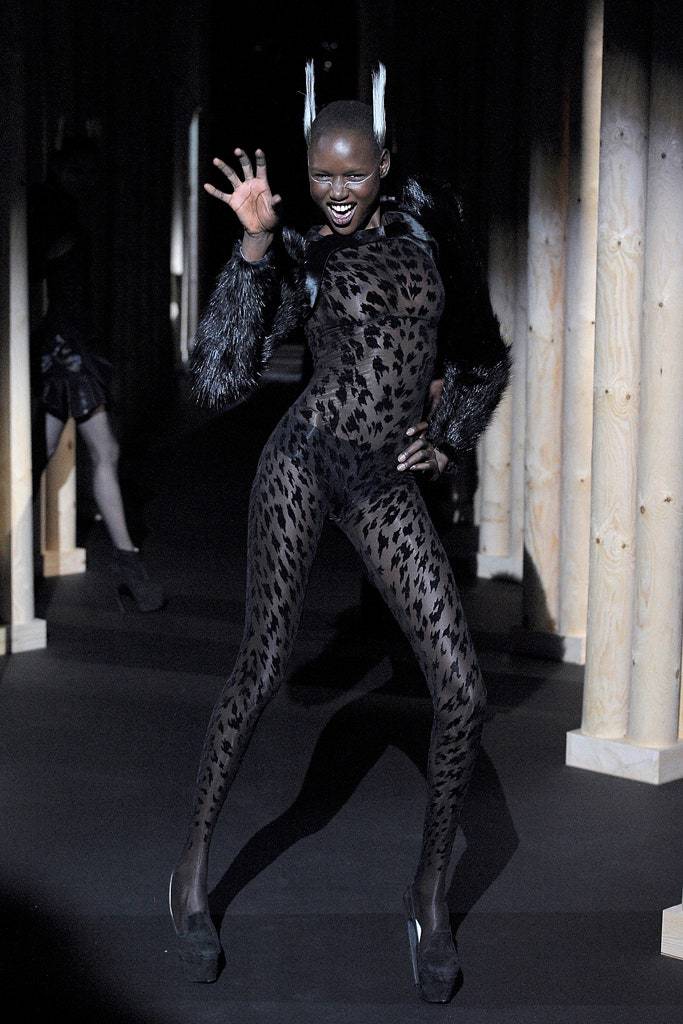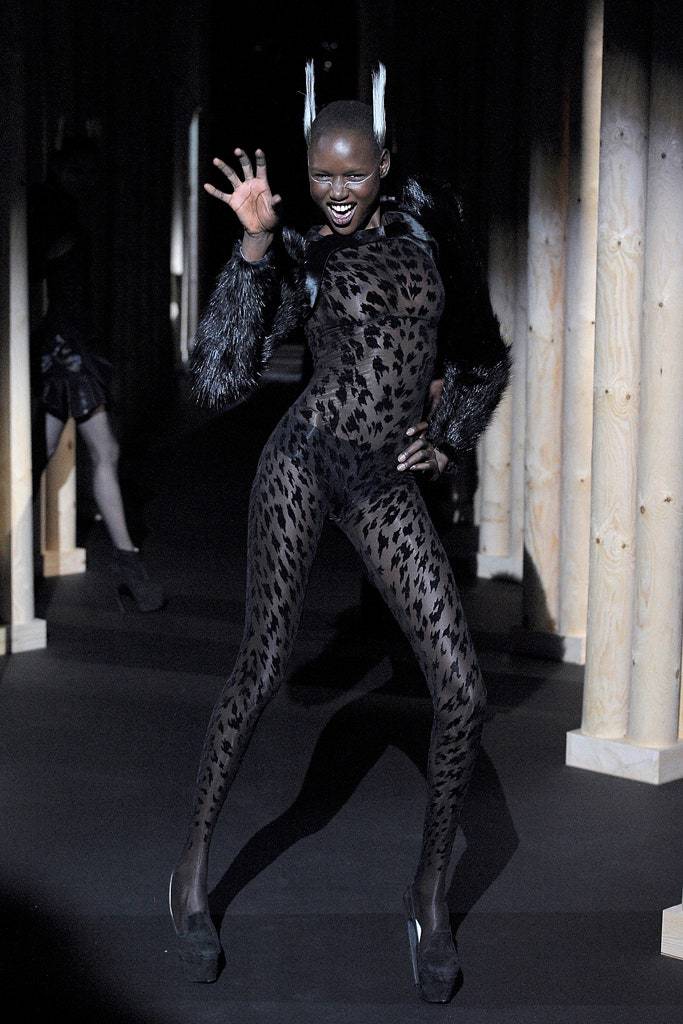 Mugler's feline mesh catsuit in all it's glory on the catwalk
Mugler's fall 1995 haute couture extravaganza (which marked his brand's 20th anniversary) was staged at the Cirque d'Hiver venue in Paris.
Labled as 'The Woodstock of Fashion' shows it was his most legendary show, featuring some his boldest looks worn by iconic models. Even James Brown made a suprise appearance to perform his greatest hits.
At the 2019 Grammys, Cardi B also performed in a crystal-embroidered tiger-print jumpsuit adorned with peacock feathers from the collection. She absoltuely nailed that look.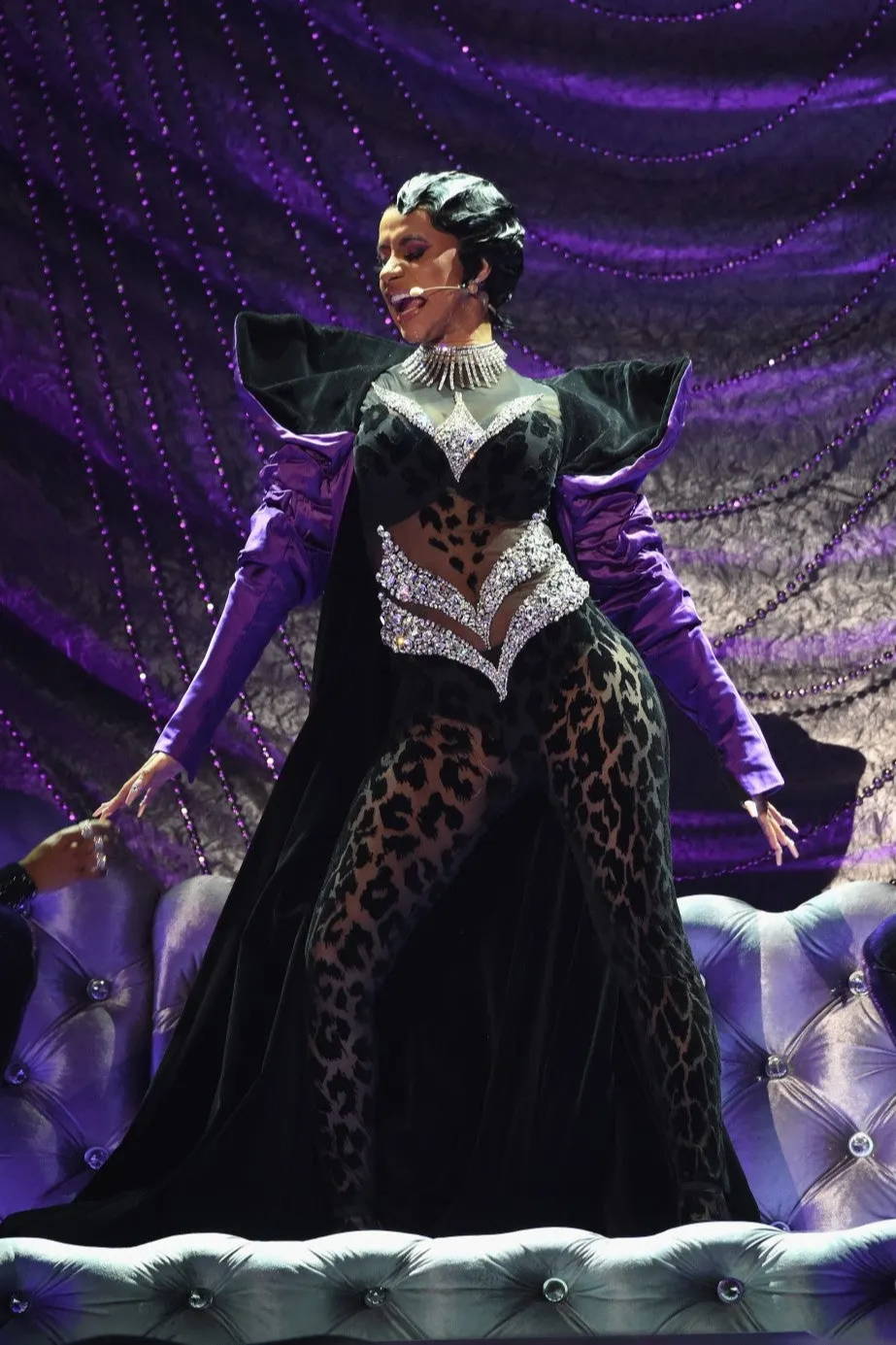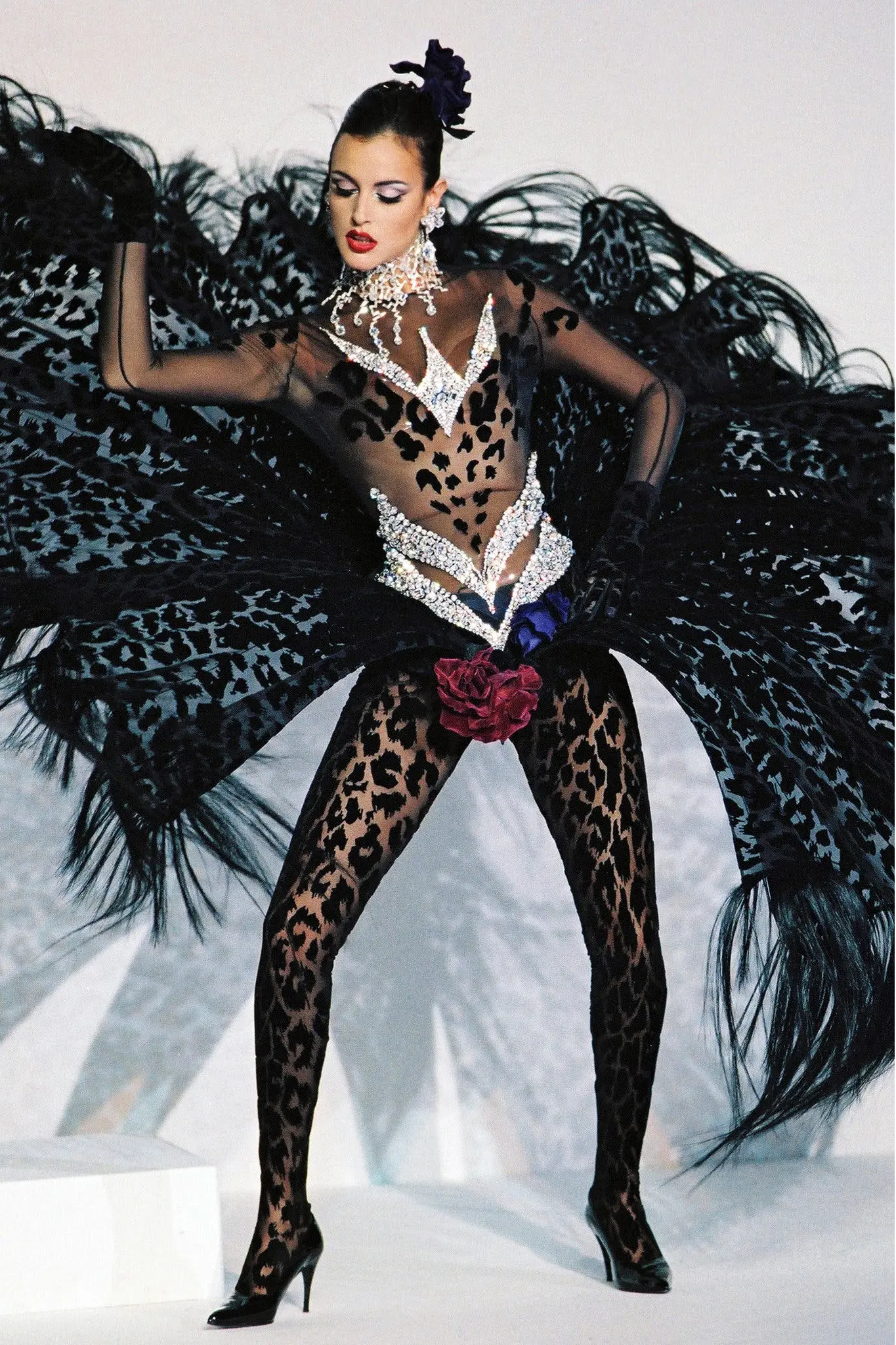 Both Cardi B and Mugler's model performing in the leopard-meets-peacock catsuit
The rebirth of the Mugler mesh catsuit
With the build up from the S/S 2020 show, the mesh catsuit has come into it's own full guns blazing... This 2021 spring collection really hyped all of our mesh fantasies.
Casey Cadwallader, creative director since 2017, propelled Mugler's legacy of making women into superheroes with these mesh catsuit creations.
If you're anyone who's anyone, you'll be sure to be seen in one! From Miley, Dua, Yseult even Beyoncé... it's definiatly become the new LBC.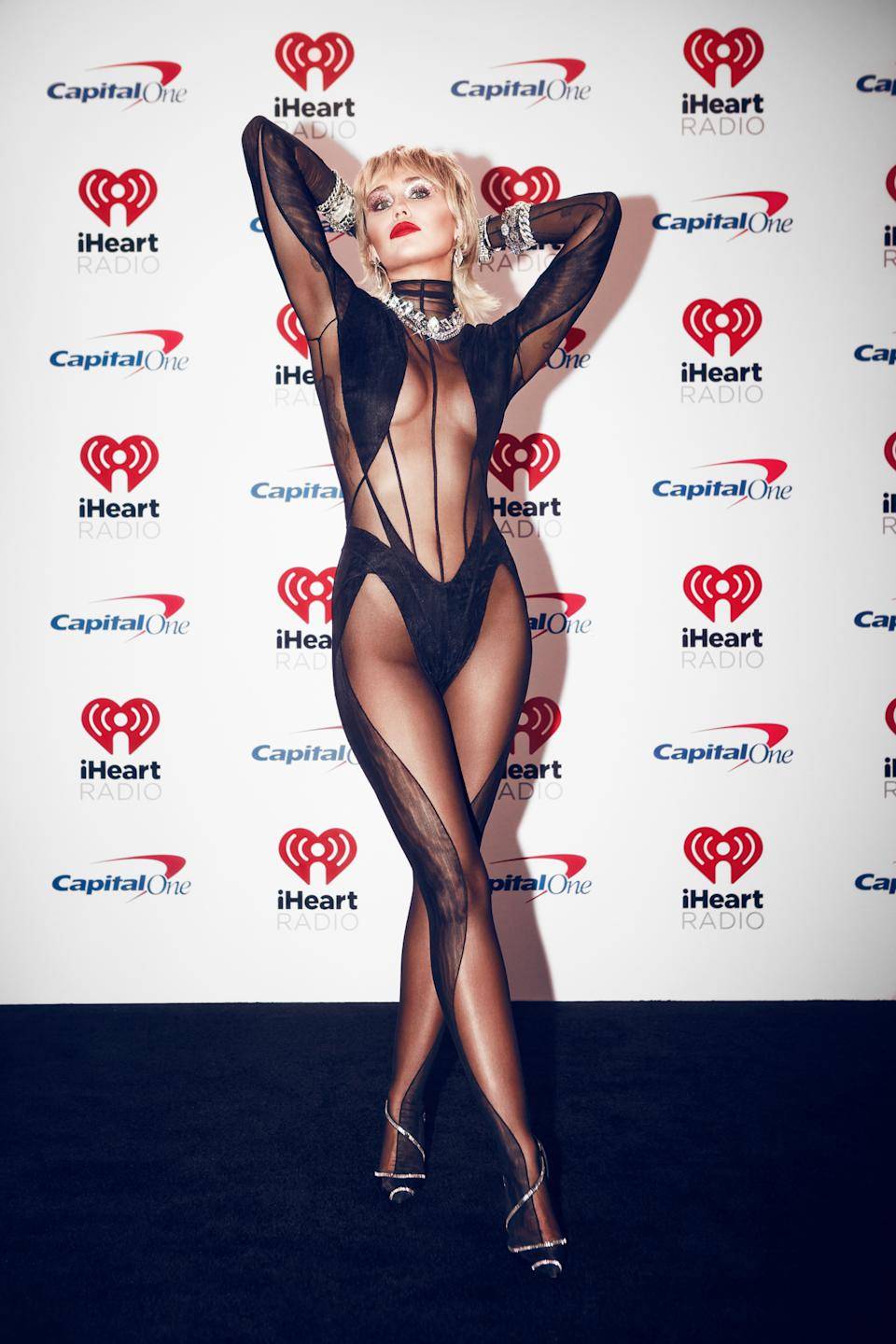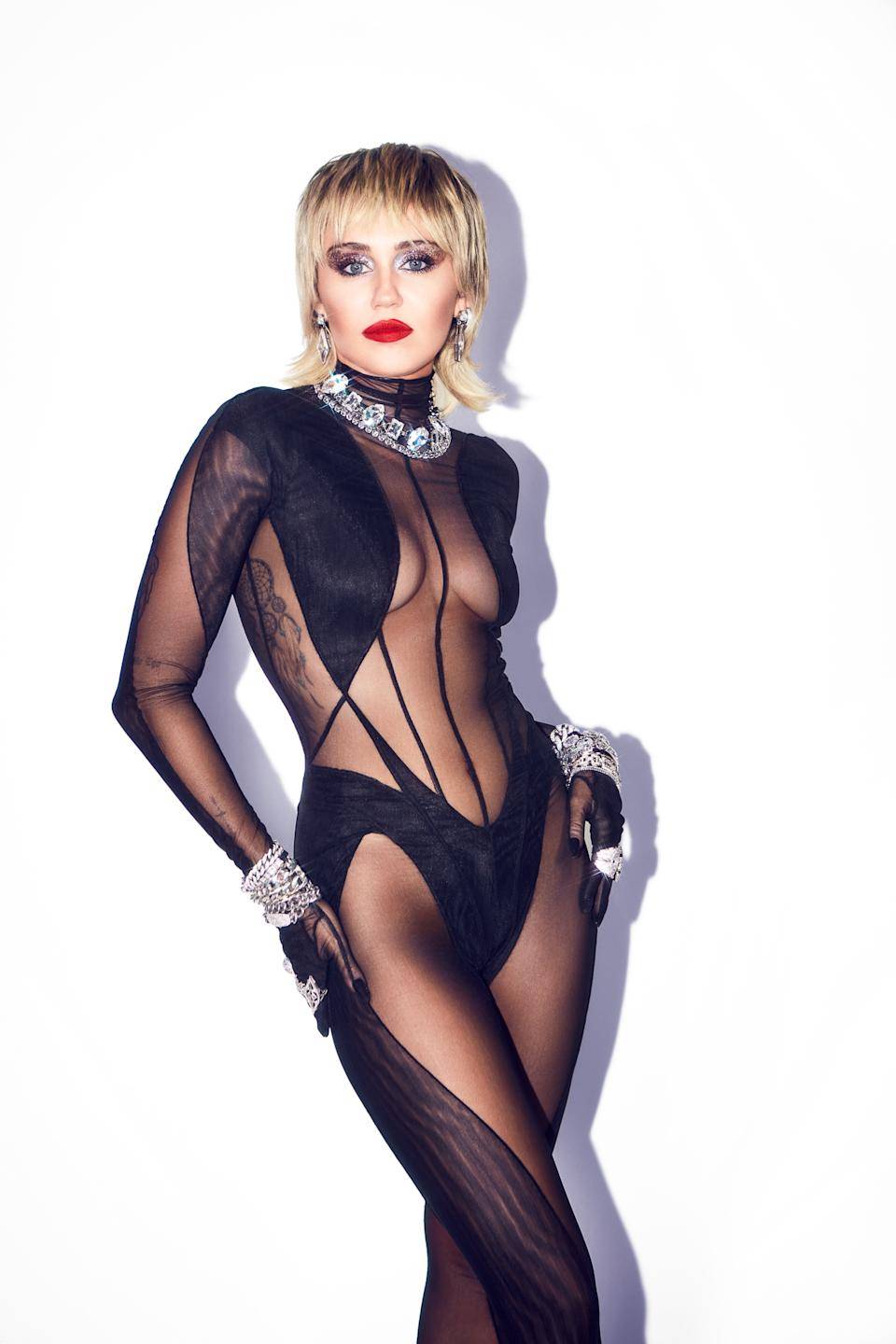 Miley Cyrus giving us all the mesh vibes at iHeartRadio Music Festival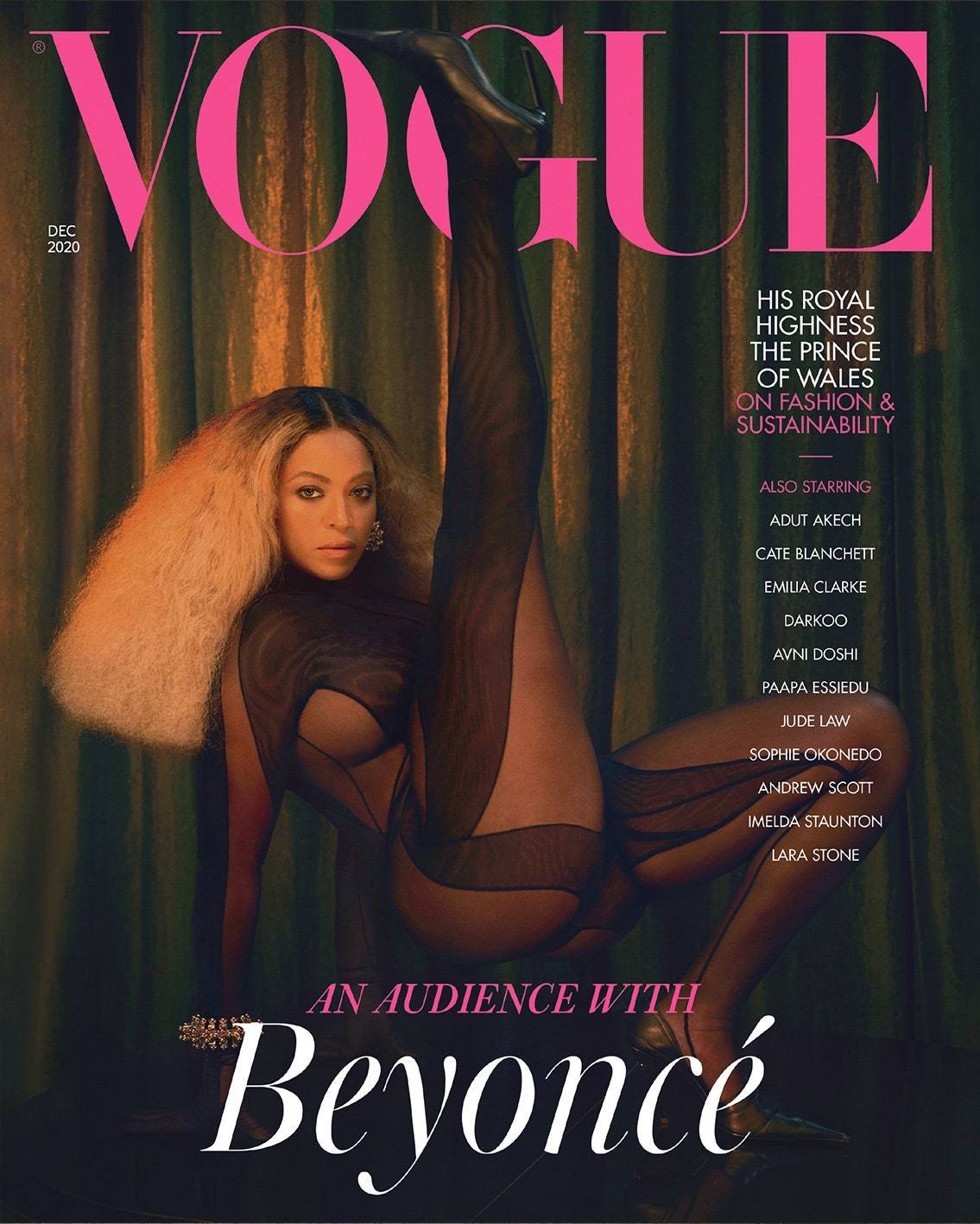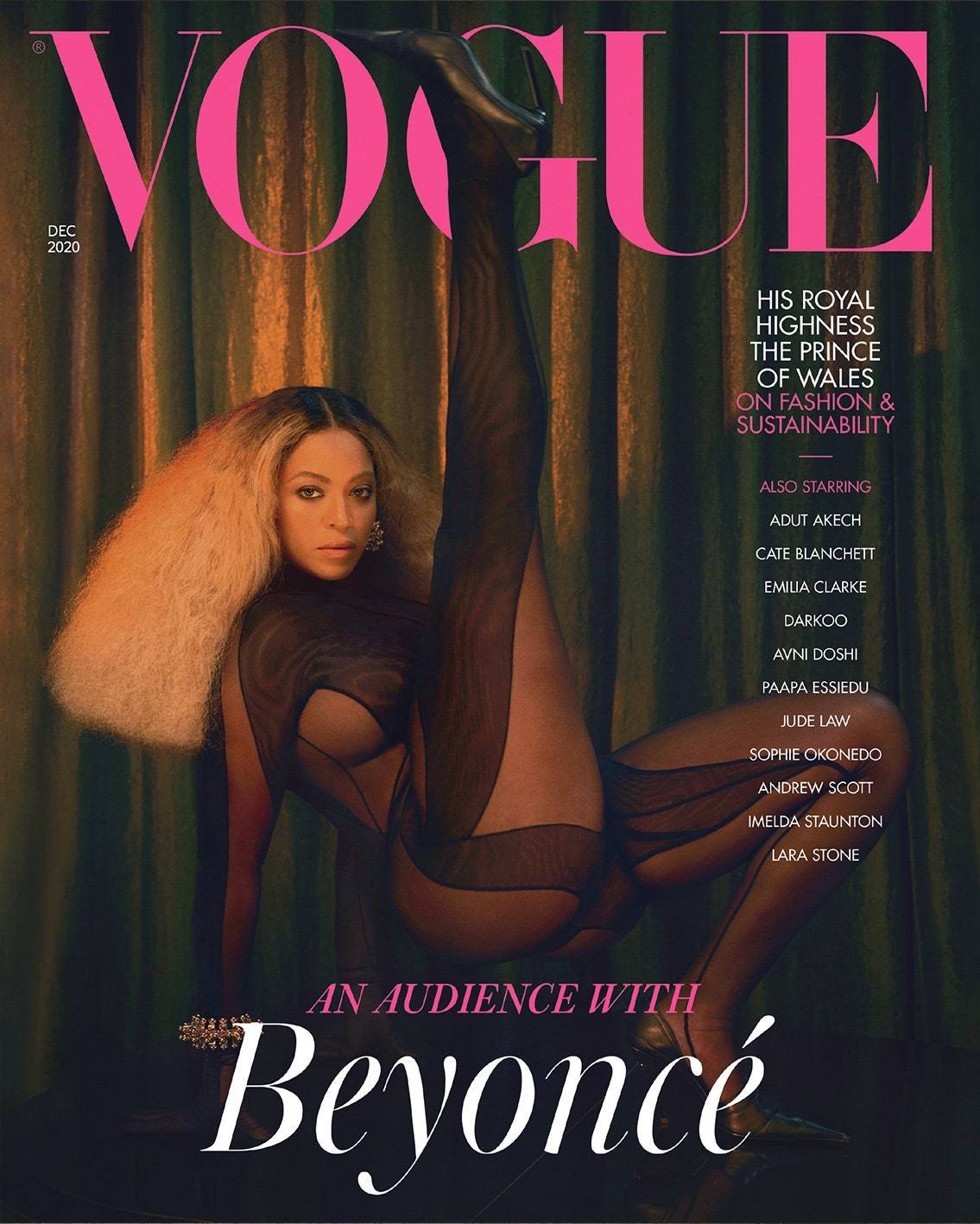 Beyoncé... there just aren't any words... I'd say meshtacular. Did you know Mugler came out of retirement to design her 2001 I am tour.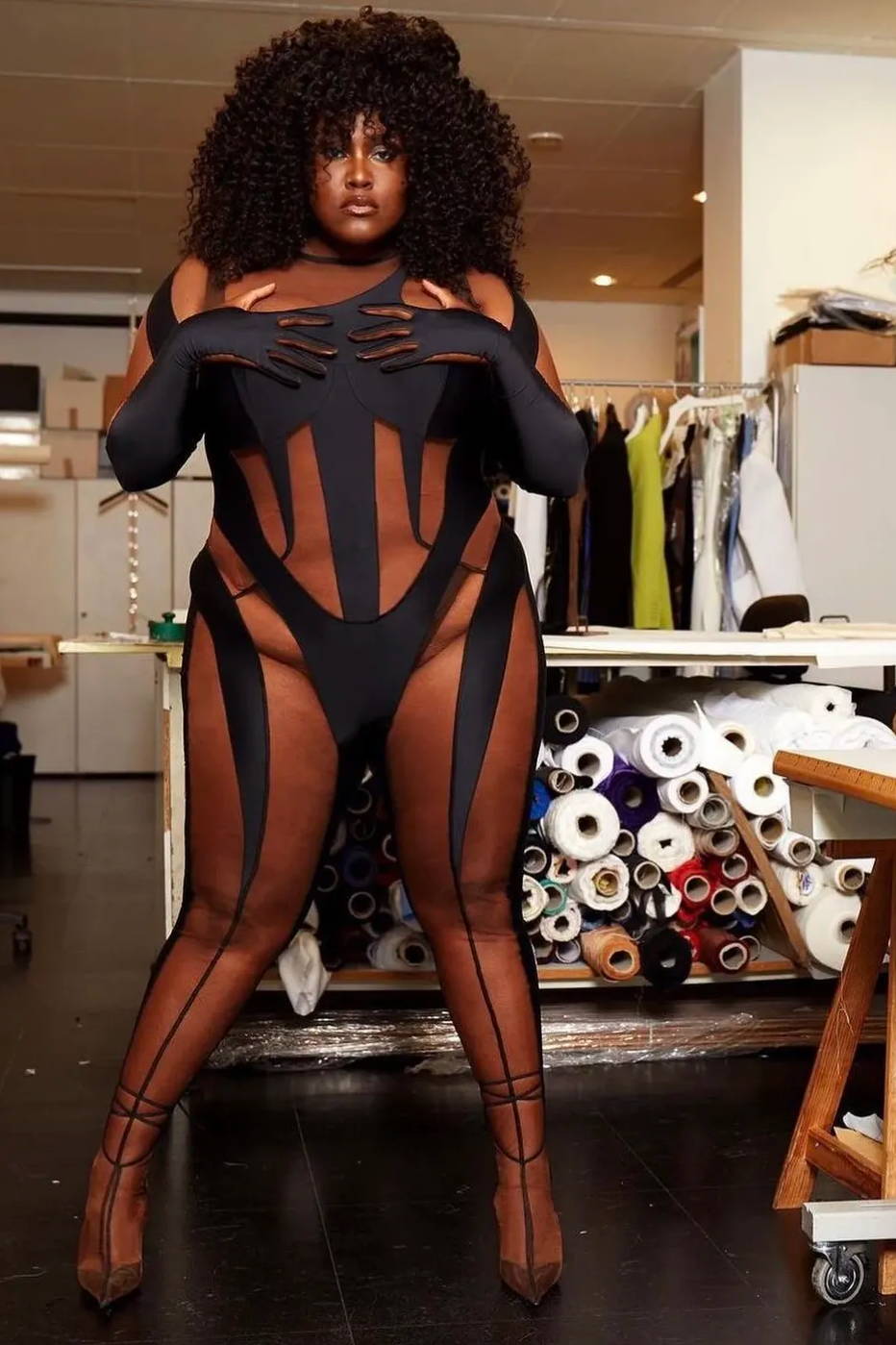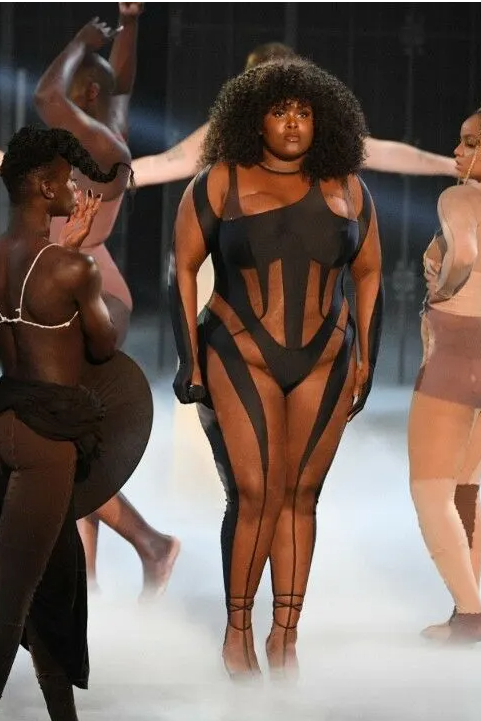 French singer Yseult looking sheer perfection at the Victoires de la Musique in France in 2021 (it's the French equivalent to the Grammys)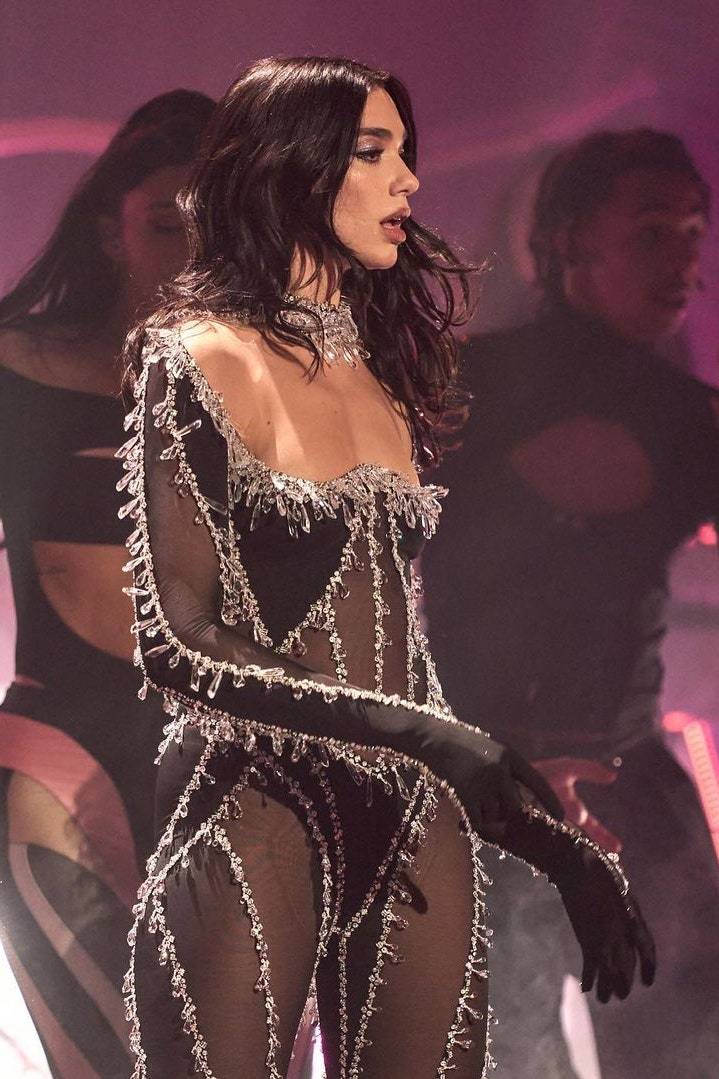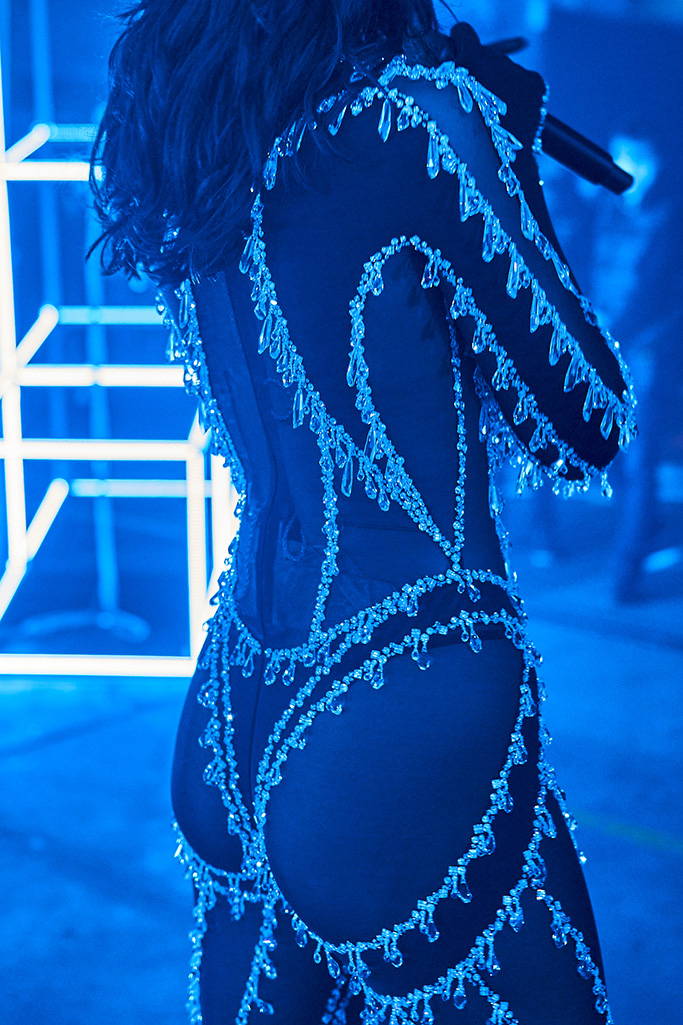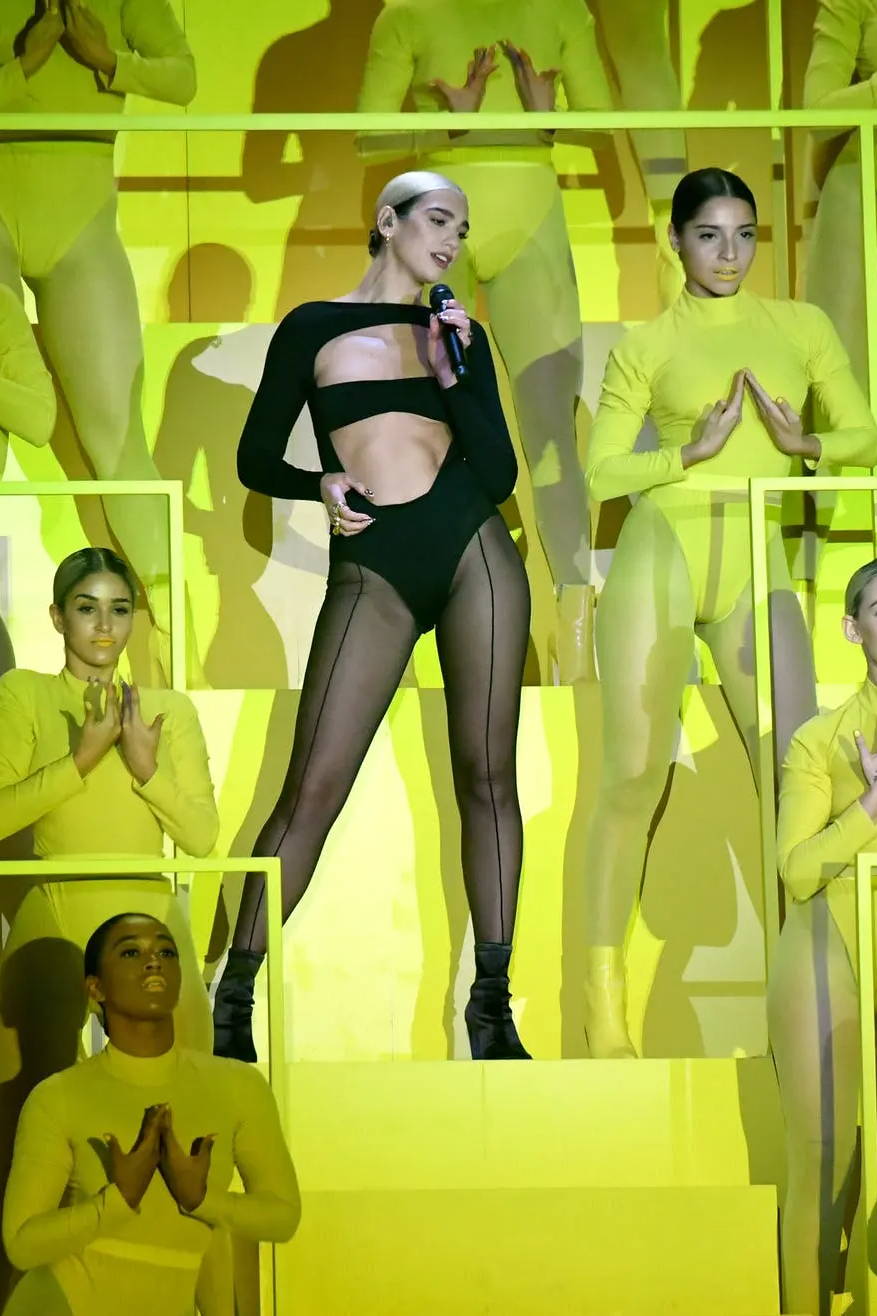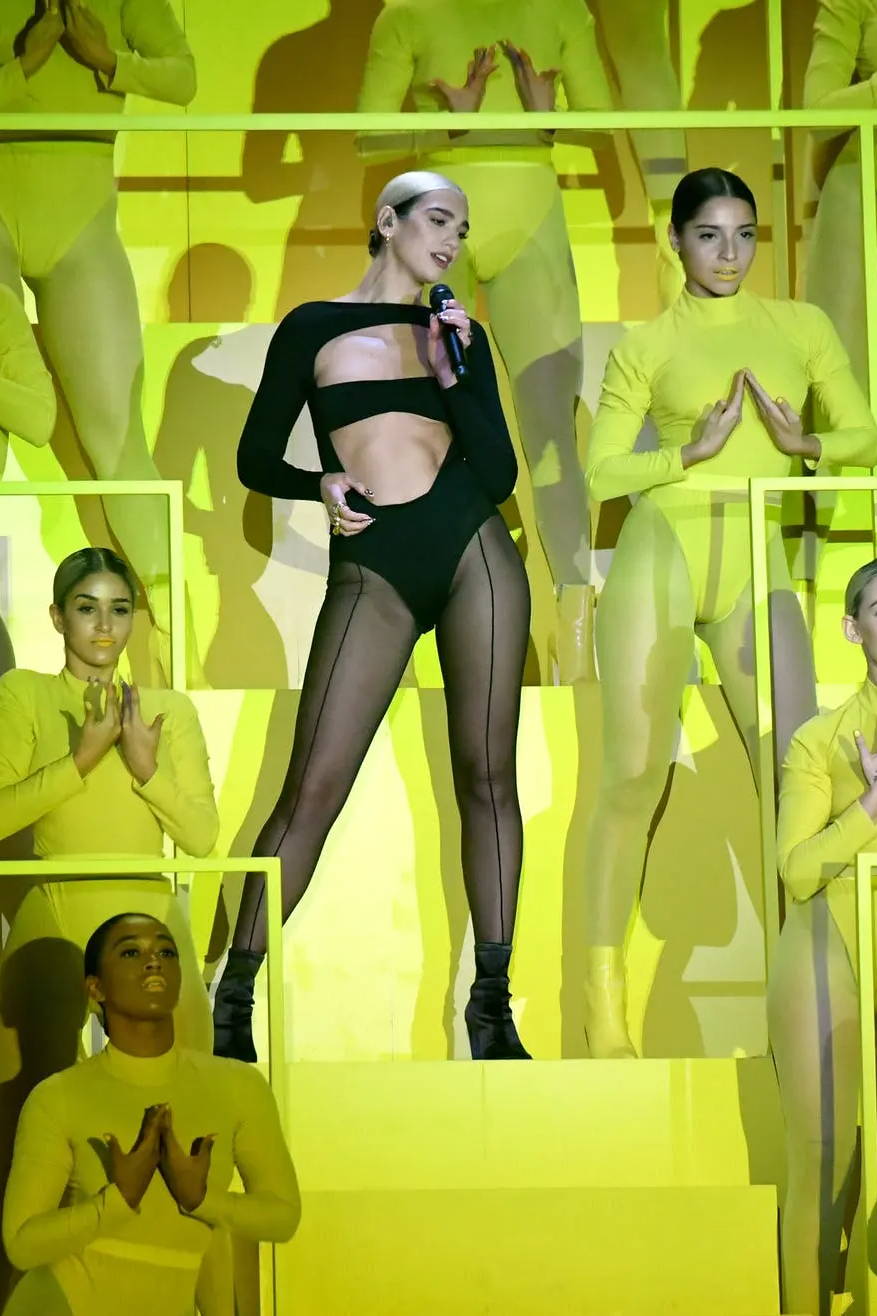 Dua Lipa also wowed the crowd in her custom crytsal embellished castuit for her virtual Studio 2054 show and in a black mesh classic for her MTV Europe Music Awards in 2019
With the rise of mesh catsuits back in fashion, we knew we couldn't leave our Burnt Soulers in the dust... our new mesh catsuit collection covers all your mesh requirements.
From the sultry Vamp, colour popping Glitch and the fabulous Fiesta, which one are you going to choose?
Our new mesh catsuits in their glory, did you know each catsuit is made to order in six different styles?
Which was your fave Mugler moment? Let us know in the comments 💜
---