My First Time at Glastonbury Festival
I have one word for you guys and that is… WOW. I never thought I'd feel like I would be transported into a whole city full of vibes! Glastonbury festival was like nothing I have ever experienced before, it was a movie.  
If you're new here, you're probably thinking what is she on? Well, to bring you up to date… My name is Jaz the social media chick for Burnt Soul, and I've recently popped my festival cherry to Glastonbury.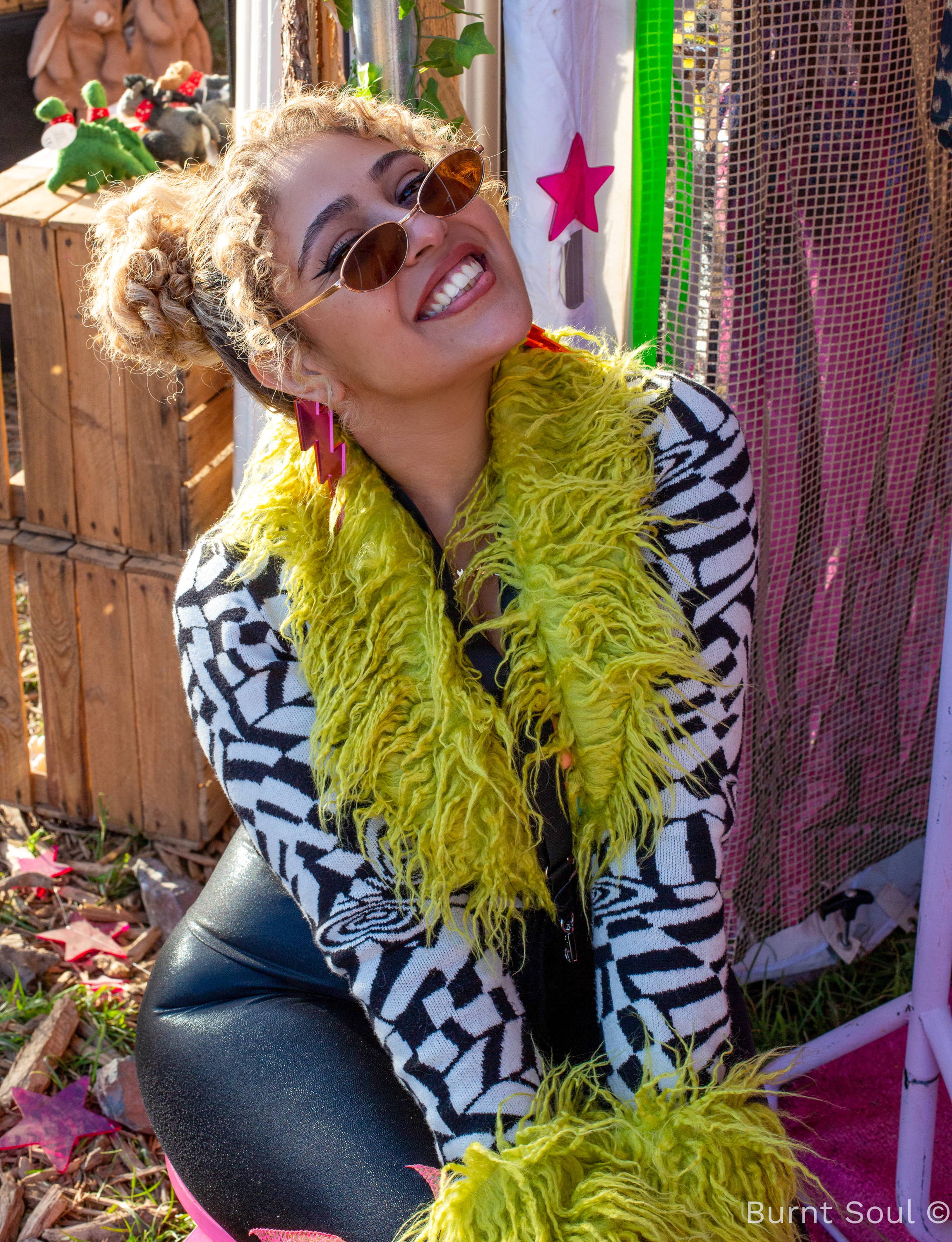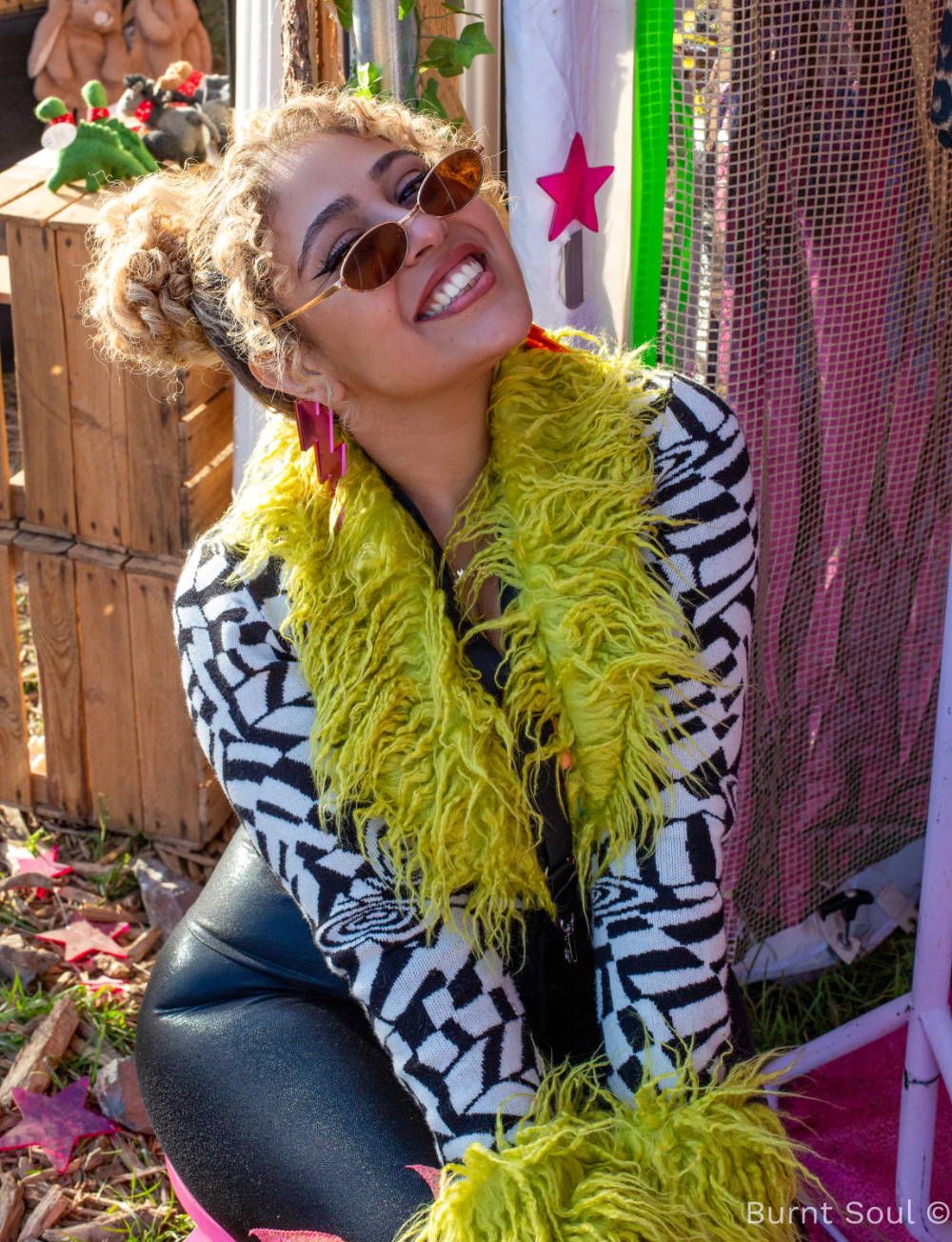 Yep thats me, Jaz AKA the hype guru at Burnt Soul
"I left Glastonbury with no voice, a chipped tooth and many, many cuts and bruises. (YES, Robyn had her hands full.) But the vibes that I experienced were like no other. I would literally do it all over again"
Now you know, let's get straight to it and update you lot about my time there shall we.
There were many ups with many casualties, but your girl survived and has stories to tell! So grab a cuppa and get ready to LOL.
As I was working & meeting you lovely lot, we all had to get hella organised to make sure we didn't miss the acts we wanted to see, we worked the rota around it and also added in travel times.
One thing you need to be aware of, is the walking sis. I walked over 30,000 steps most days. Be prepared and bring comfy shoes, my little legs were in overdrive boy!
My main priorities after getting you all into catsuits ofc, was to see Megan Thee Stallion & Kendrick Lamar. Both of them had a strong message and the production was perfect. I had the chance to watch Burna Boy and Koffee on Saturday & Sunday. Their vibe was elite!
Ohh and we also got to watch the legends of course. We danced along to a bit of Diana Ross & Paul McCartney at the Pyramid Stage.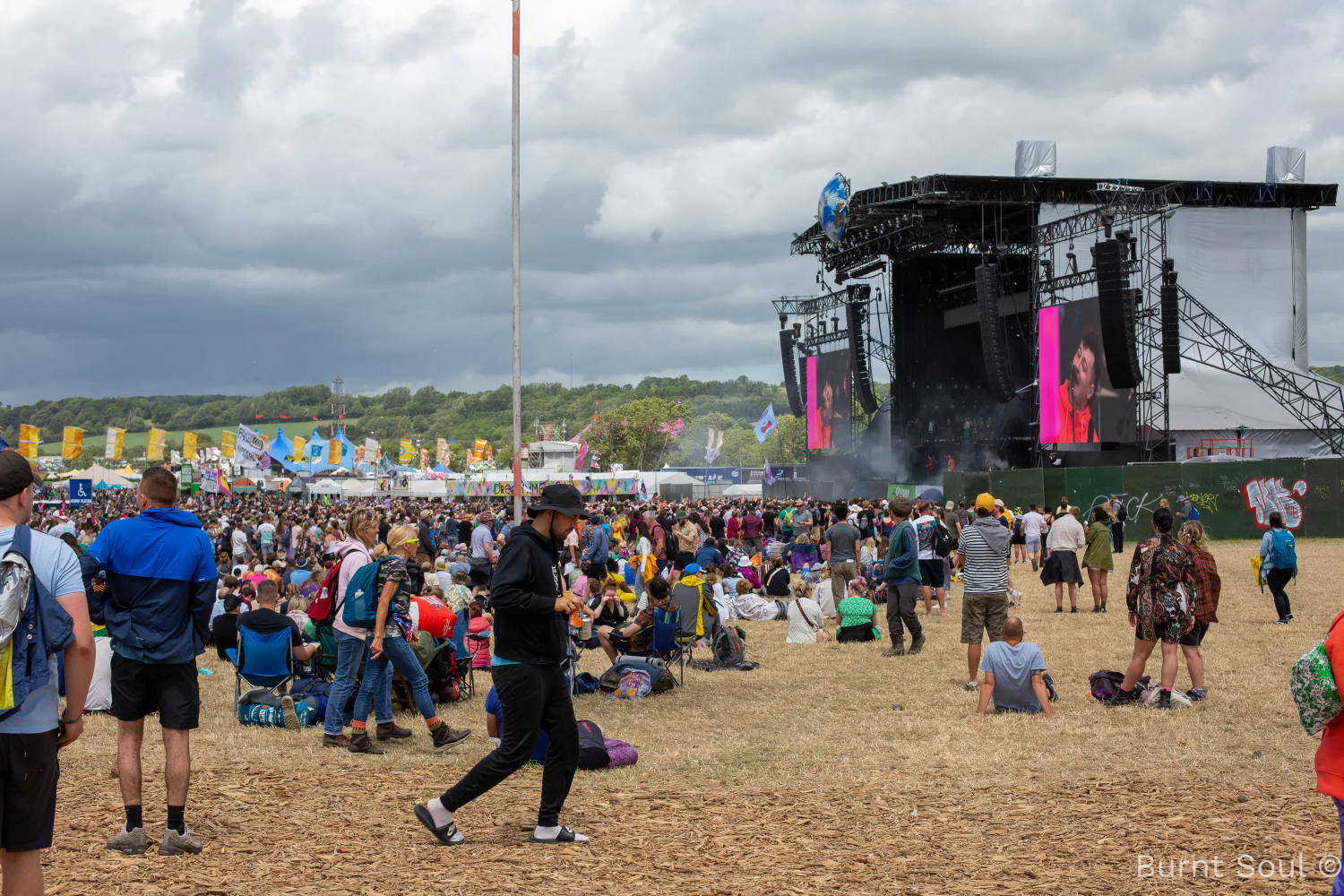 The Other Stage at Glastonbury Festival 2022
Isn't it obvious? I was drippin in Burnt Soul of course.
The first day I got to Glastonbury Festival, it was so hot… that it got me thinking to just strip off and join the nudists. But you know…I didn't want to distract you lot from the catsuits.
On the first day I wore the Dazzle swimsuit with a pair of trusted denim shorts. The material of the Dazzle was so breathable that the boob sweat was down to a minimum. I think that day we all brought out the bodysuits!
Thursday the weather chilled out a bit, so I brought out my Joan high waisted flares. I wore it with the rainbow Kaleidoscope bodice to add a bit of fun to the ensemble. Finished it off with a bold red lip and a military crop jacket and I was good to go!
Ever since the new launch, I've had my eye on the Disco Queen catsuit. I wanted to be seen and bold and what better way to do that, then in a UV reactive catsuit.
I obvs saved the catsuit for Megan Thee Stallion as my "body, ody, ody, ody" looked the part. I twerked along to hot girl summer feeling invincible. I even got Robyn to shake the booty too!
On the last day I pulled out the almighty Trailblazer leggings… It was the last day, and Kendrick Lamar was performing. So I had to come correct, I teamed it up with my smile print custom bralette, a cute fluffy cardigan and some big platform lace up boots for some attitude.
Spotted Wearing Burnt Soul!  

I've given you the rundown on my daily outfits, but you lot didn't come to play when it came to your Glastonbury outfits. So many of you came in to show us your festival looks and we've spotted a few of you out and about too.
You lot slayed your Burnt Soul fits! We wanted to show you all a little appreciation!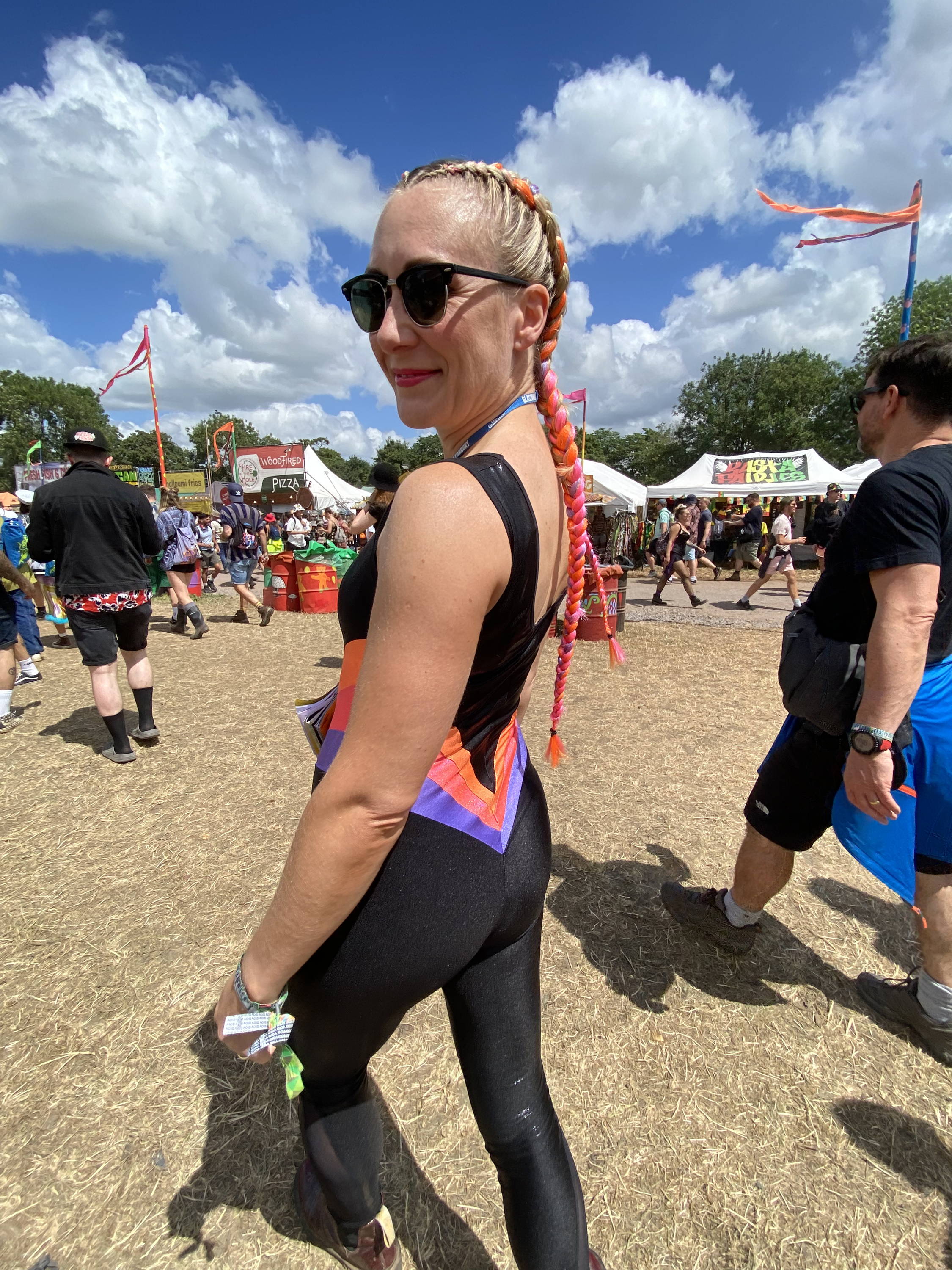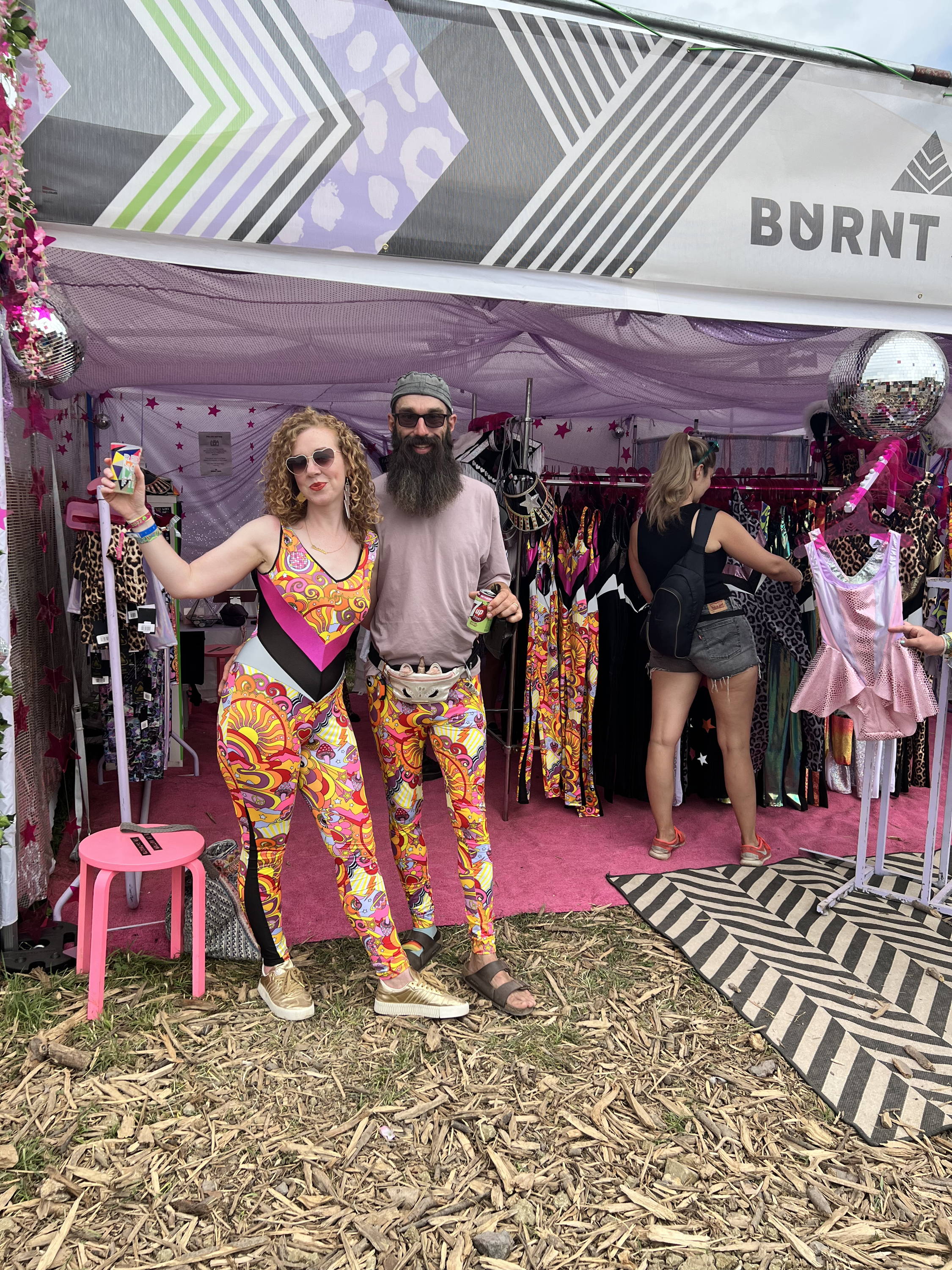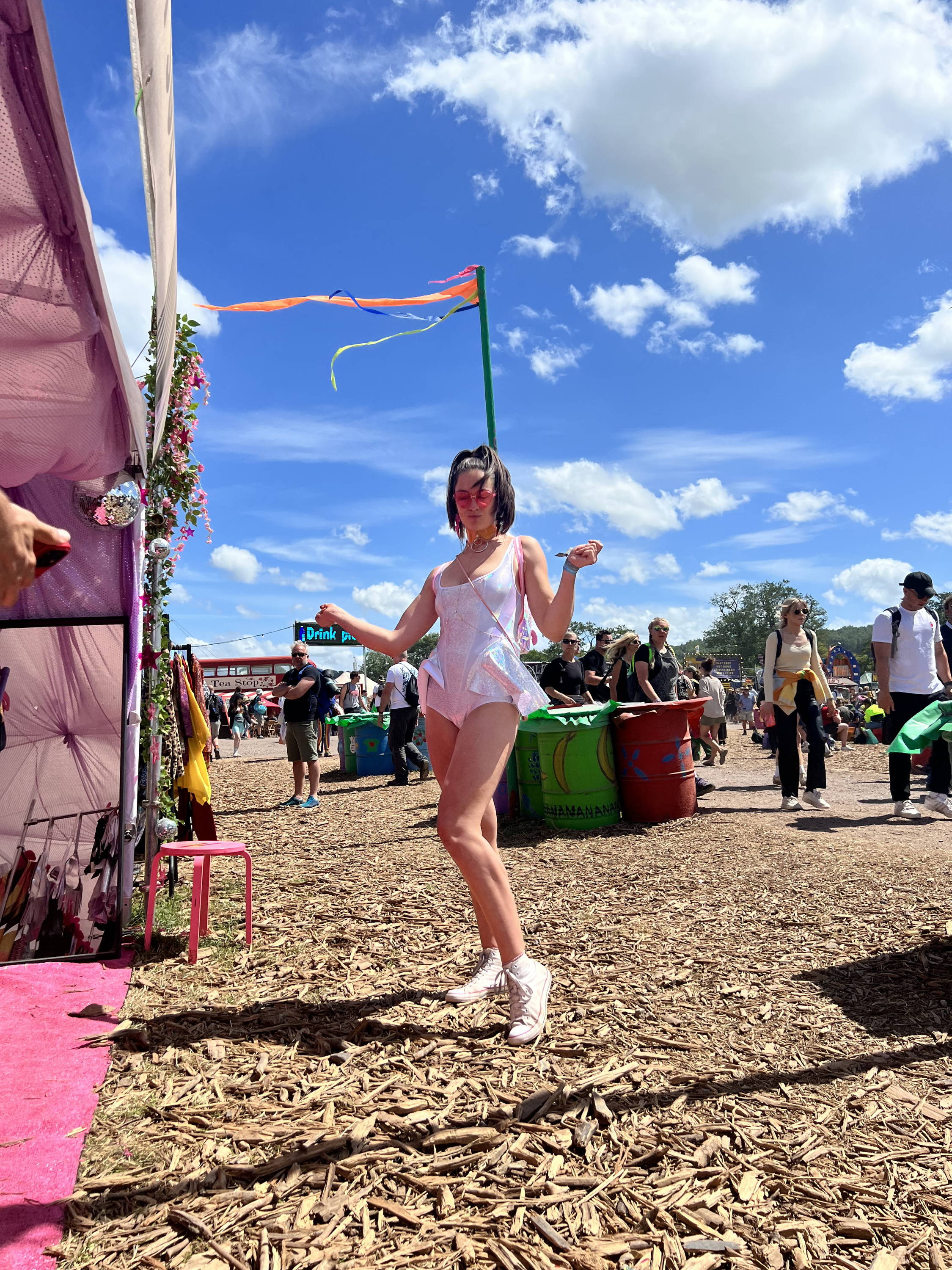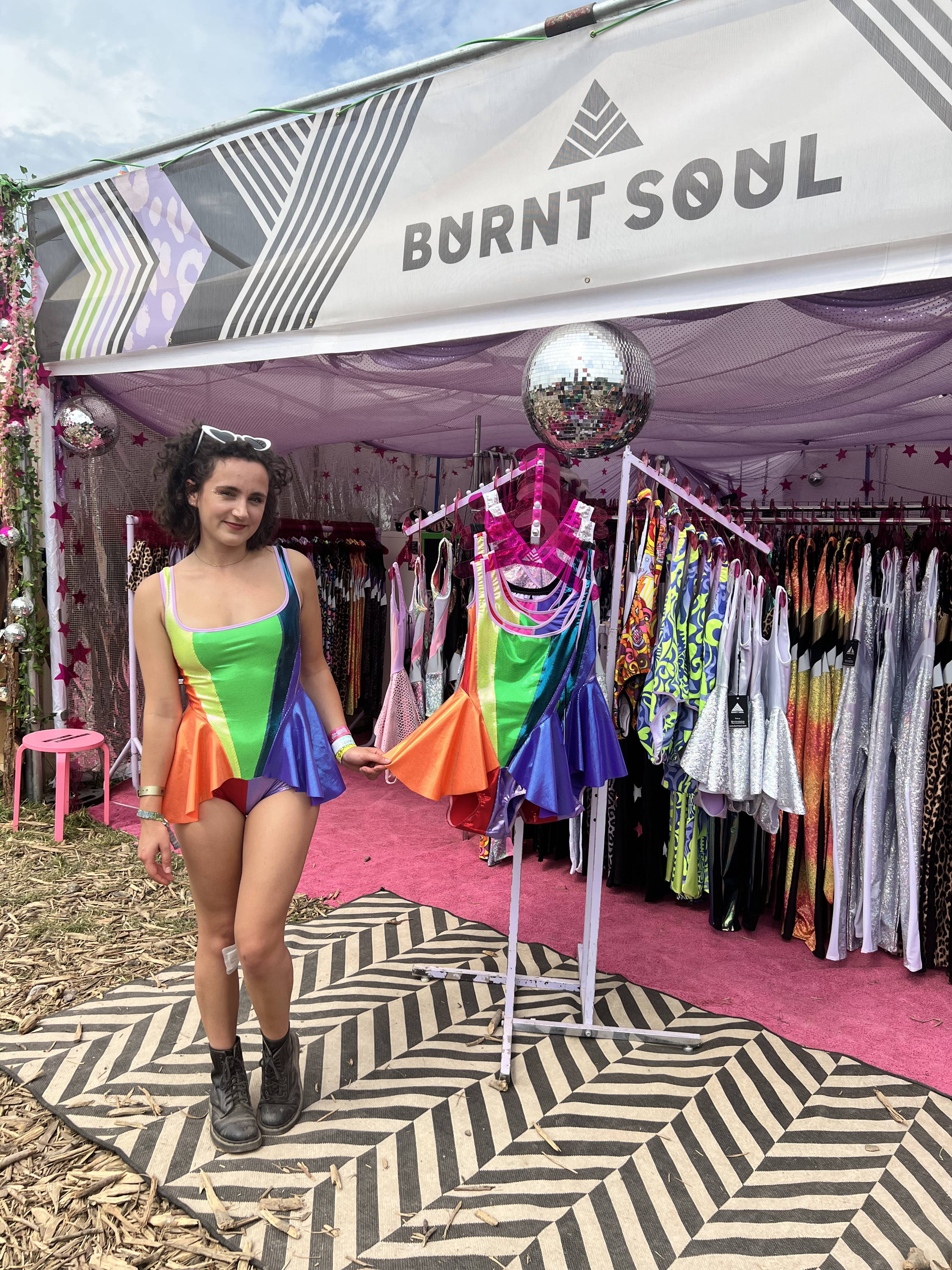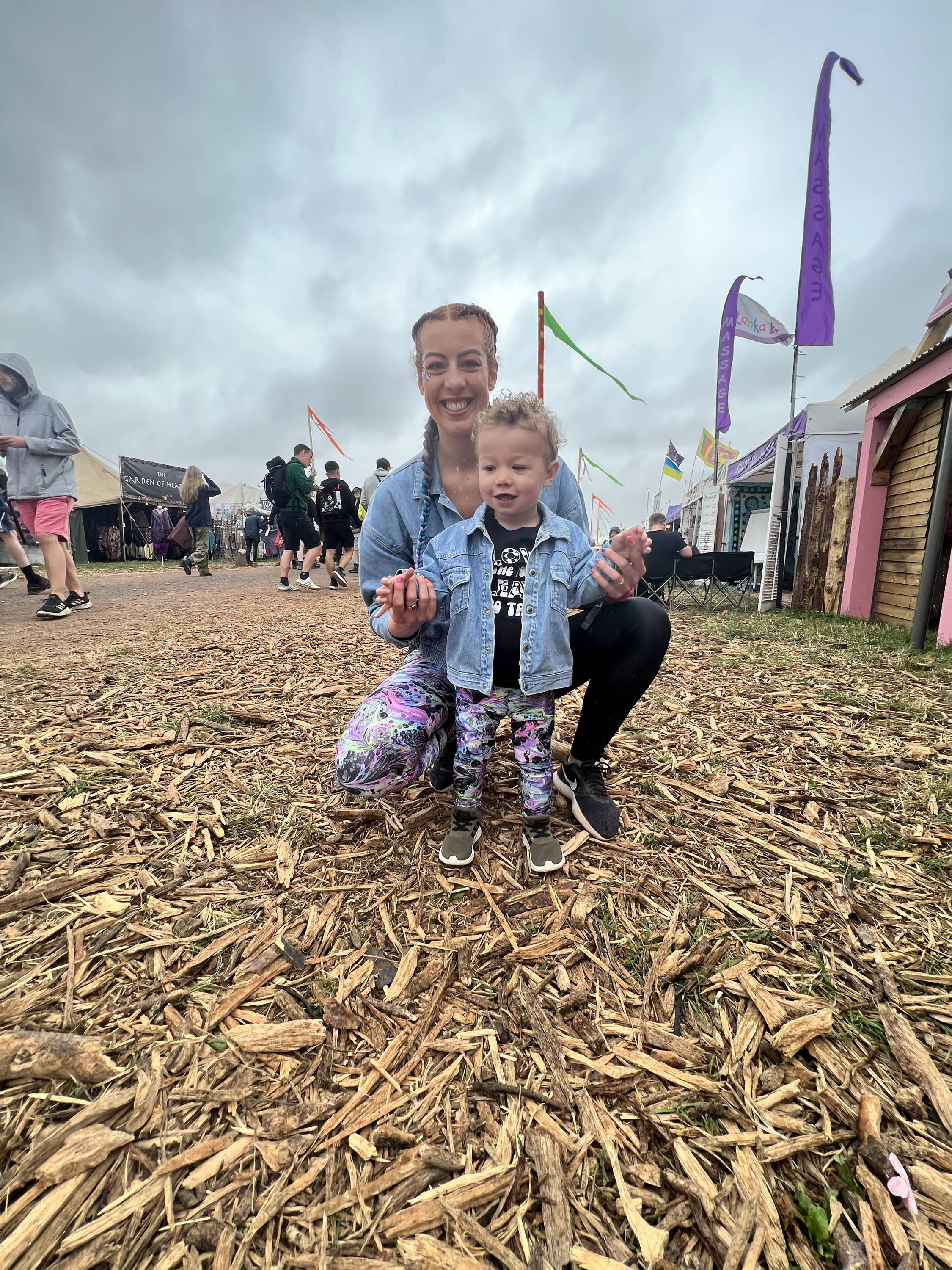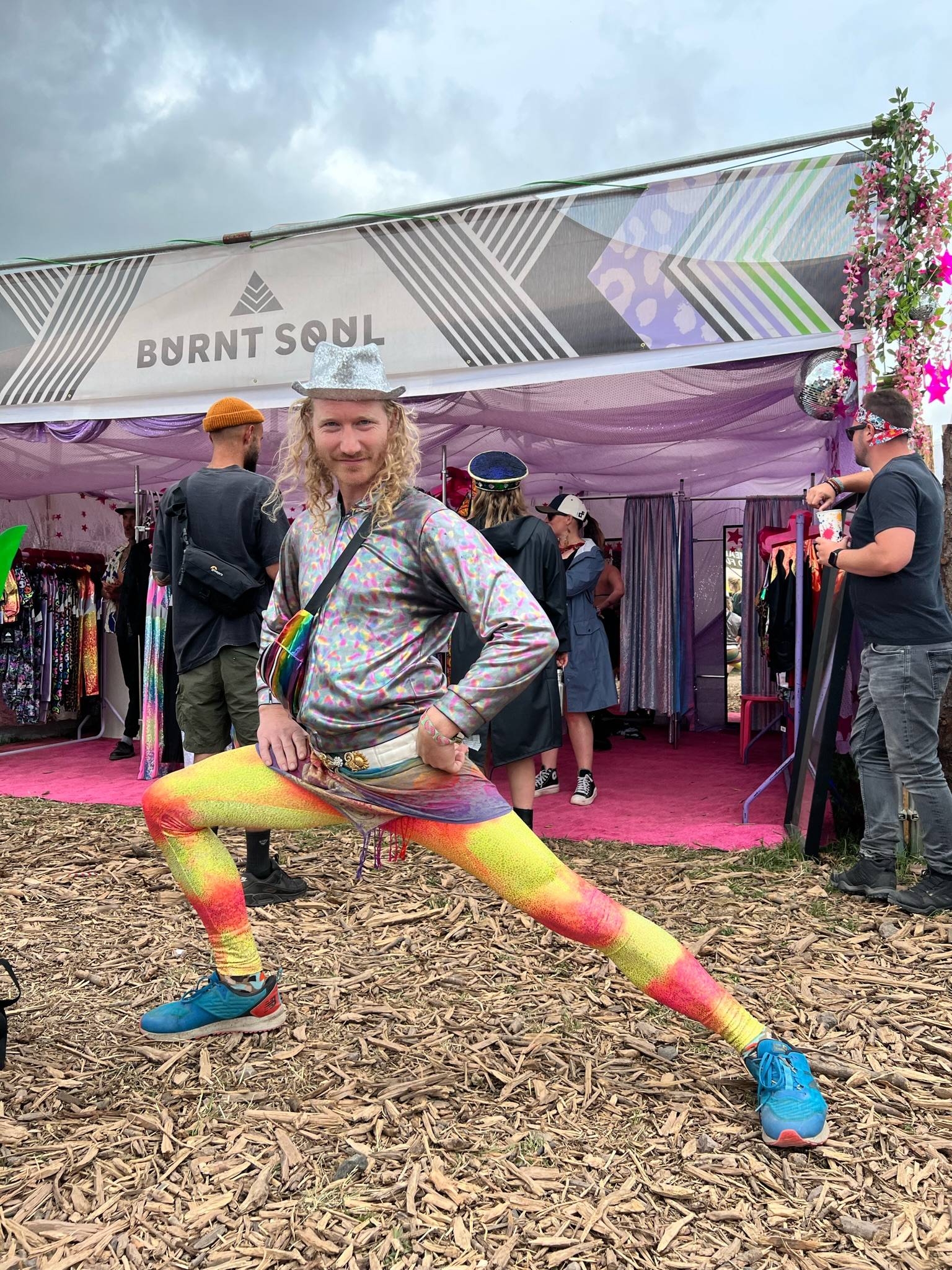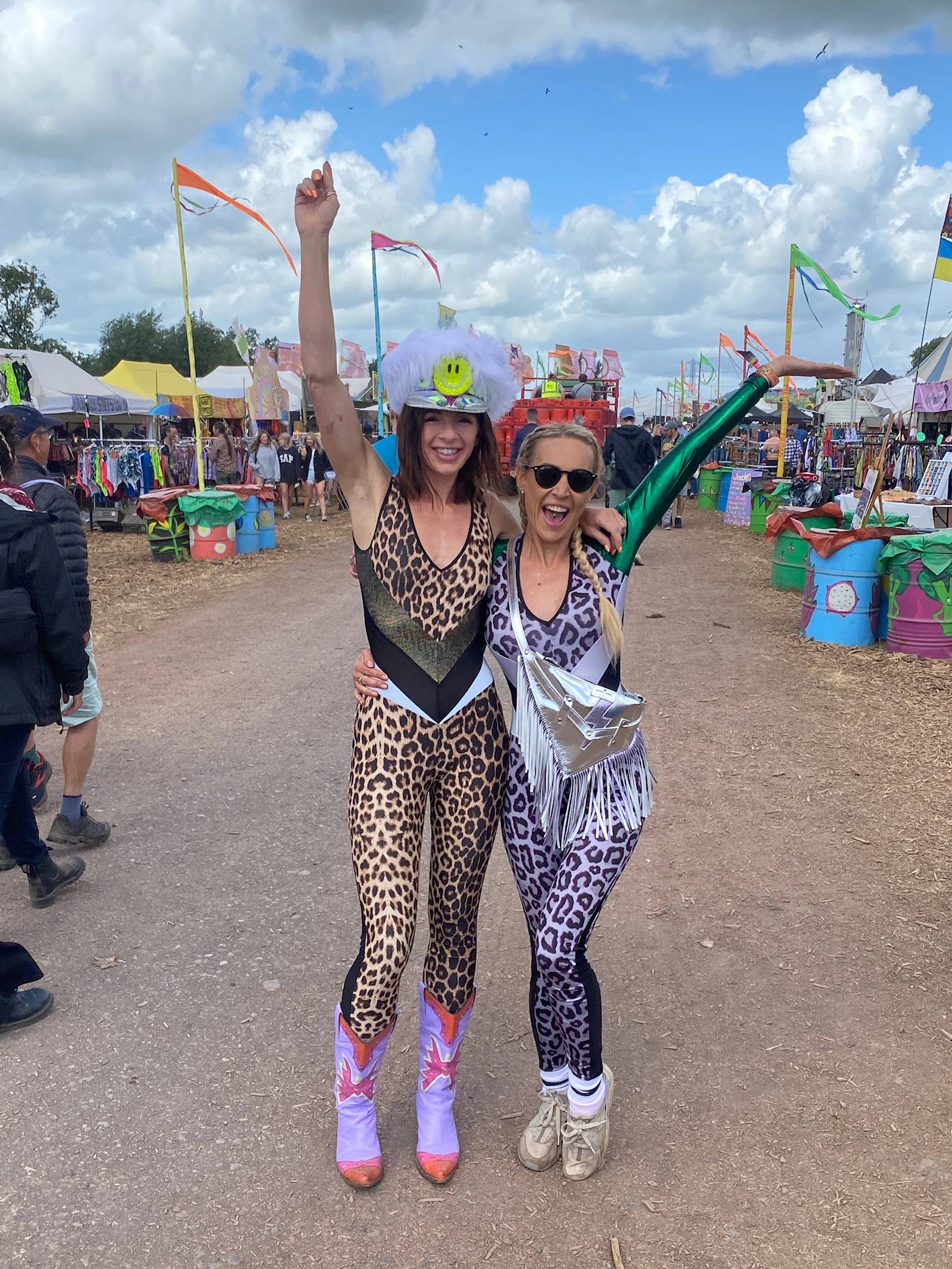 Foodies of the world, just know that the food choices at Glastonbury Festival are out of this world. From Jamaican, to Thai food, from Italian to Chinese. There were lots of vegan & vegetarian options too. With over 400 reasonably priced food stalls, there's definitely something for everyone.
I was in my element, I had halloumi fries on the first night, jerk chicken & rice and peas the next and a hearty pesto mac and cheese on the Sunday. I swear, I didn't stop doing the happy food dance the whole time I was there. 
Just imagine having any type of food at your fingertips, I was like a kid in a candy store. Speaking of sweet things, there were crepes, churros, ice cream and waffle stands as well.
The best thing about it is that whatever you eat, you're going to burn it anyway, with all the walking that you do.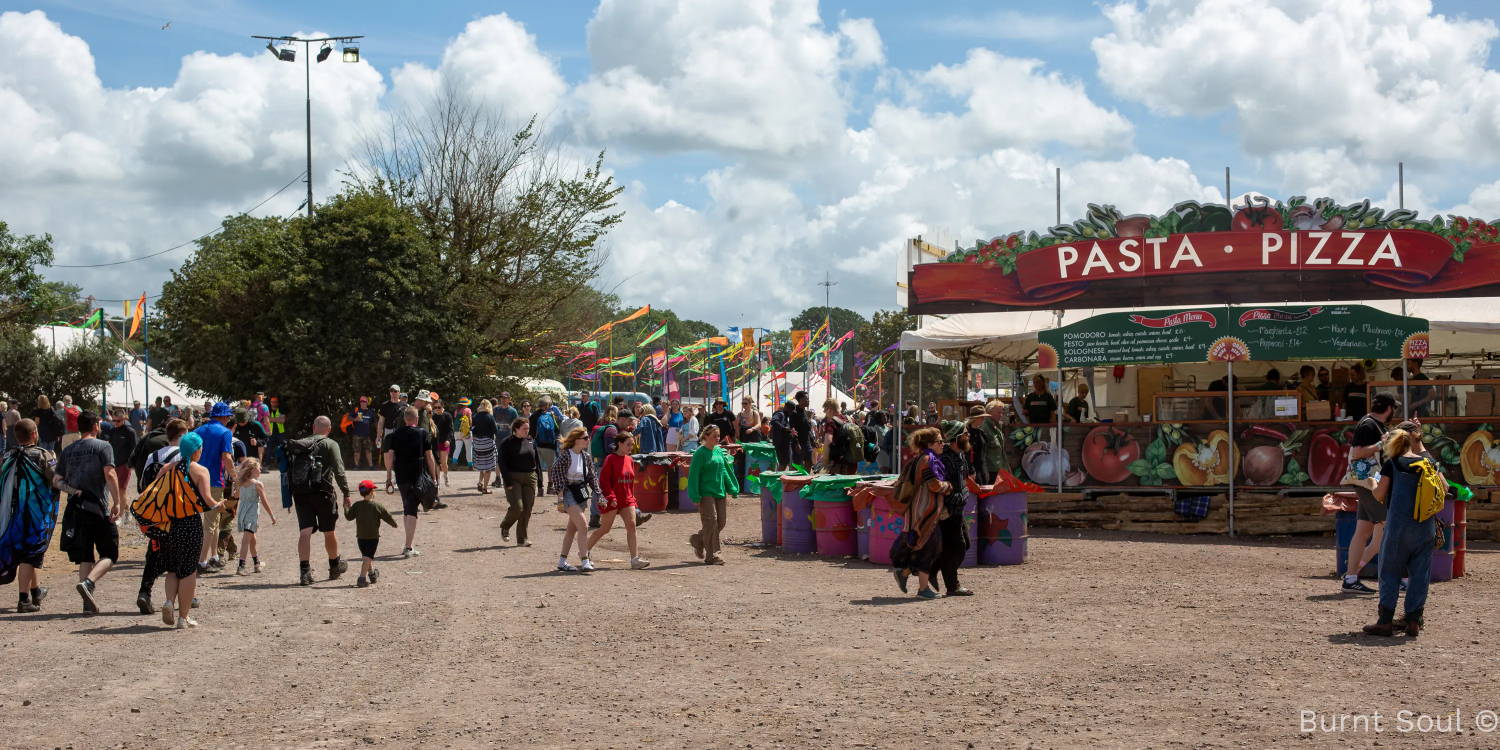 Italian Food stall at Glastonbury 2022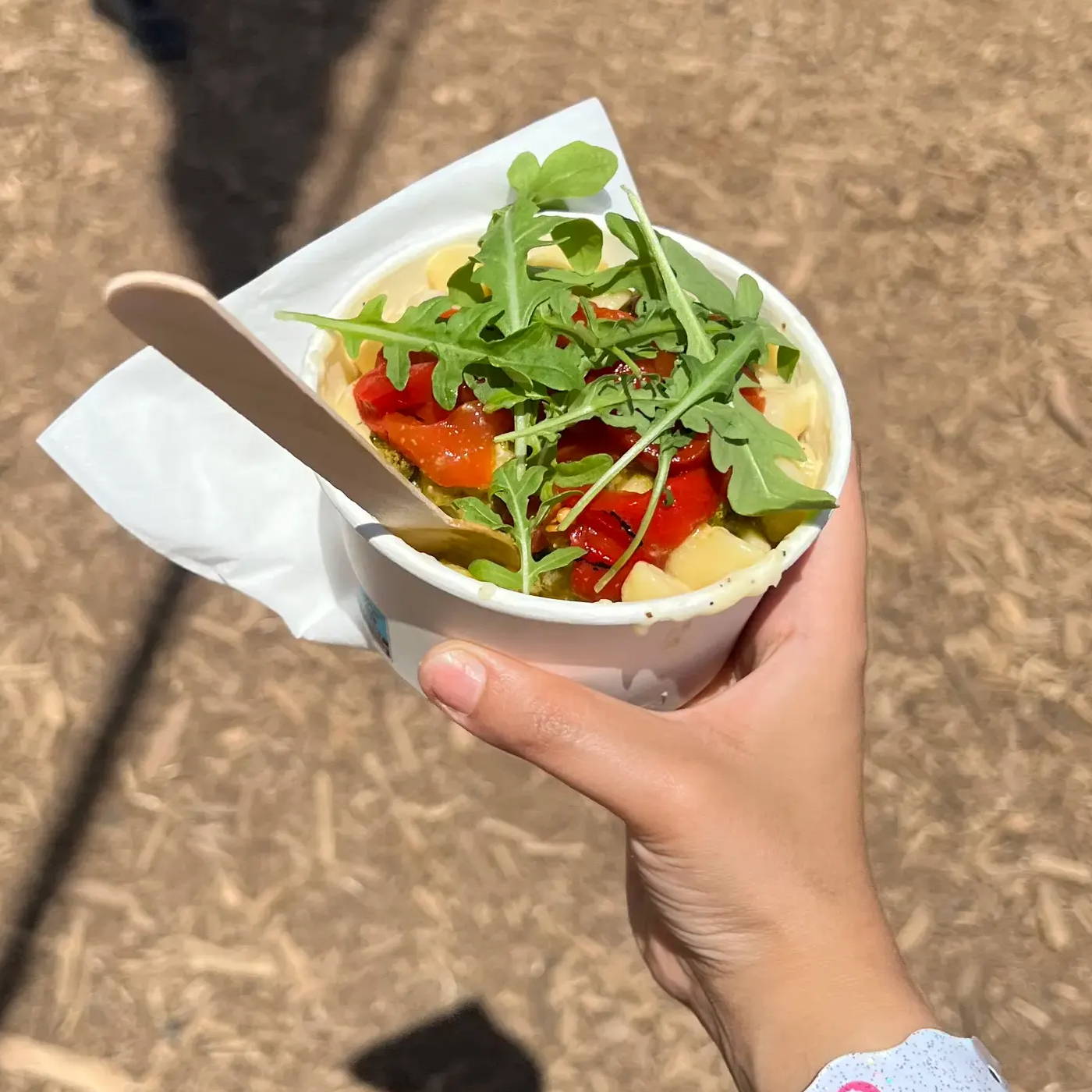 My Pesto Mac & Cheese with roasted red peppers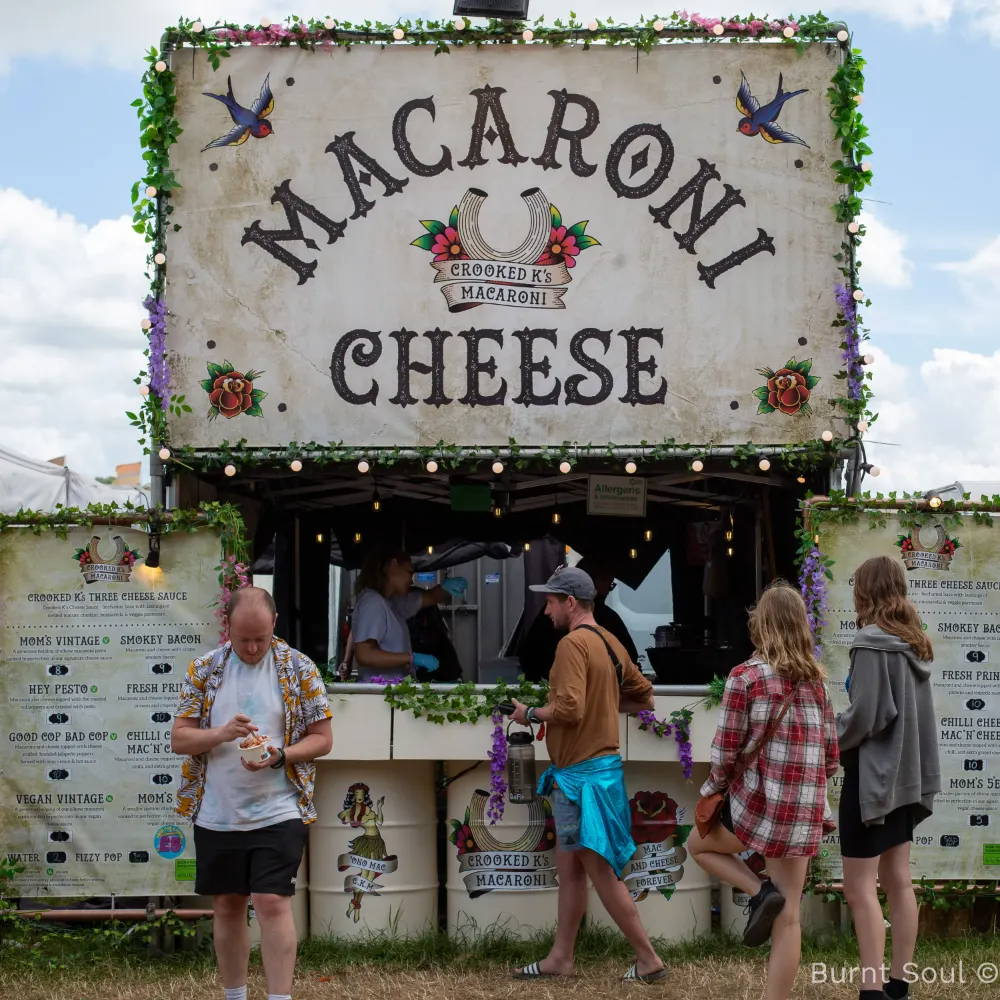 There's a few things you're going to need to know to help with your experience.
No matter how many list's upon lists you do to prepare, you are bound to forget something, be at peace with that. Luckily they had a co-op this year… Yes, there's a mini supermarket where you can get some essentials.
One of my many casualties included tripping and somersaulting around a guy rope, I ended up mashing up my knee and I even had a graze under my chin. I wasn't even drunk.
So a little word of advice, keep your eyes on the ground, otherwise your feet will get caught and you will fall.
If you're as clumsy as I am, and you can literally play dot to dot on your legs from all the bruises, then you'll be glad to know that there is a pharmacy! 
Actual footage of what happened to me whist Sam watched it live, shocking lol
The all important Pharmacy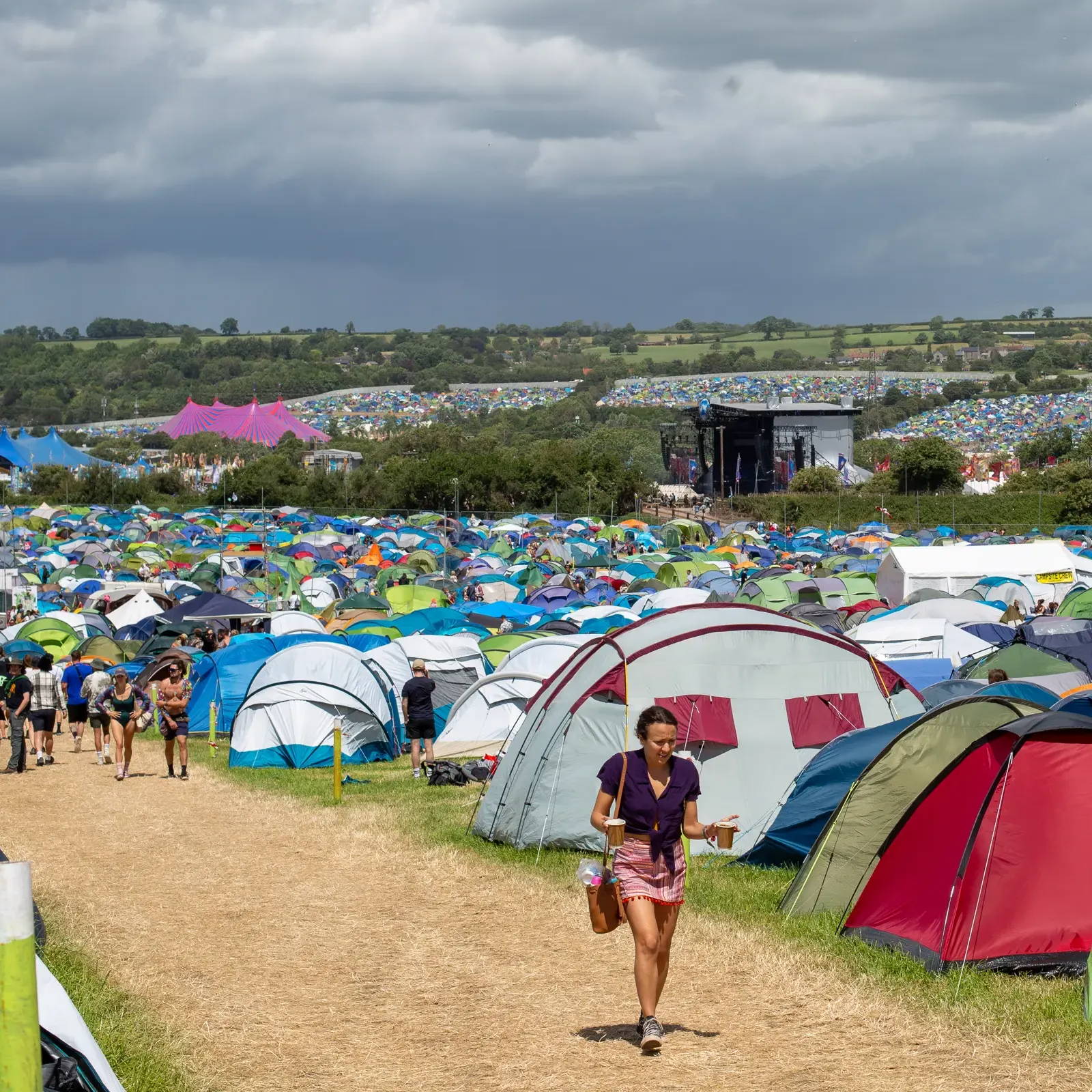 Be careful of all the guy ropes!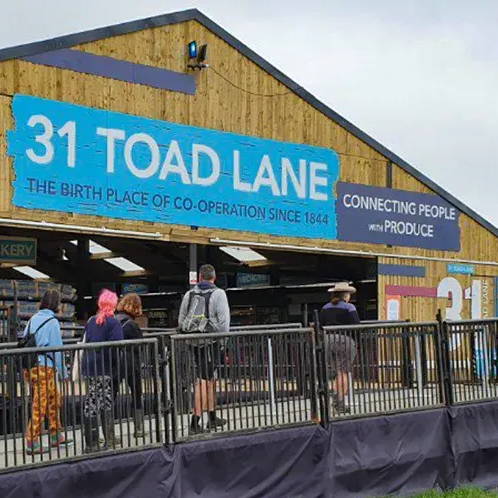 The Co-op at Glastonbury 2022
There's so many fun things that don't involve music too. I was so surprised that Glastonbury festival has its own pier, with lots of kids' entertainment.
There's so many cute clothing stalls, mainly slow fashion brands and vintage stalls. So many bucket hats as well, I was in my element.
One last piece of advice, make sure you have toilet roll with you at all times, and if you can bring biodegradable wet wipes too, you'll be winning. When it came to tackling the smelly portaloos. I had a system in place.
After the first two days, I finally became less anxious when it came to doing my business. Not only that, 'the peeing catsuit hack' I mentioned in one of my blogs, came in handy when I wore my catsuit.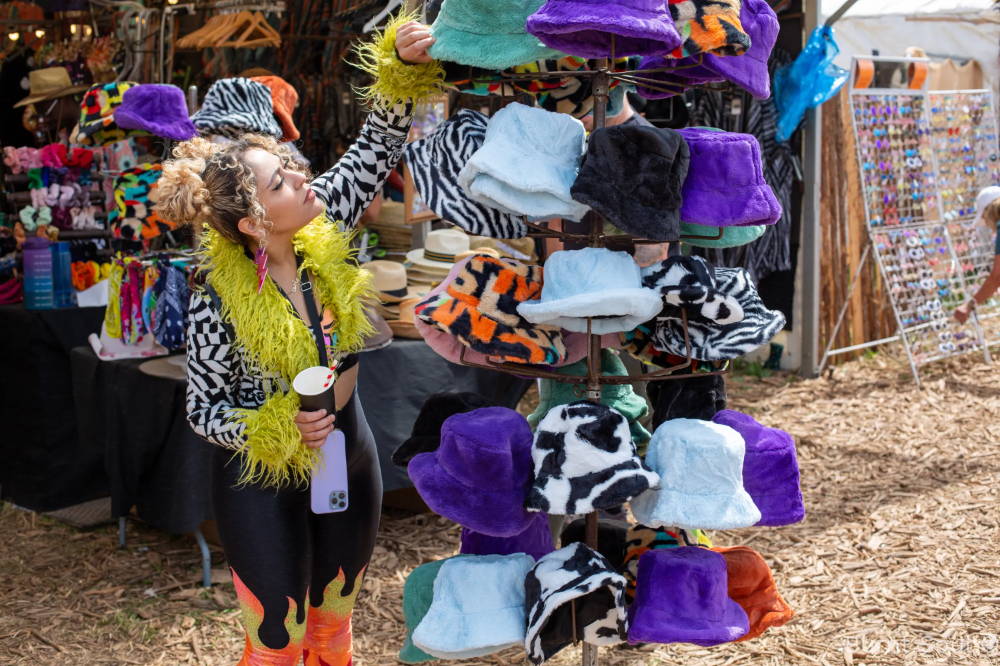 So many different bucket hats to chose from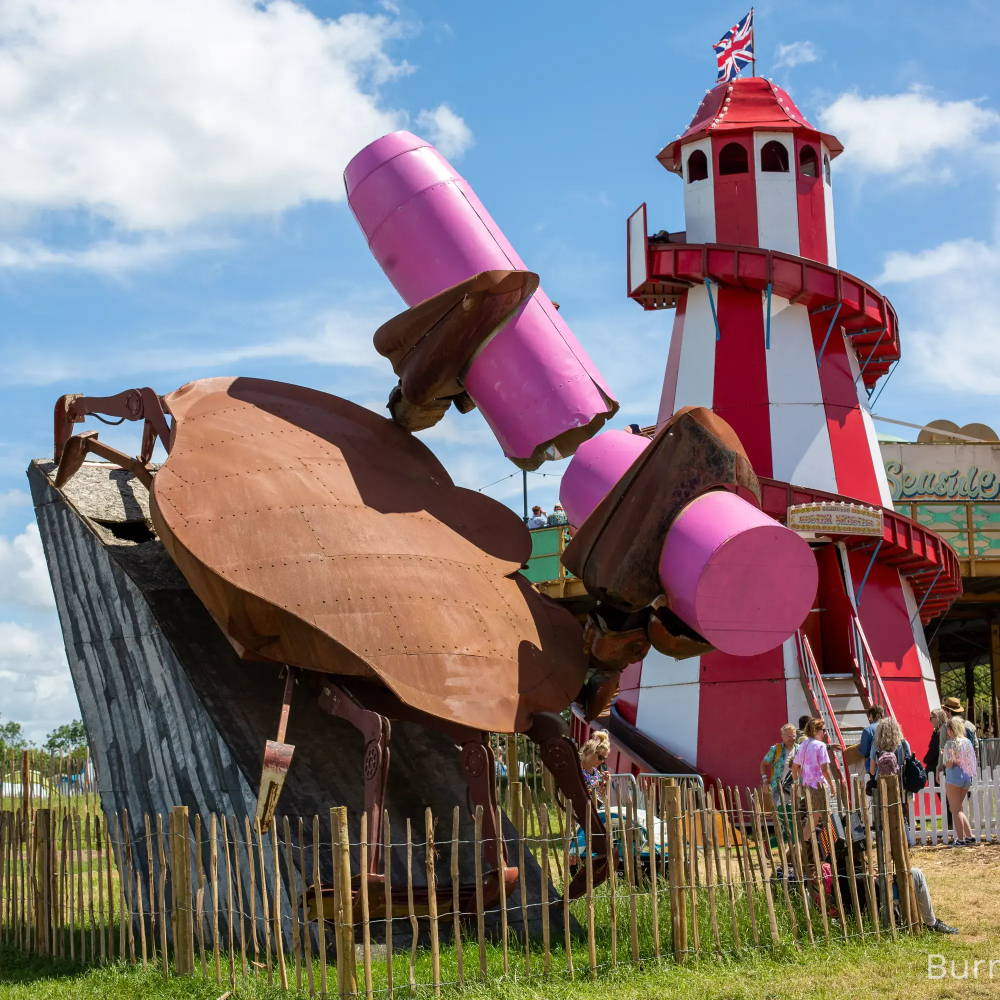 The Pier had so many cool sculptures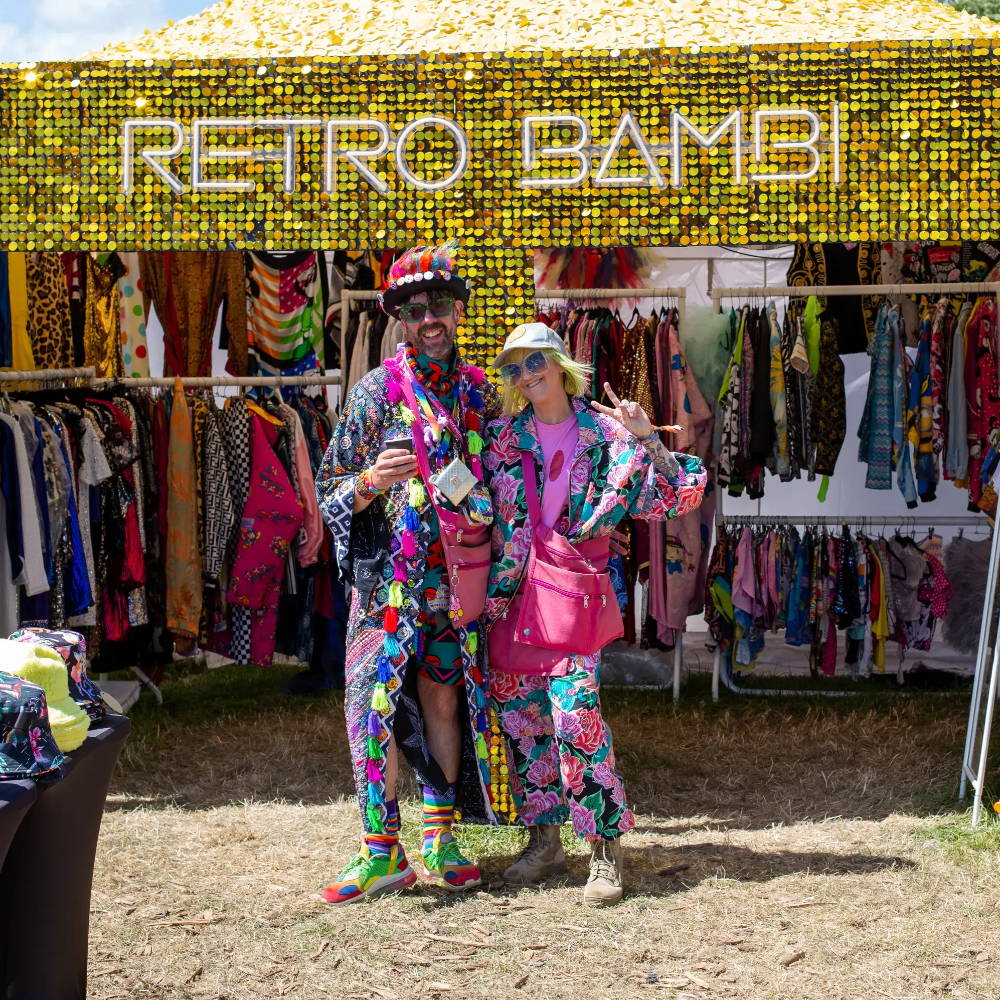 Joanna & Bruce the owners of Retro Bambi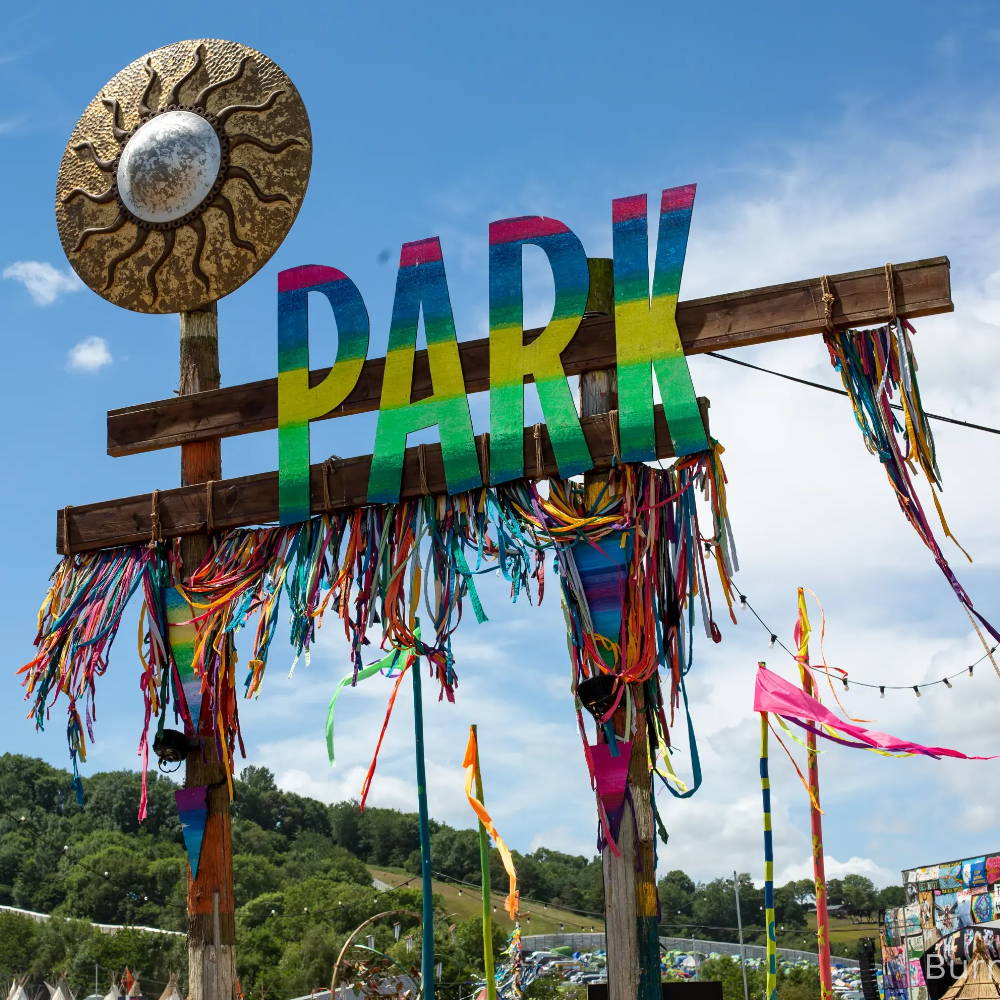 So many different activities for kids too
I left Glastonbury with no voice, a chipped tooth and many, many cuts and bruises. (YES, Robyn had her hands full.) But the vibes that I experienced were like no other. I would literally do it all over again tomorrow.
I got to talk to so many of you, see my fave artists doing their thing, and make stronger bonds with Robyn, Sam and Tiff.
it's impossible to not fall in love with this place and what all it stands for. It's one of those bucket list experiences that everyone should do at least once! I'm so grateful that I got to go to Glastonbury as my first ever festival, I don't think anything can top that.
If you've enjoyed reading this blog and want to know 'my top festival essentials that you're bound to forget' then check out my blog.
Thank you to everyone who came to visit us at Glastonbury. Dancing, singing and chatting to you lot, meant the world to us!
Stay blessed,
Jaz xx
---