Top Tips For Designing Your Custom Catsuits And Bodysuits
So you're ready to start designing your custom Burnt Soul catsuit or bodysuit in our Design Lab but are still unsure on a few things.
After years of experience making catsuits and putting together curve popping fabric combinations, we've highlighted 5 things to consider before hitting the buy button.
Fun fact! There are 4,739,328 possibilities of catsuit combinations... and that's just for the backless catsuit alone!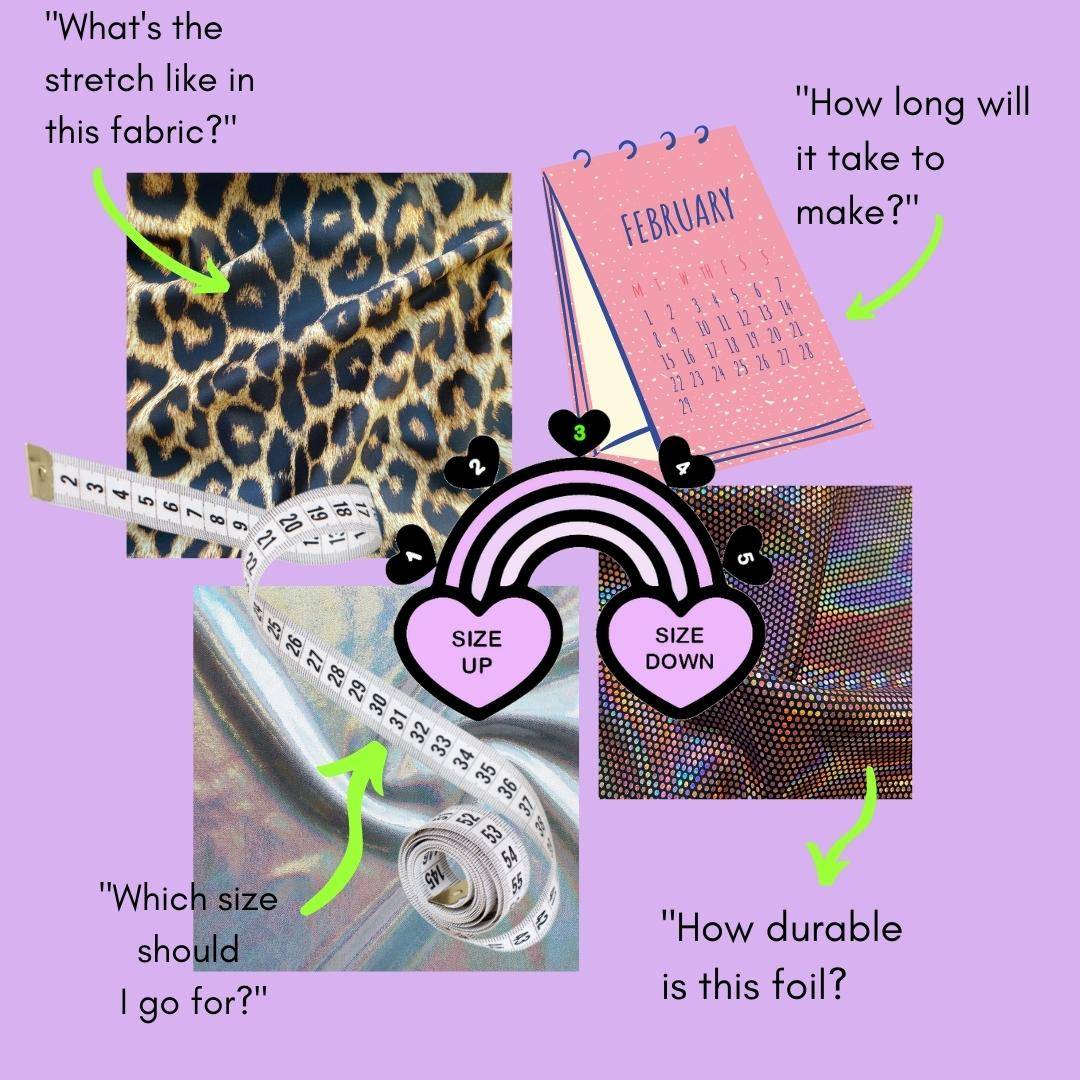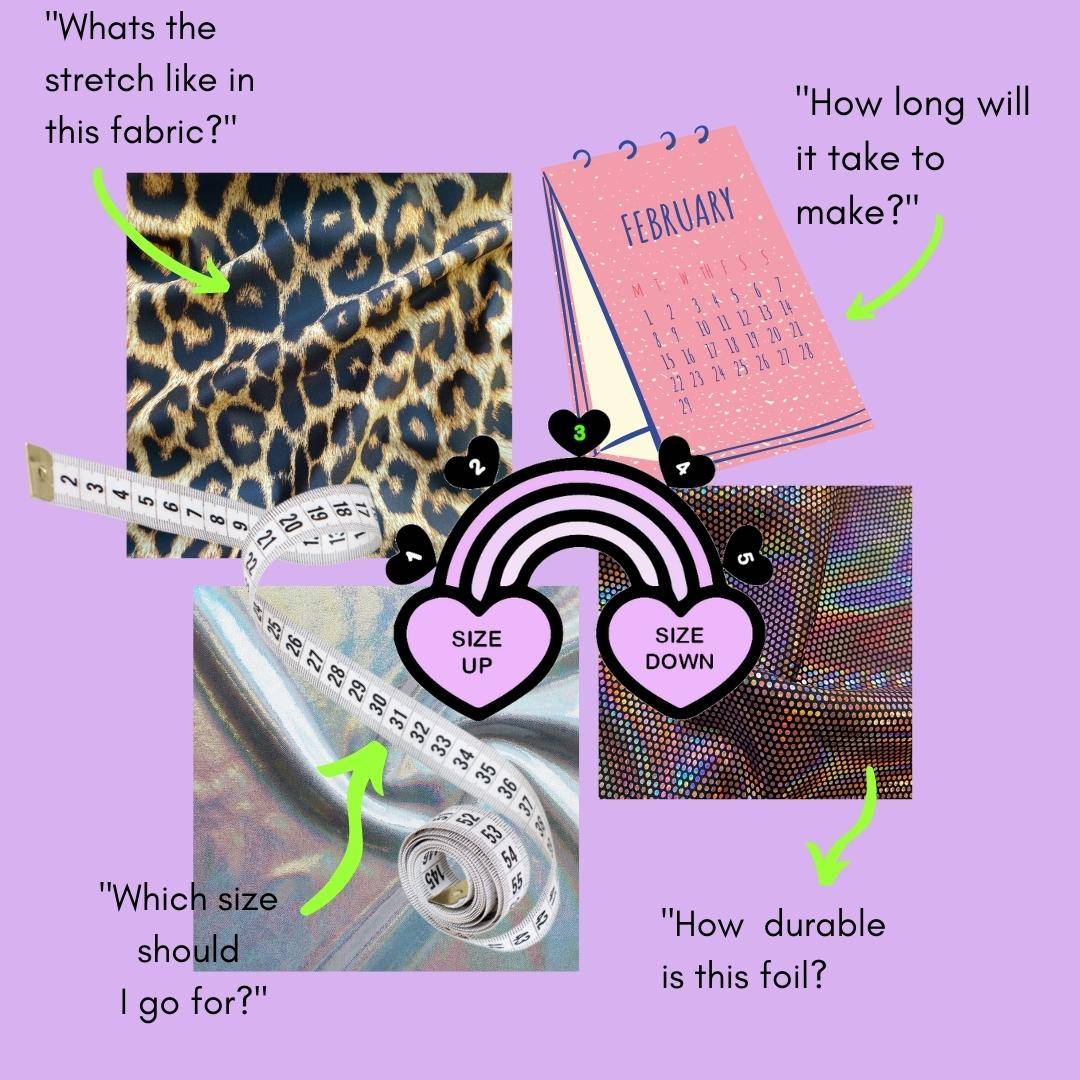 1. It's all about the Silhouette
We love to create custom catsuits and bodysuits with that va va voom effect of a hour glass silhouette, we celebrate all shapes and sizes here and our signature panels help accentuate your favourite curves.
So, what's the best fabric to create that signature silhouette? There are a few ways to do this or you can do them all at the same time.
Choosing a darker fabric for the lower v panel instantly draws the eye, creating great shapes around the hips and bust. We also suggest choosing contrasting colours or textures on the upper and lower v panels to create more of a visual impact.
Having said that, some of our best sellers have included lighter lower panels, so it's always a personal choice!
If you're looking for more coverage than the mesh offers then we suggest going for the glittermist option. Glittermist provides way more coverage, with a slightly glitter texture which looks great against the solid panels.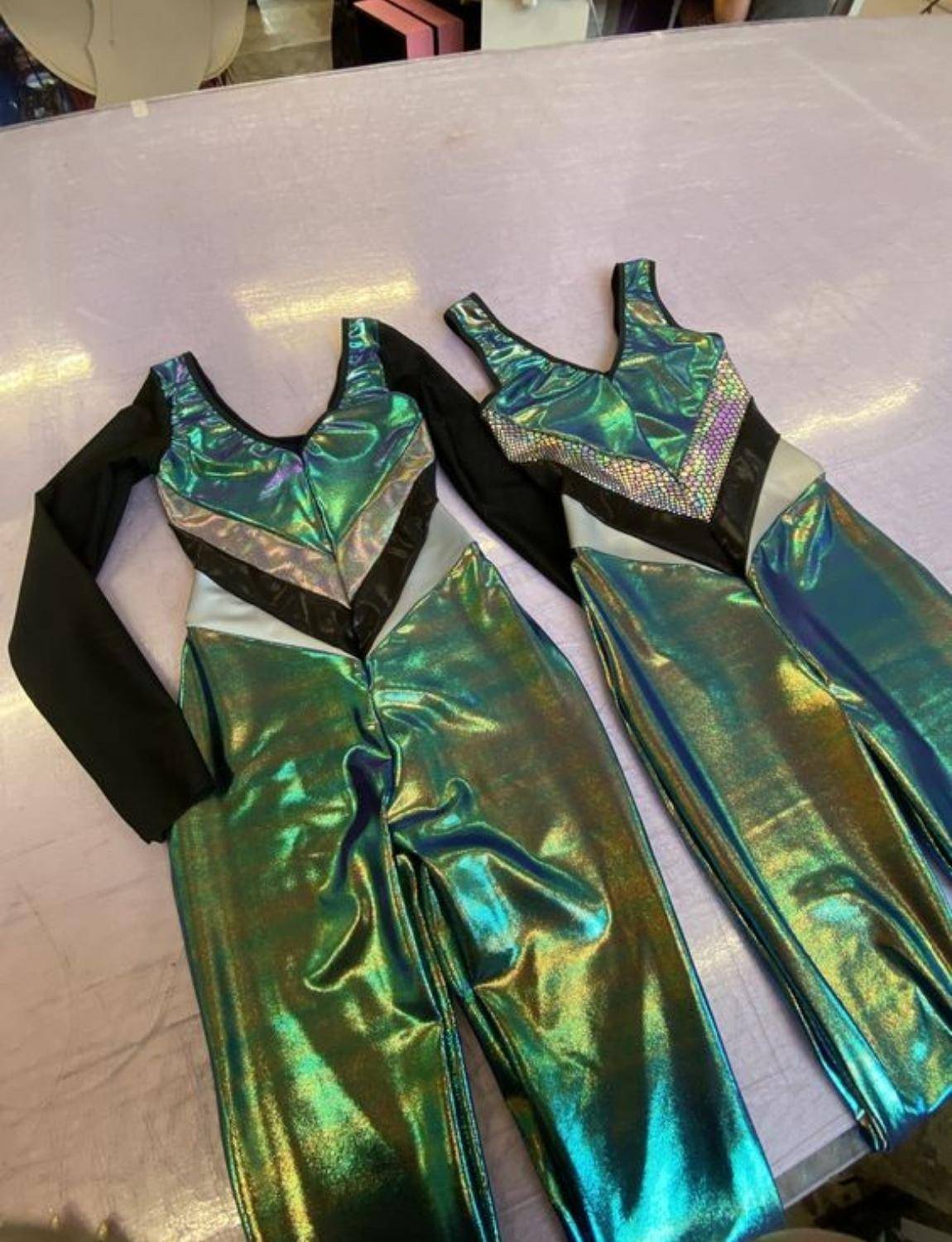 Lighter upper v panels and darker lower v panels create that sculpted silhouette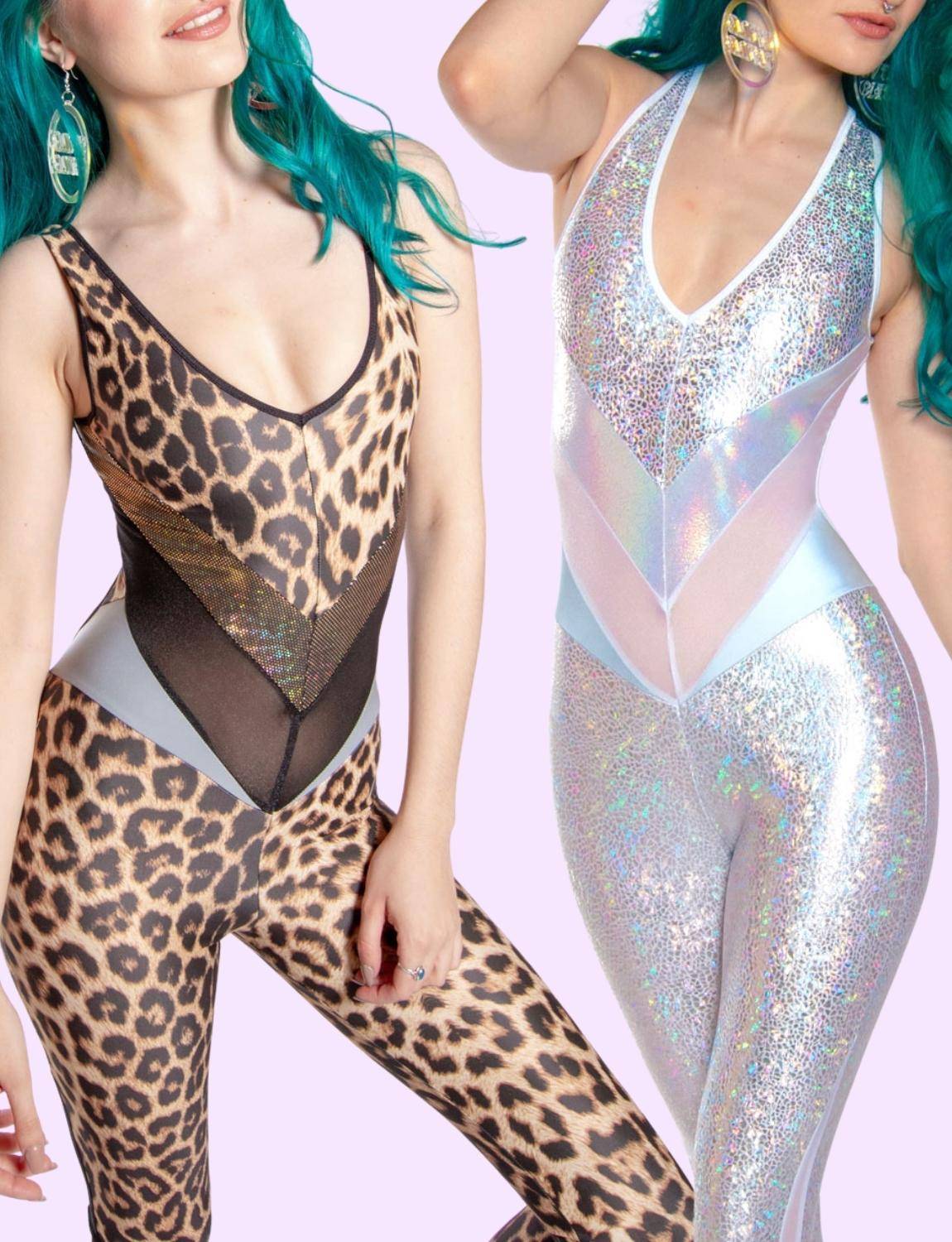 Contrasting v panels compared to light v panels. Both of the bottom v panels are in glittermist.
Even though the bottom v is in white glittermist, it is accentuated by the change of the hip panel which has been changed to match the legs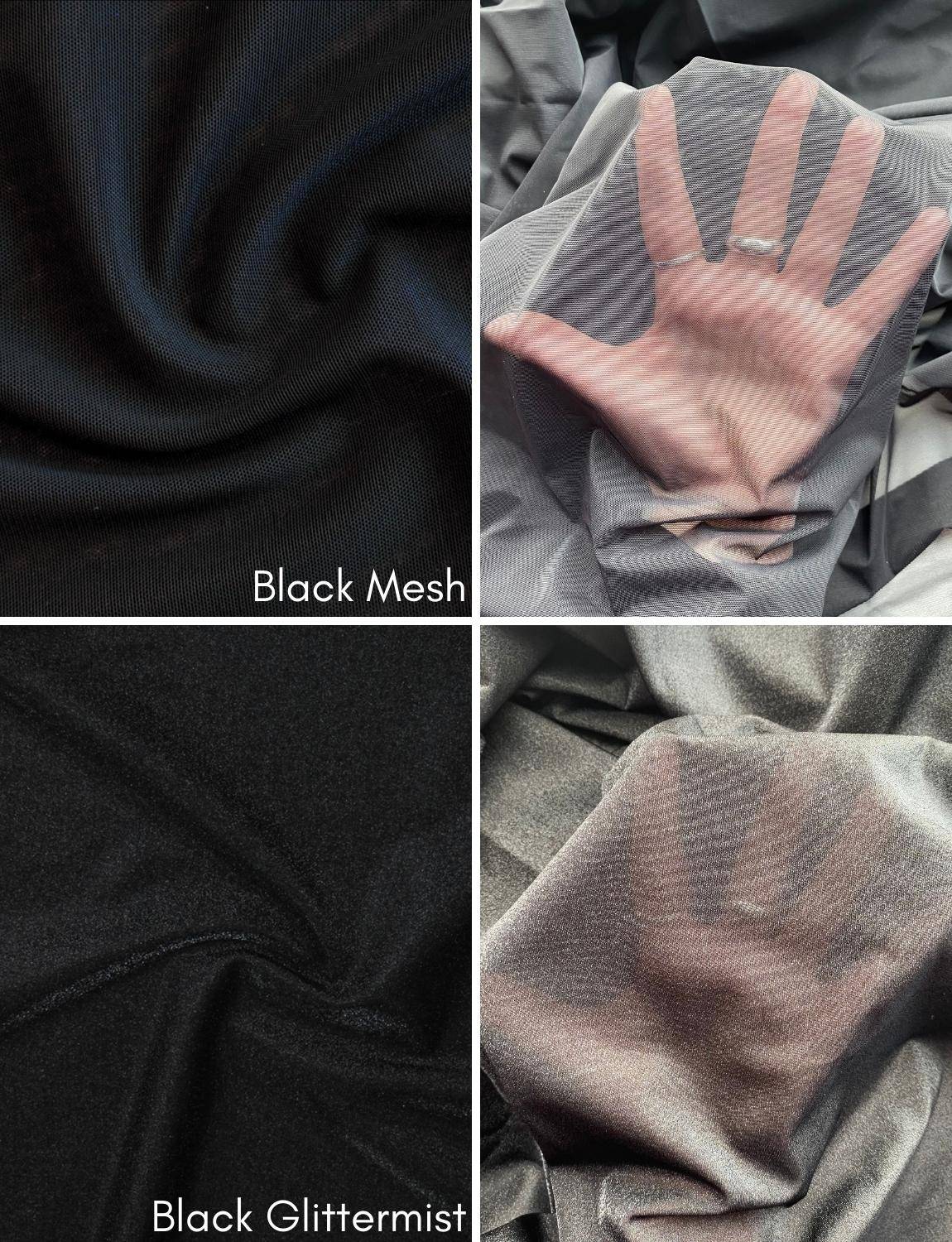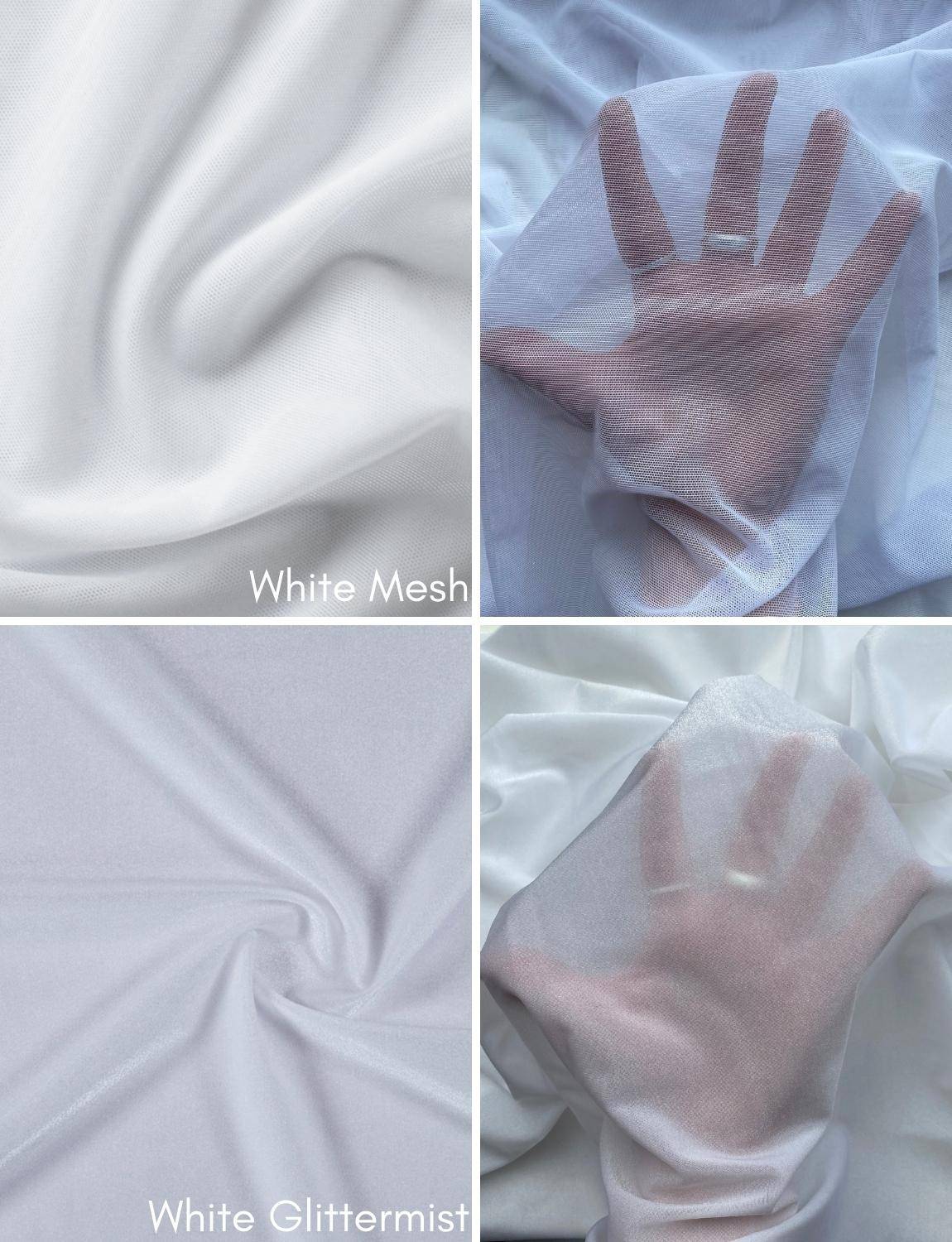 Depending on your style and preference both the glittermist and mesh are perfect for lower panels
We have over 40 different stretch fabrics to choose from, it's important you know how each fabric will feel and act. Some are stretchy and softer whilst others are less stretchy but offer more hold.
You can find out about all our fabrics and their properties on our Fabric library page.
To help you get the perfect fit, we've created the stretchometer to indicate what fabrics are firmer and what fabrics offer the most stretch.
Here are a couple of things to consider when choosing...
If you want a soft and stretchy, look for a fabric that is higher on the Stretchometer scale
Looking for a firm and contouring fit? Go for a fabric with a low stretchometer scale
If you're towards the top of your size and are looking at a fabric with a stretchometer 1, then you may want to size up
Fabrics with a large surface area of foil are going to be less stretchy - our Snake Holo Foils (images below) on a recycled fabric base are especially tight. You may want to size up on this fabric, especially if buying custom leggings
All the fabrics warm up with your body heat and mould to your body once worn - things that need to be wiggled into on the first go, will loosen
"Can you mix different stretch fabrics?" - Absolutely! Having different stretch fabrics is fine to do so, it's only more noticeable when designing your flip catsuits & swimsuits.
If you choose quite different stretches (say a 1 & 5) it's worth noting that the one half of the suit will feel a little firmer than the other. Also, you may feel a slight pull on the central seam towards the firmer side than the other!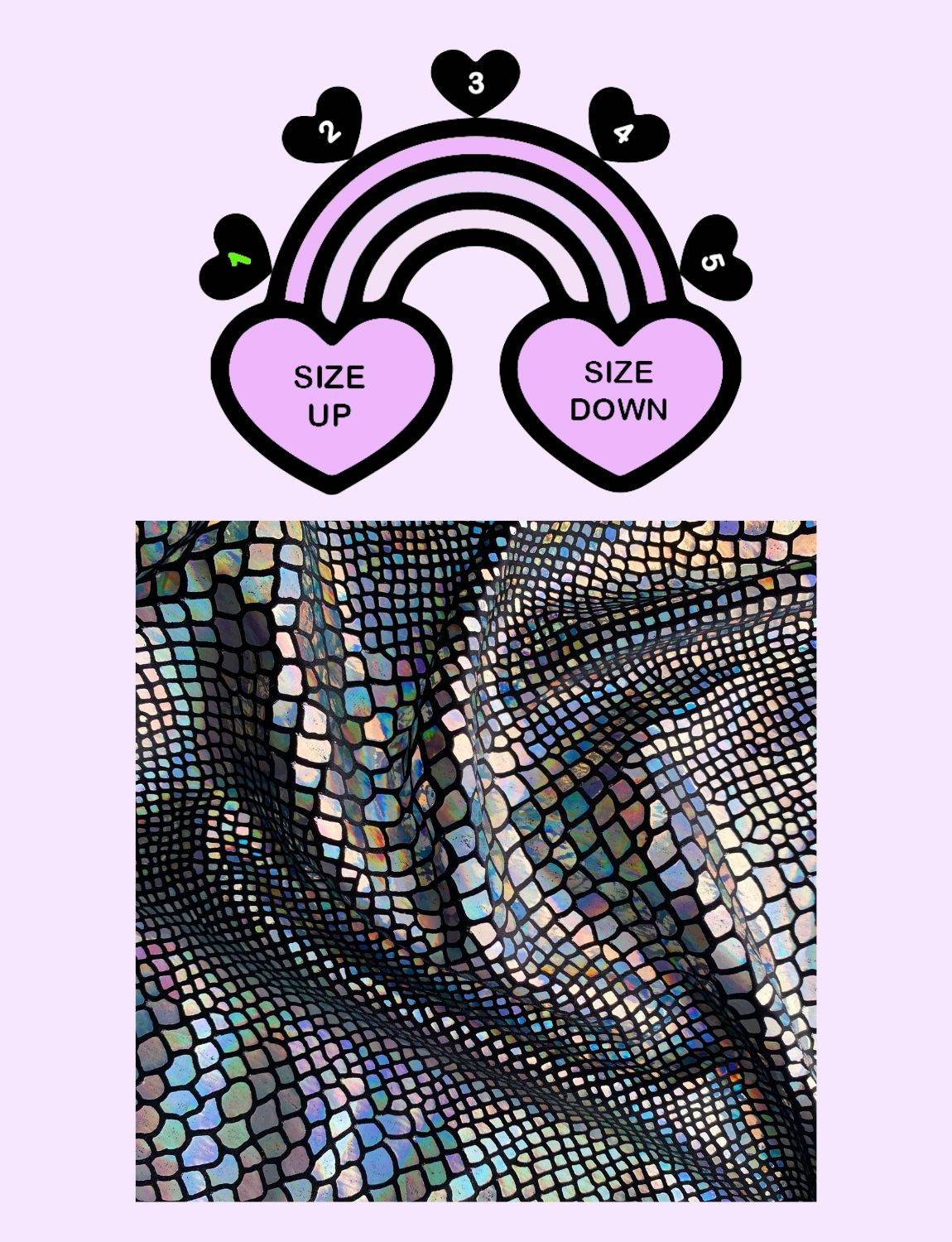 Silver Holo Snake Foil - Due to the glue and foil pattern being so solid in parts, it makes this a particularly tight fabric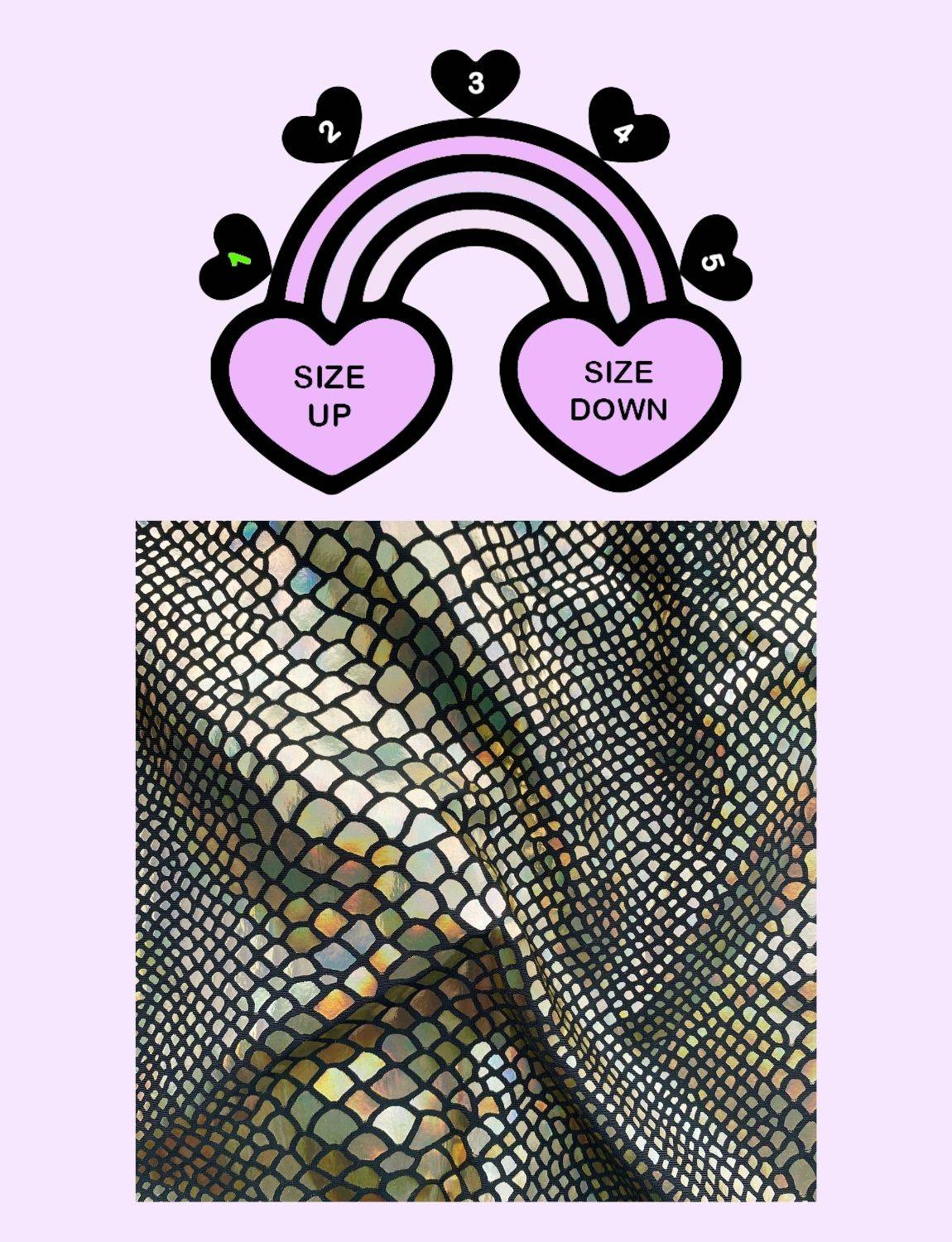 Gold Holo Snake Foil - Same as silver - size up with these fabrics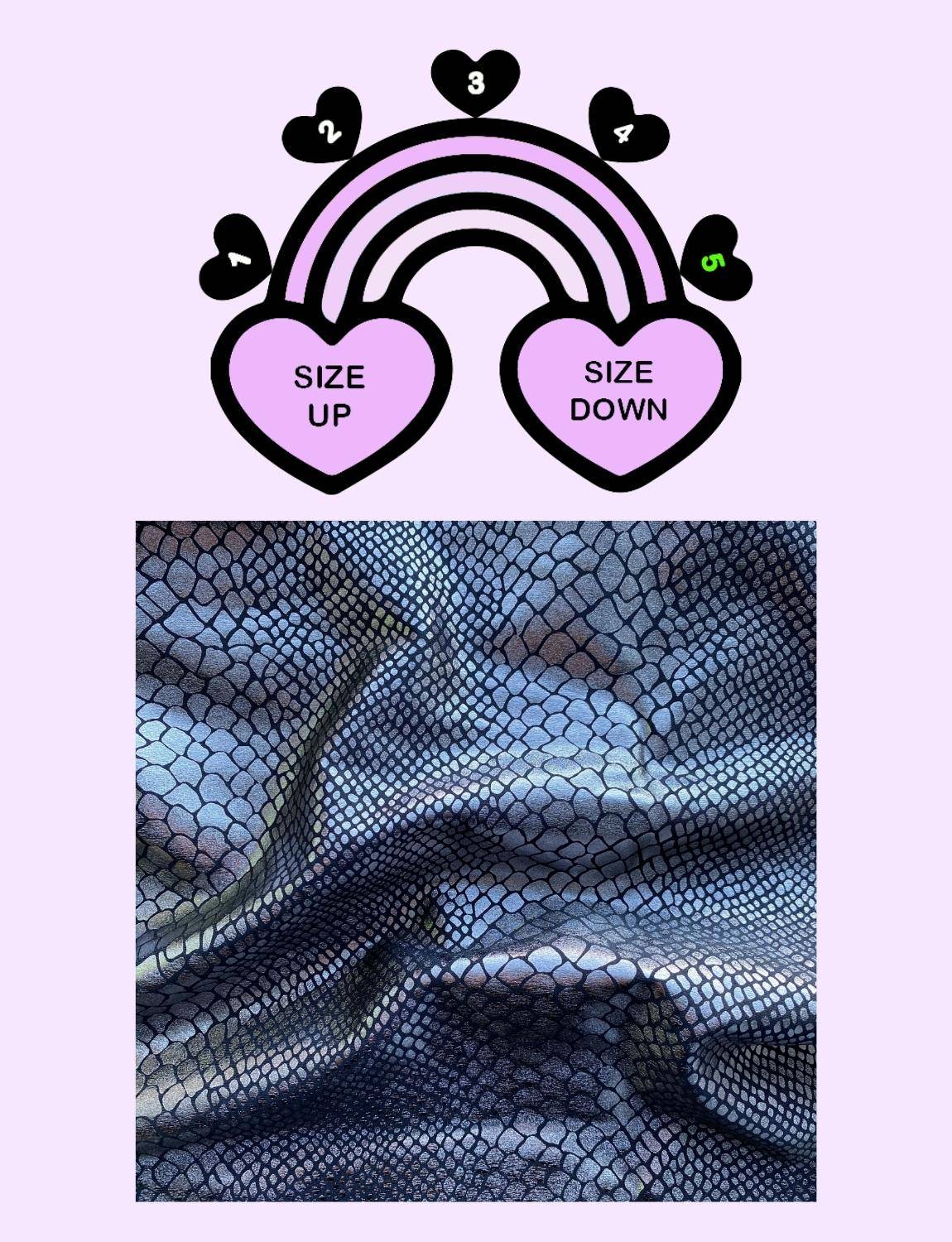 Gunmetal Snake Foil - Completely different to the Holo Foils - this is our stretchiest fabric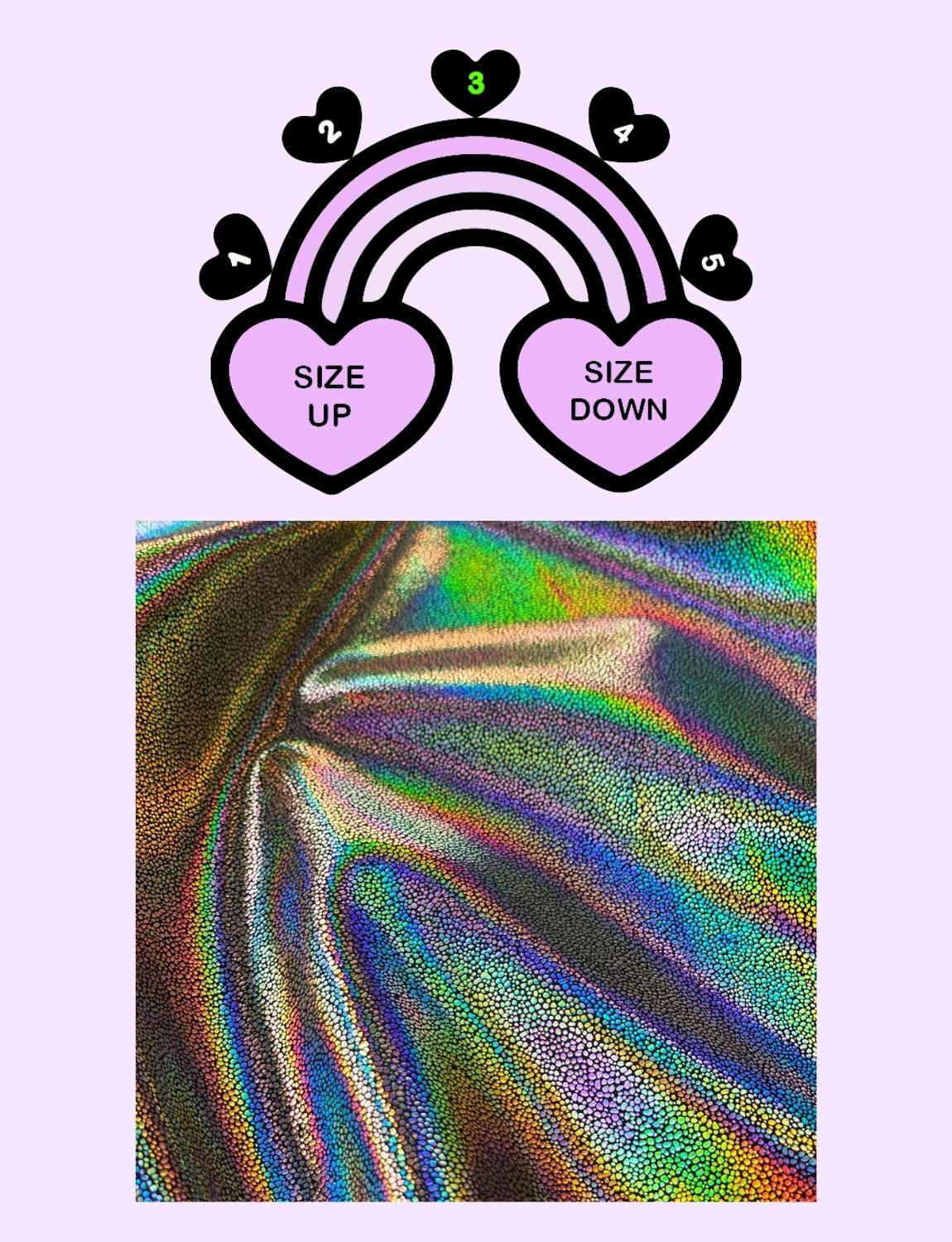 Gold holo crackle foil - as the glue pattern is smaller than the snake, it allows for lots more stretch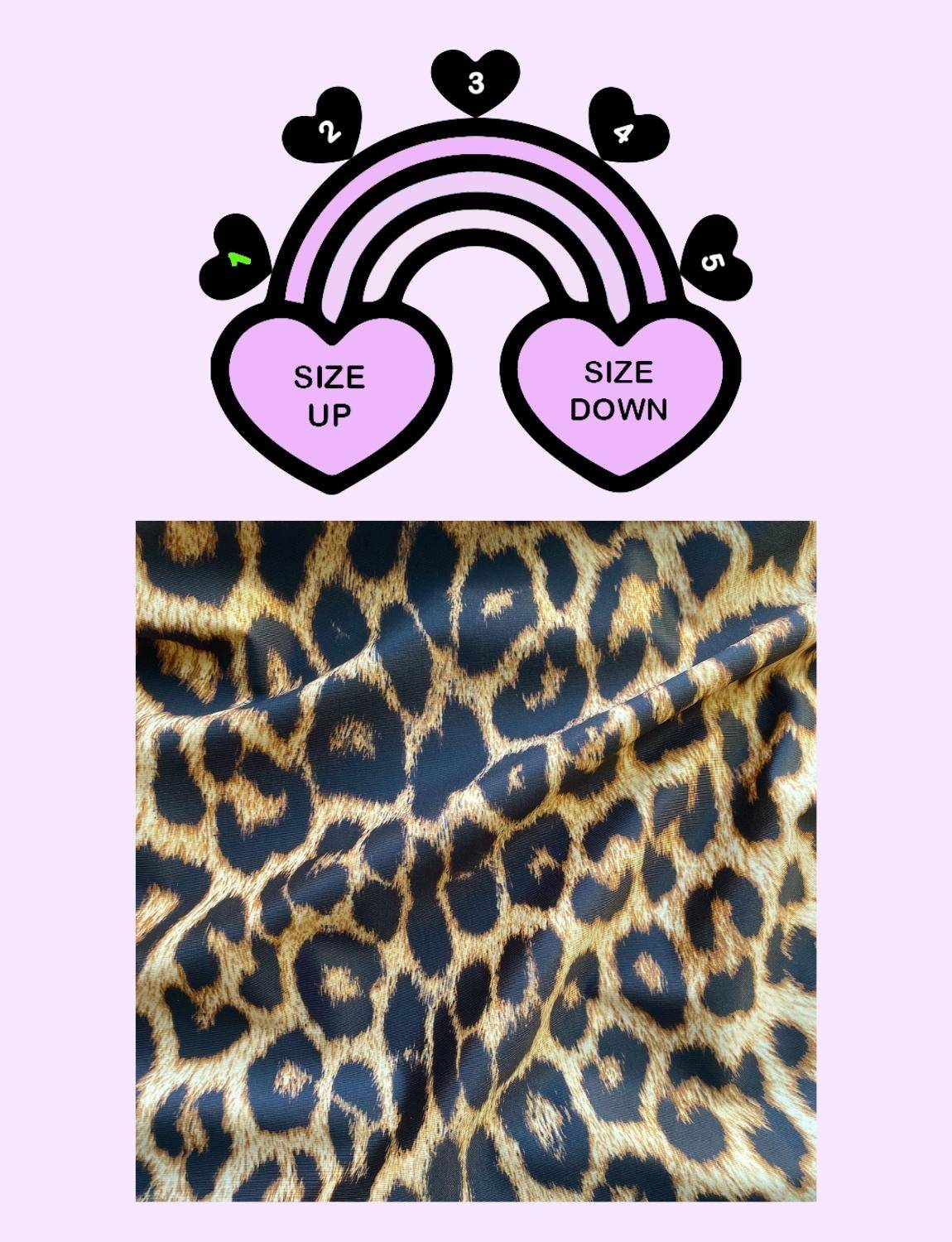 Prints on our recycled LIFE base which has a firm hold (1 on our stretchometer)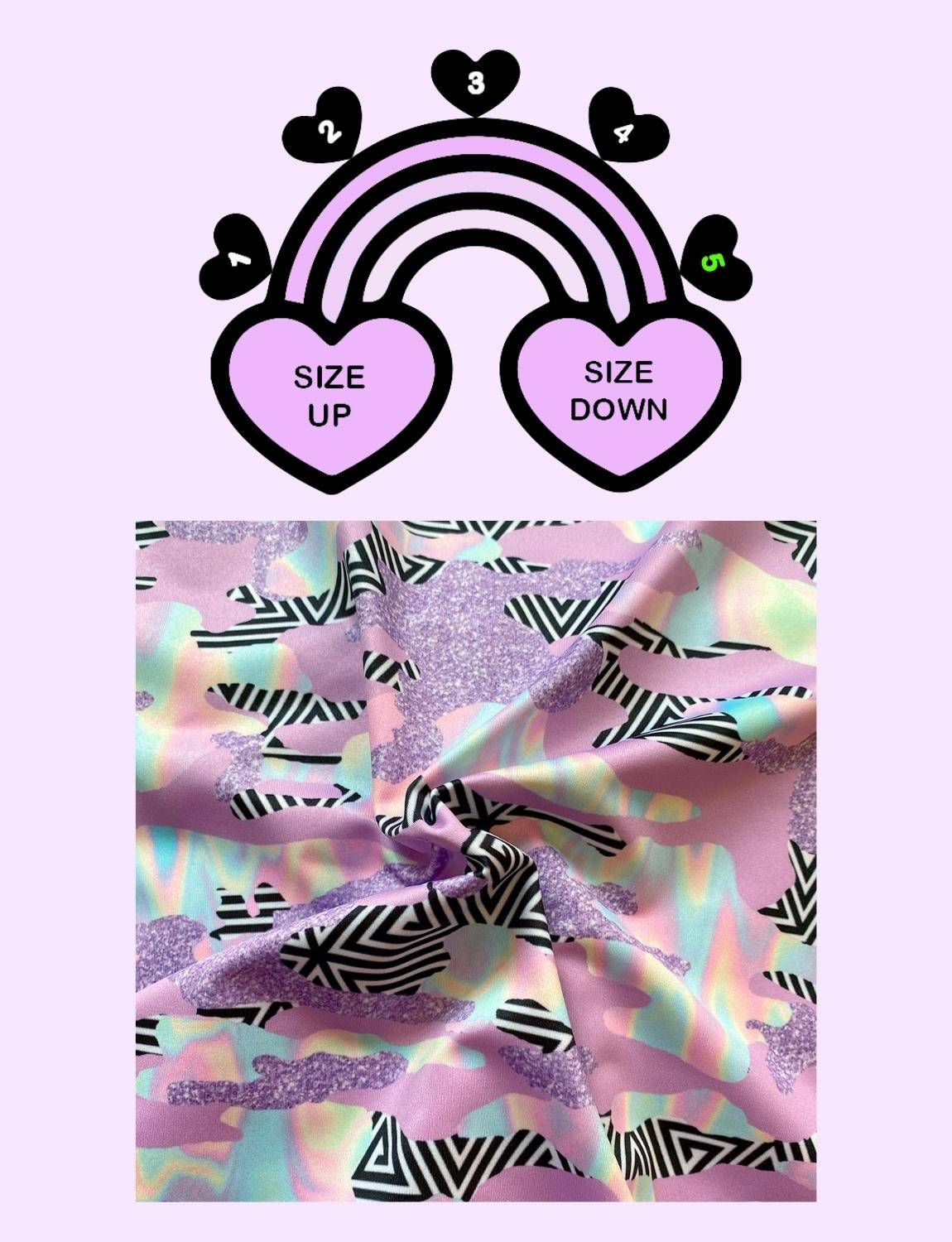 Prints on our recycled TECHNO base which offers maximum stretch and comfort (5 on our stretchometer)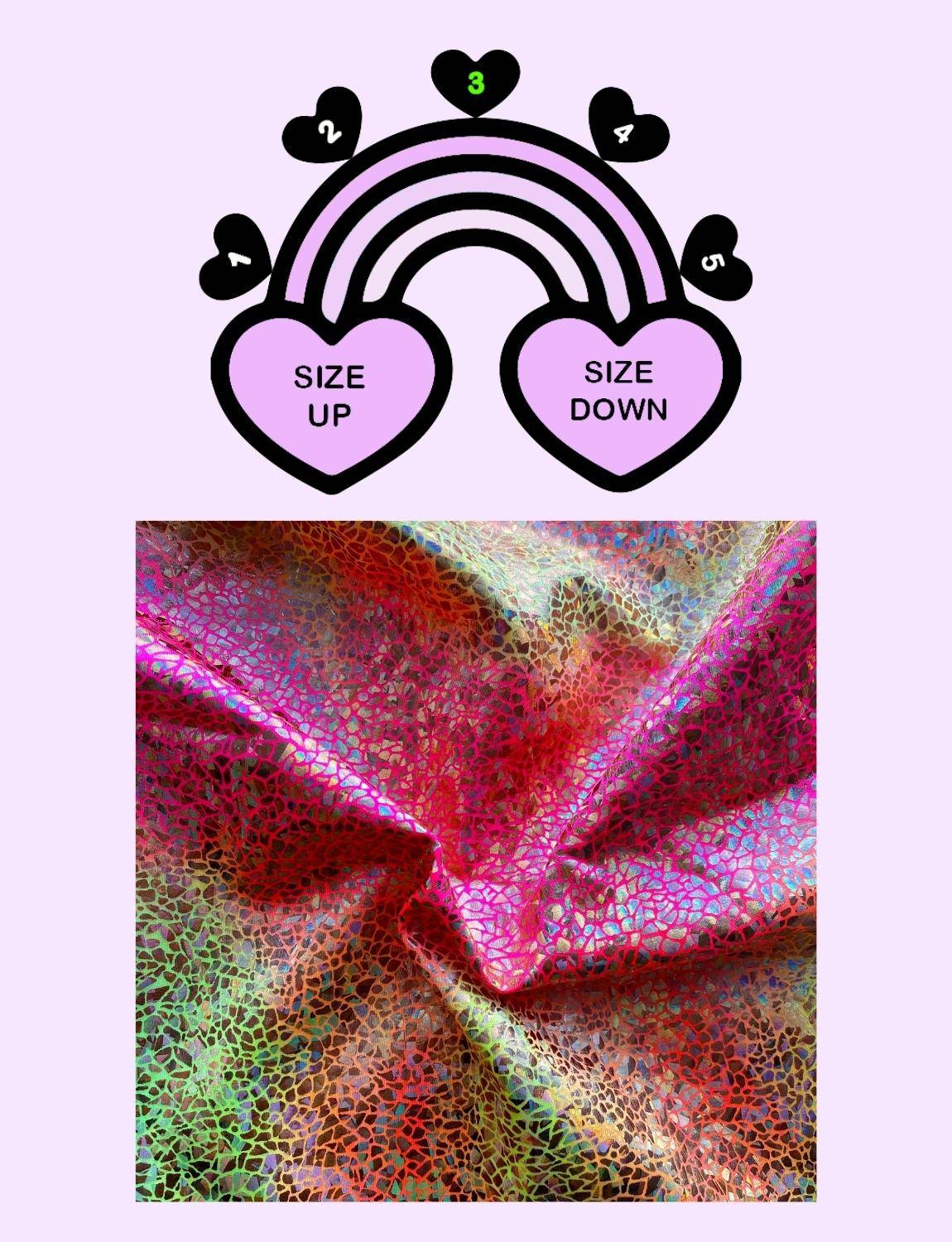 Phoenix Foil Spandex - even though it's the same as the Luna, as it's cut a different way, it allows for a touch more stretch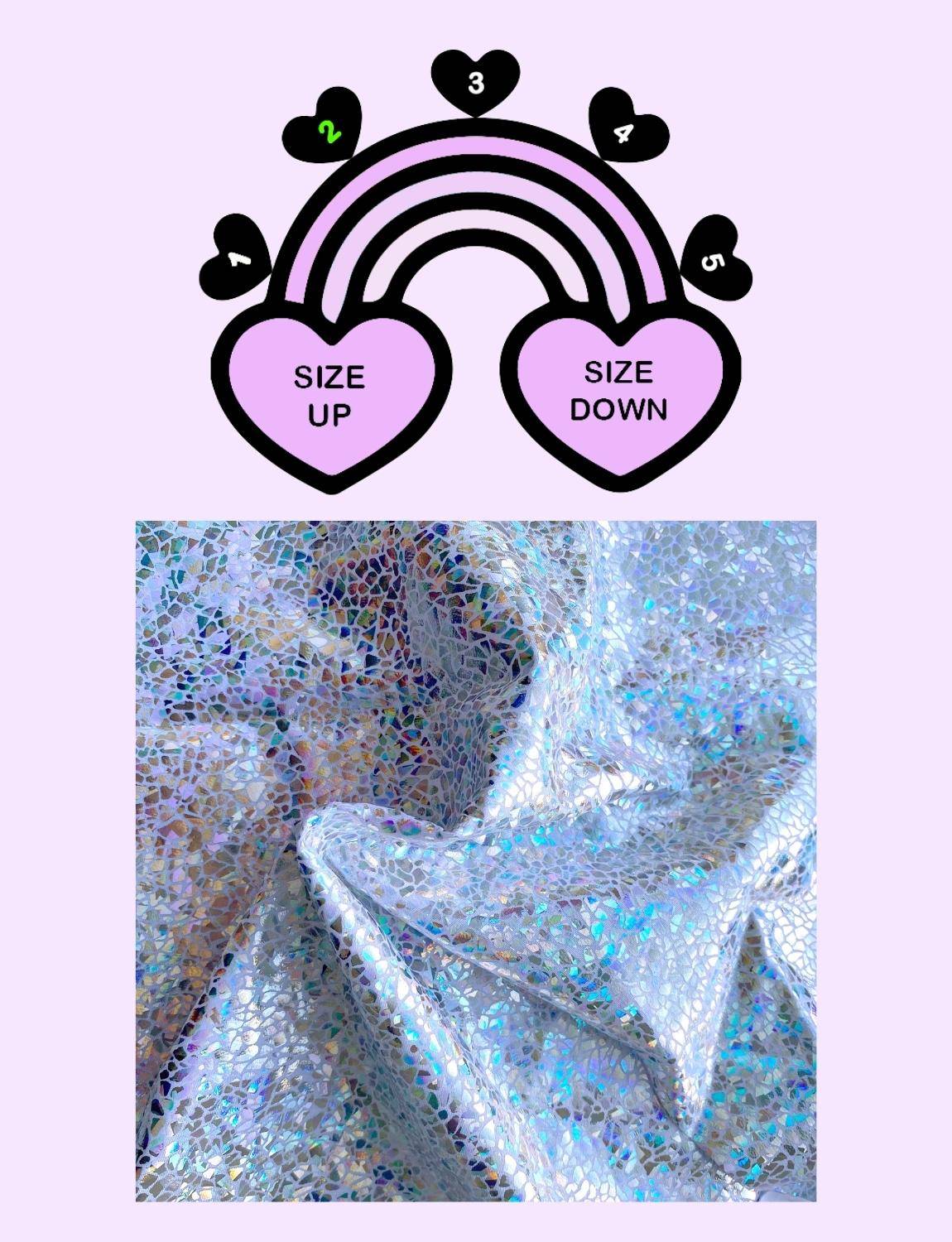 Luna Foil Spandex - even though its the same as the Phoenix, as it's cut a different way, it makes it a tighter fit
If you're customising a piece ready for a specific event (performances like Aerial or Hoop), it's good to know what fabrics are best for.
Foils are fab, but we don't recommend them for daily practices as Aerial Silks especially, will inevitably wear at the foil and reflective panels
Prints are fantastic in catsuits and bodysuits for your daily aerial practice. They'll keep their shape and are non-piling
Replacing your reflective panel with a harder wearing foil can be the best thing to keep the shine on you hip panel, you'll find all our fabrics here
A little video guide to show the stretch on our fabrics
3. Measure Yourself Properly
So you may have seen our sizing guide and or other blog on short/long body sizing... but it's always good to know how to measure properly!
We're always happy to be given measurements so we can help on sizing but it is always helpful to know we're getting those measurements spot on, here's a couple of tips for our most frequently asked sizing questions that are key players in deciding the right size.
When measuring your bust and hips, make sure its on the widest parts (i.e. not under the bust or on the hip bone).
Measurer your waist at the smallest point just above your belly button.
Hips : when measuring your hips it is always super important to include your bottom in the measurement, so you're measuring your widest part.
Inside seam : catsuits / leggings tend to always sit on your ankle. It's always best to measure from the top of your inner thigh to your ankle bone.
If you don't have a tape measure, you can use a piece of string or dressing gown cord and then measure the length when laid flat.
With so many fabrics on our design lab it does become a little hard to decide... textures and patterns can make a big difference in its final look.
There is no right or wrong answer with textures (we love a wild creation), we do tend to create designs with a flow in the textures. We've some examples below of some of our signature catsuits and their texture / pattern layout to show you our design flow vs. a big texture / pattern blowout.
As this is a little top tip we should add that there hasn't been a custom that has come through that we haven't loved!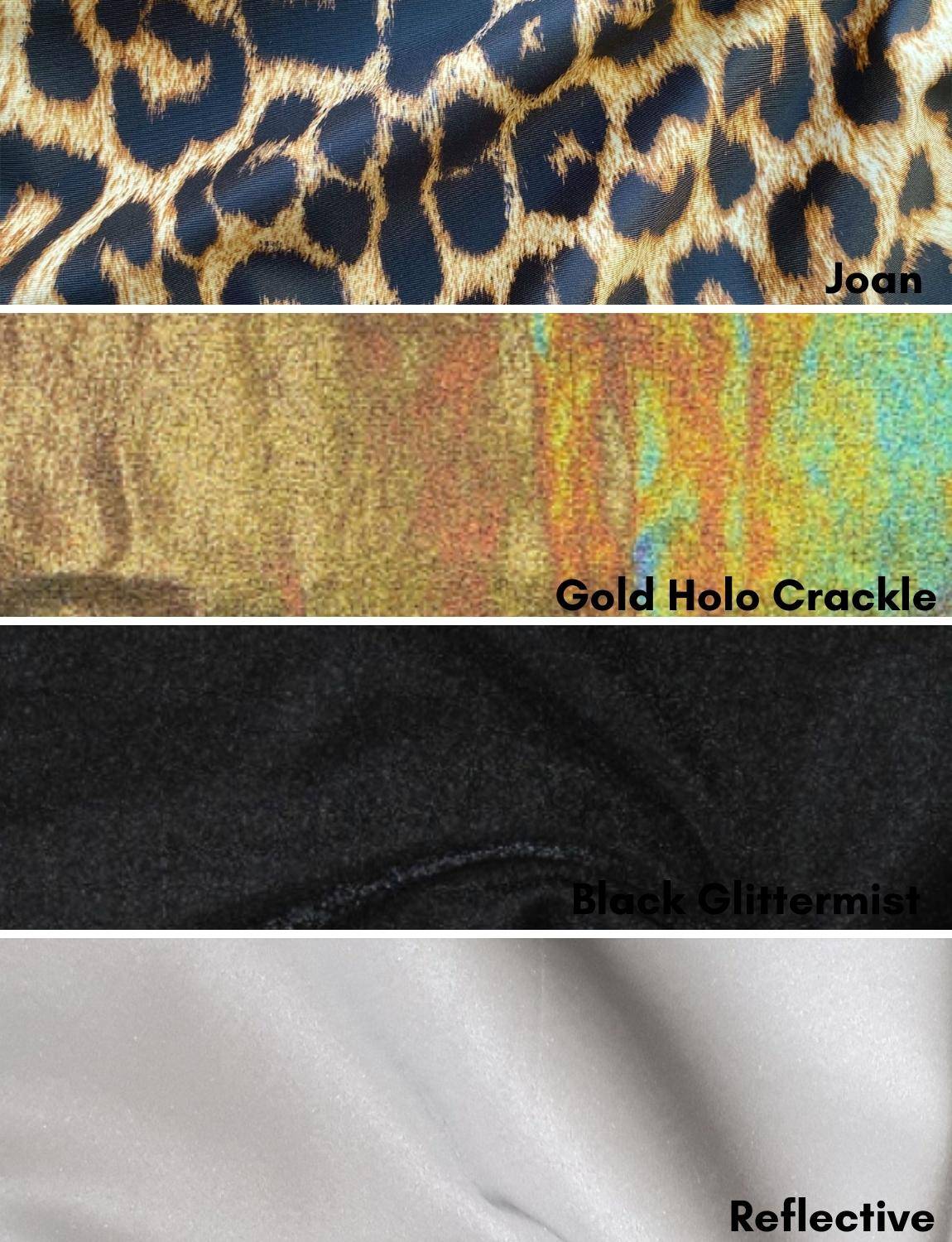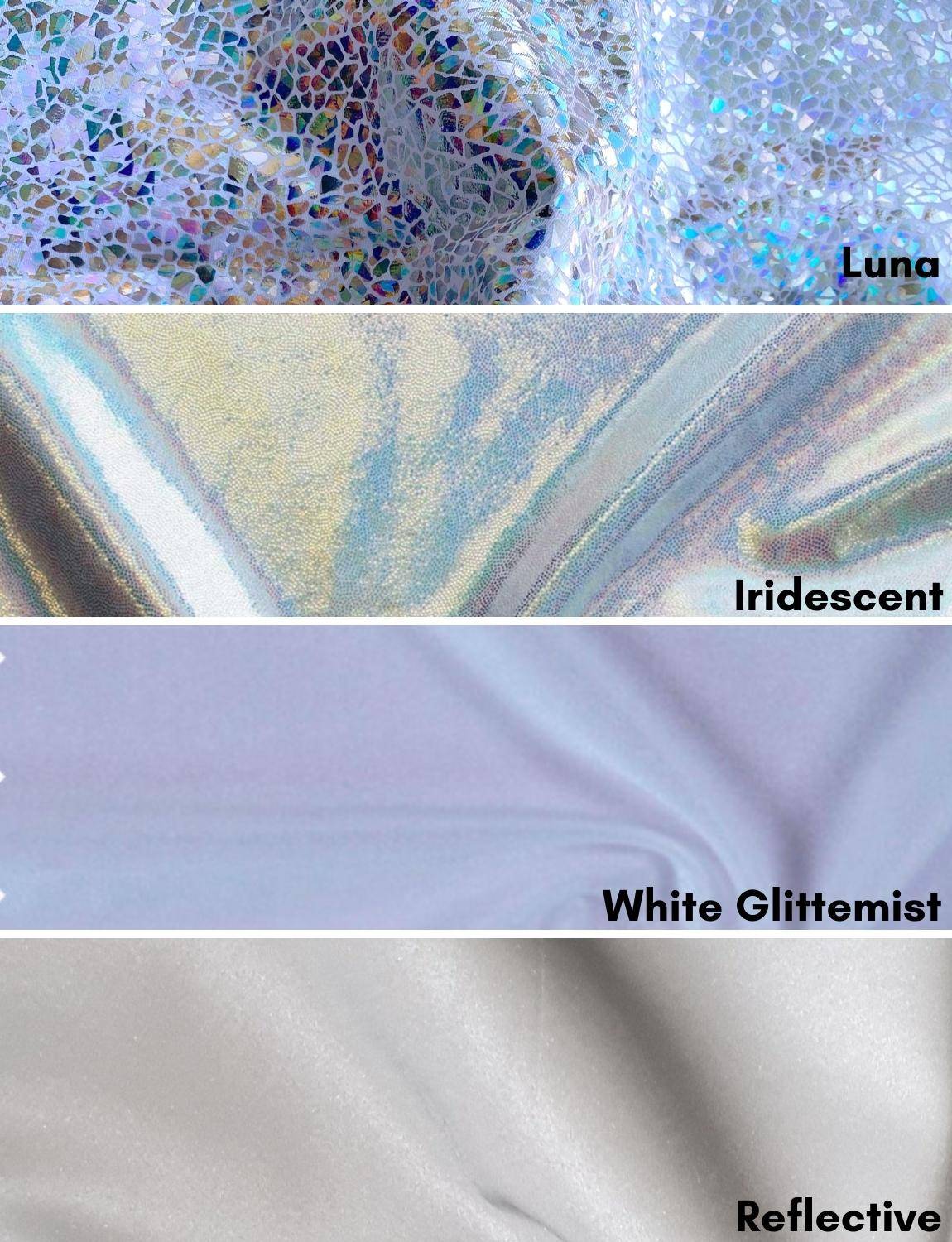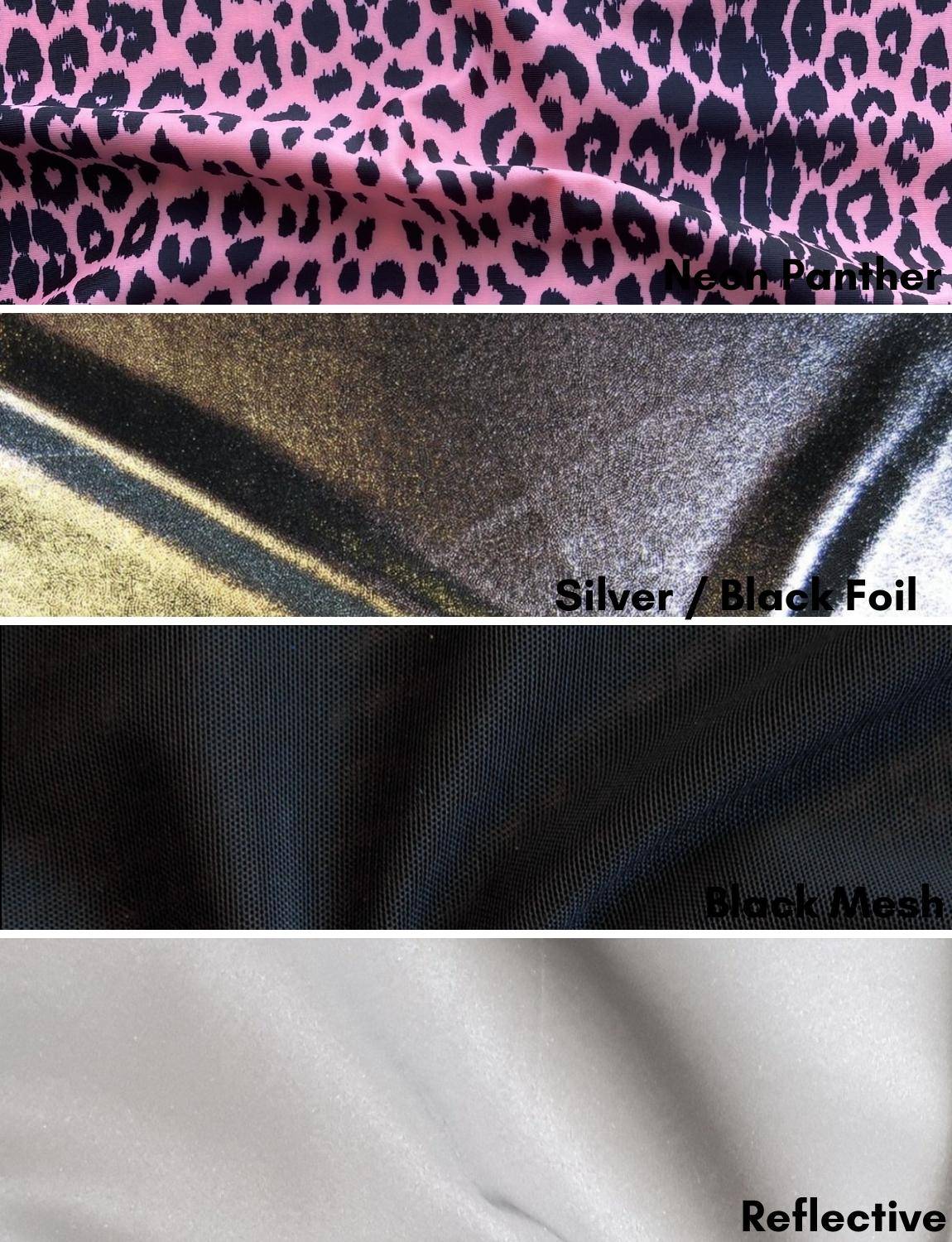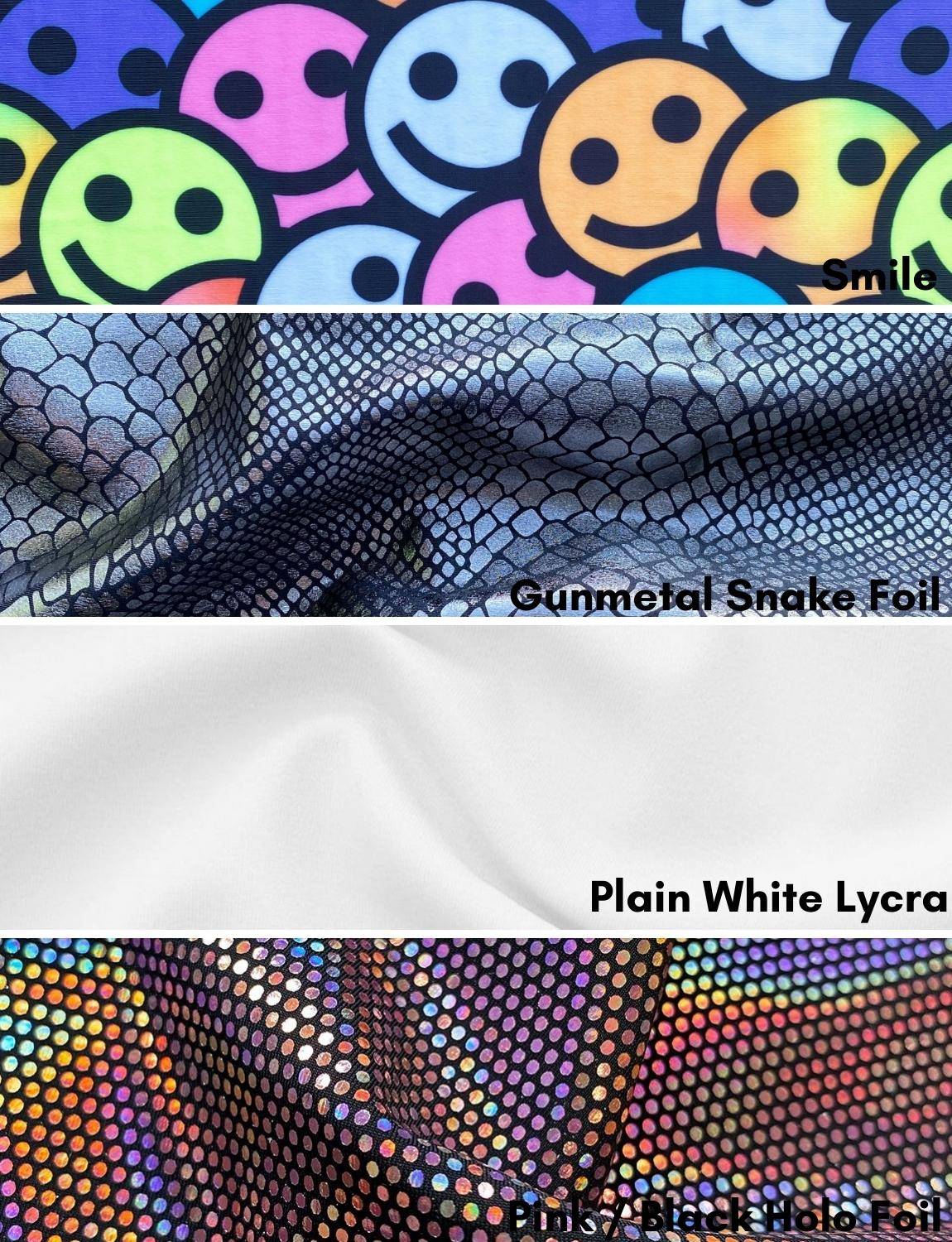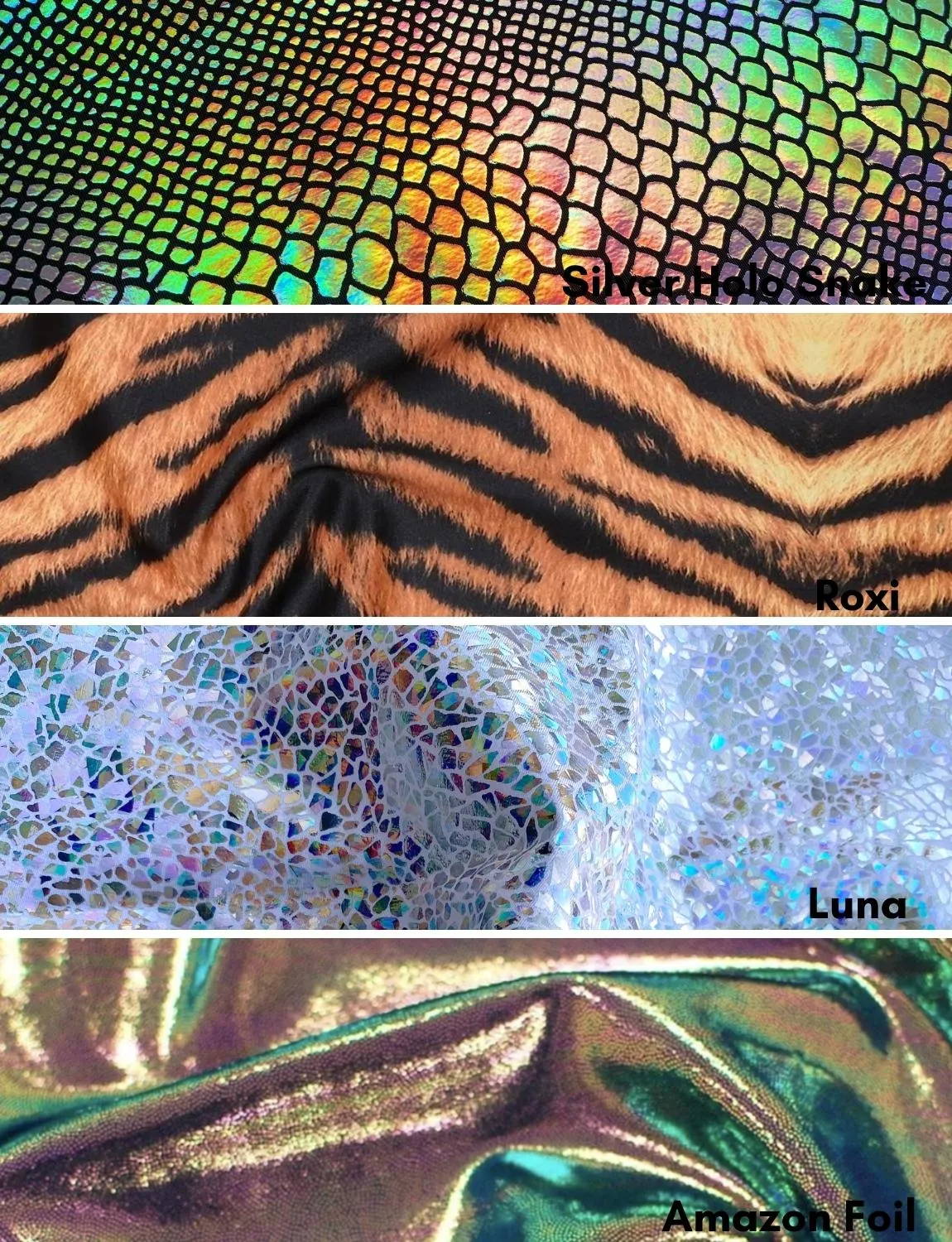 Here's all the textures in one, a wild collection of patterns too... kinda into them!
5. Will I Get It In Time?
Timing can be everything... here are our tips for getting your custom item on time and ready for your big event!
We will always email you to let you know the date your piece will be finished and leave our studio, so remember to get your dates in your calendars!
All standard orders are processed within 15 working days with the option to fast track.
We have 5 working days & 2 working days expedited production times.
Our production time doesn't include our shipping time.
A custom order need to be placed before 1pm for that day to be classed as a working day. For example, if you have fast tracked your order with 'fast track - 2 working days' and placed your order at 1:05pm on a Friday, then this will be sent out on the following Tuesday.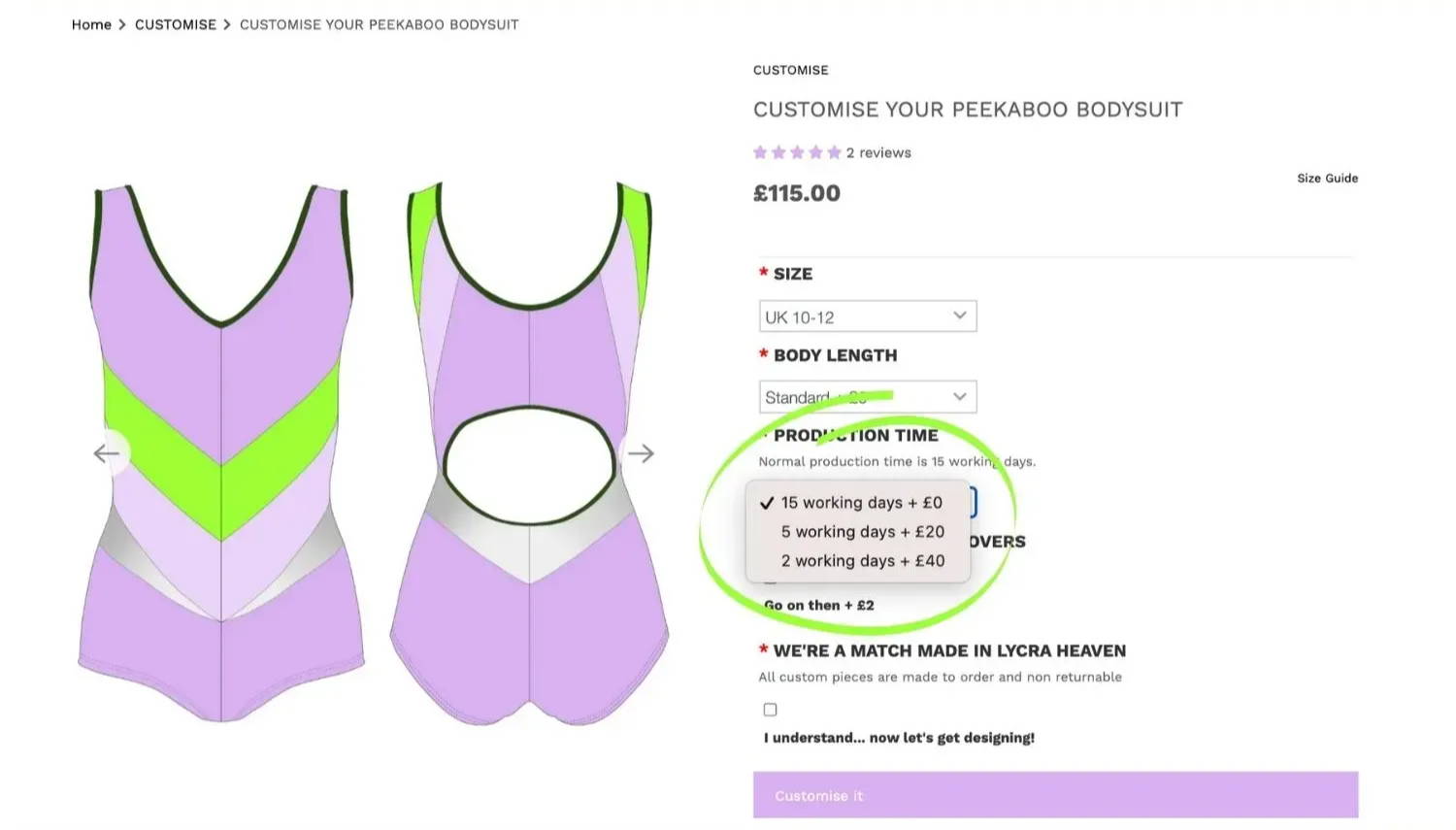 Have you got a question about customs? Let us know!
Comment below with your questions! 💖
Loved this article? Pin me for later 📍
---